Updated at May 14, 3:20 p.m. (GMT+8): Royal Never Give Up will replay all three matches on May 14 after the conclusion of Group C.
Riot Games has evaluated the competitive environment of the Mid-Season Invitational (MSI 2022) over the last three days and discovered that there was a "discrepancy in the latency being reported in game logs" at the Busan Esports Arena in South Korea.
The tournament organizer will reconfigure its setup starting from today, May 13, to reduce the overall latency, said Alex Francois, Global Head of Competitive Operations.
Since this technical issue affected teams competing offline in Busan, matches involving Royal Never Give Up, the only team competing from Shanghai, China, will be replayed in the interest of upholding competitive integrity.
---
---
MSI 2022 matches involving RNG will be replayed over the next two days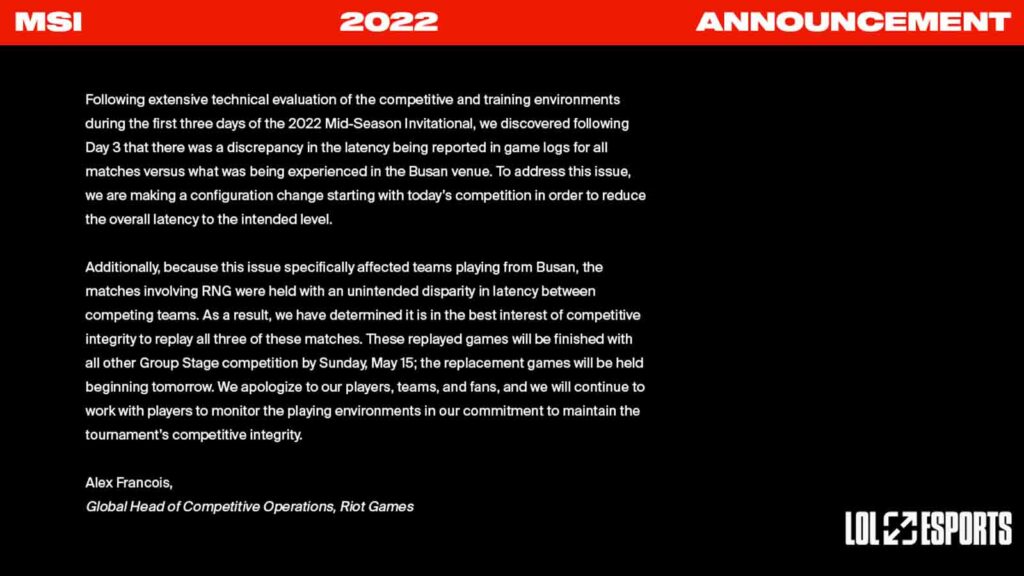 Due to COVID-19 travel restrictions and lockdowns in Shanghai, Royal Never Give Up were not able to travel out of the country to compete in MSI 2022. As a compromise, Riot Games made the decision to hold the entire tournament on 35ms ping.
Unfortunately, there was an unforeseen disparity in latency between teams in Busan and RNG in China, so all affected Group B matches will be replayed starting tomorrow, May 14.
As a result, RNG's standings in Group B has also been reset to 0-0.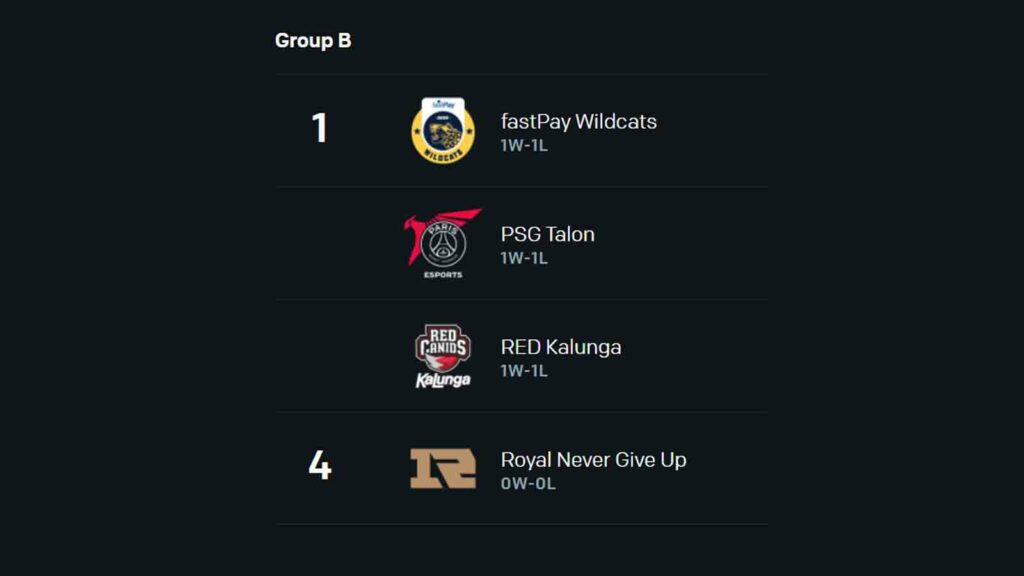 The organizers apologized to players, teams, and fans, and promised to continue working with players to monitor the playing environment to maintain the tournament's competitive integrity.
This announcement comes after Riot responded to community backlash yesterday regarding RNG's tournament environment, where official MSI 2022 headsets could not be delivered to them due to lockdown restrictions, and adjustments had to be made to their remote setup.
The typical average latency in South Korean online servers is 8ms, but pro players were notified in advance that they would have to play on 35ms ping and were given a month to adjust.
Read the full announcement from Alex Francois here.
Watch the MSI 2022 matches live on Riot Games' official channels on Twitch and YouTube.
READ MORE: DFM Yutapon: 'We're really ahead as far as the meta goes'