The League of Legends EMEA Championship (LEC) Spring 2023 finals witnessed an inspiring underdog story after MAD Lions emerged victorious against Team BDS.
Despite an early 2-0 lead secured by Team BDS in the best-of-five series, the Spanish team demonstrated resilience and perseverance by executing a stunning reverse sweep.
Dubbed the "Reverse Sweep Kings," this is not the first time MAD Lions have come back from a 0-2 deficit in the LEC finals. They previously achieved the same feat against Rogue (now known as KOI) during the Spring 2021 playoffs.
---
---
Top laner Chasy leads MAD Lions to LEC Spring 2023 finals victory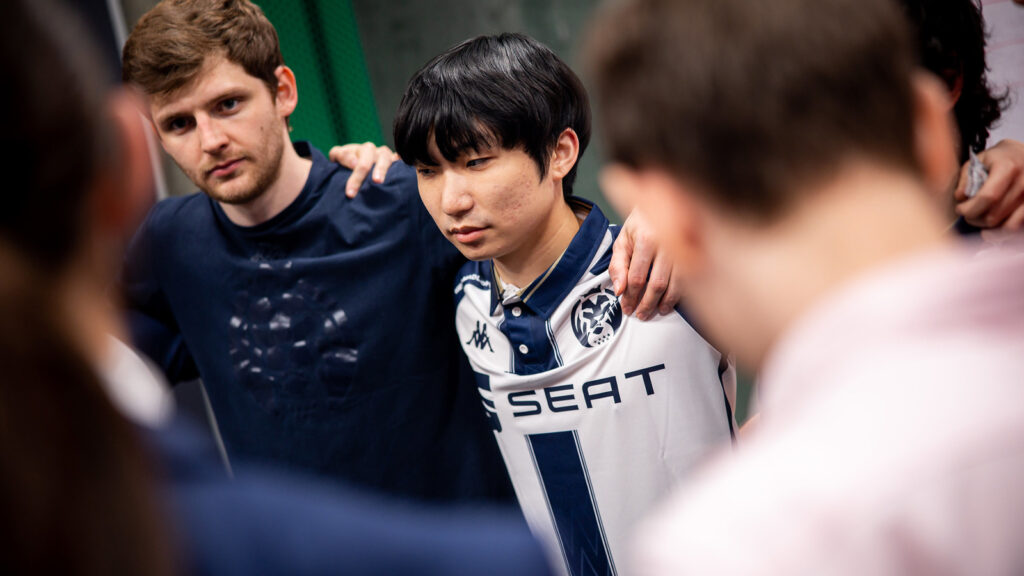 The first two games of the series were packed with 30 minutes of non-stop League of Legends action.
The matches between MAD Lions and Team BDS were intense, with both teams exchanging blow for blow. The competition was tight until Juš "Crownie" Marušič's Zeri pulled off a perfect pentakill in game one, securing the first victory for Team BDS.
---
---
In game two, BDS widened the gap by taking down Baron Nashor in the late game, which allowed them to push lanes and reach match point. With the pressure mounting and their MSI 2023 qualification on the line, MAD Lions knew they had to step up their game.
In the following match, the Spanish team managed to keep their tournament hopes alive. They felt confident with their lineup, even giving Crownie Zeri for game three. However, the spark of Zaun was no match for Kim "Chasy" Dong-hyeon's K'Sante.
During a crucial clash, Chasy found an opening, targeting Crownie's Zeri. He cast his ultimate, All Out, which isolated the two from the ongoing fight. The MAD Lions top laner saw the opportunity and took down not just Crownie, but also Ilias "nuc" Bizriken's Morgana, turning the game around in their favor.
---
---
In another clash around Team BDS' base in the bot lane, Chasy turned around a 3v4 fight by continuing his focus on Crownie. He used All Out to render the BDS bot laner airborne, then followed up with Path Maker to impair Crownie's movements before delivering the final blow.
Chasy spent a total of 26 seconds casting crowd control on other players, according to gol.gg, giving MAD Lions a significant mid-game advantage.
Matyáš "Carzzy" Orság then finished the game with a pentakill, securing the first win for MAD Lions.
---
---
---
With newfound momentum, MAD Lions picked off Team BDS members from the early game to mid-game, snowballing immensely during games four and five. By the 25-minute mark in game five, they had a 11.8k gold lead and the Baron Nashor buff. Despite Team BDS' efforts to hold on to their base, MAD Lions' pushing power was too much at this point.
Achieving a deathless final game, MAD Lions successfully pulled off a reverse sweep against Team BDS to claim their third LEC Spring championship title, 120 championship points, and a slot at the MSI 2023 bracket stage as the EMEA region's first seed, with Chasy easrning the LEC Spring 2023 finals MVP.
MAD Lions had a remarkable Cinderella run during the LEC Spring 2023 season. After dropping down to eighth place during the regular season, the Spanish team fought their way into the group stage and delivered a strong performance, tying with LEC Winter 2023 champions G2 Esports in third to fourth place.
Their momentum continued into the playoffs, where they made their way into the finals from the losers bracket, defeating top teams G2 and Team Vitality before taking down Team BDS in an epic reverse sweep to claim the championship title.
READ MORE: The two most annoying support champions will be disabled at MSI 2023, community reacts