The fastest game at MSI 2023 so far was between T1 and MAD Lions in the first round of the bracket stage playoffs.
At 16:50, T1 swept MAD Lions in game three of the best-of-five series, sending the LEC representatives to the lower bracket to go up against G2 Esports in a Winter 2023 finals rematch. Meanwhile, T1 earned themselves a LCK Spring 2023 finals rematch against Gen.G in the upper bracket quarterfinals and a chance for redemption.
Setting the record for the second fastest game at MSI and at the international level, the former SK Telecom T1 squad also have their name etched in history in the fastest game — one that was lost to Invictus Gaming at MSI 2019.
---
---
The second fastest game at MSI: T1 set another international record in game three against MAD Lions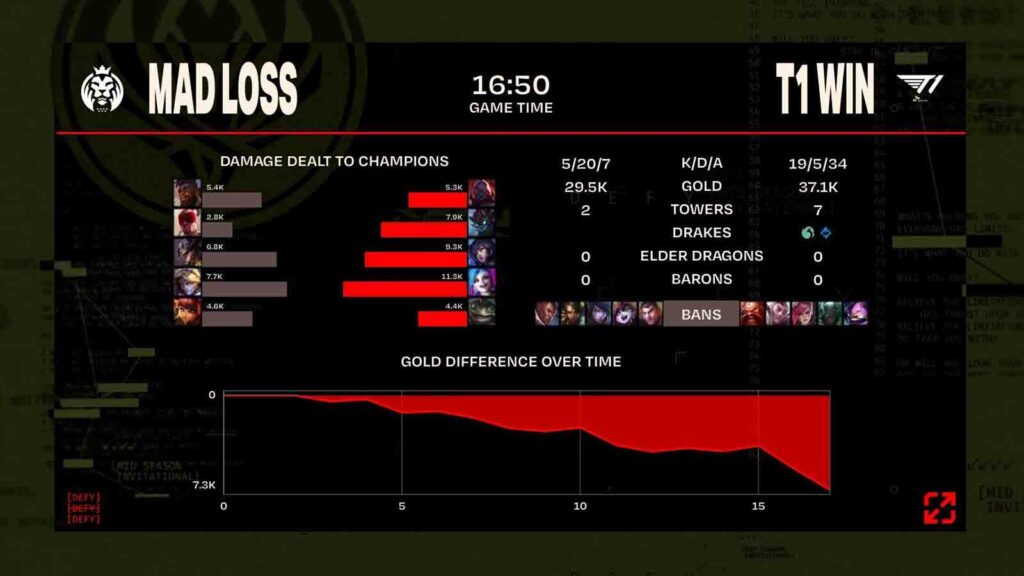 Drafting Sion for top laner Choi "Zeus" Woo-je, this single champion pick made all the difference in their quick and decisive victory.
On red side, T1 sent all five members to the bot side at level one to invade blue side's jungle. Forgoing the top lane wave, Zeus helped Mun "Oner" Hyeon-jun's Maokai clear out stolen camps quickly before committing to a 4v2 dive at bot.
Sacrificing Sion's life whilst utilizing his passive, T1 traded one kill for two. One of the kills was given to Lee "Gumayusi" Min-hyeong's Jinx, which went a long way in this snowball game.
---
---
T1 kept pressuring bot and kept feeding kills to Gumayusi. At 10 minutes, they rotated top with Lee "Faker" Sang-hyeok's Ahri, not giving their opponents room to breathe. By this point, Guma already had five kills and no deaths.
By mid game, T1 had two dragons, were up 15 kills to four, and almost 6,000 gold lead — and were already knocking on MAD's base.
Breaking the top inhibitor, they killed anyone who challenged them, taking advantage of their huge item advantages, sealing the sweep at 16:50, setting the record for the second fastest game at MSI.
During the MSI 2019 group stage, SKT was on the losing end of the record for fastest game against Invictus Gaming. Led by Yu "JackeyLove" Wen-Bo's Draven, the same Worlds 2018 roster decimated SKT's Sona-Taric bot lane, completely preventing them to scale.
---
---
During the playoffs, Invictus Gaming lost 3-1 to Team Liquid in the semifinals. T1 too, lost to G2 Esports 3-2 in the semifinals, both teams tying for 3rd-4th place.
Follow ONE Esports on Facebook and Twitter for more LoL news, guides, and highlights.
READ MORE: Exclusive: T1 Zeus on how his family's weekend ritual turned him into a pro player