Updated on February 3, 2:50 p.m. (GMT+8): Added link to the best Hu Tao wish spots.
Updated on December 19, 2:23 a.m. (GMT+8): Fixed formatting issues.
This is the fifth article in a series about Hu Tao summoning rituals. You can read the fourth article about visiting a memorial park.
It's day five of my experiment to try out Hu Tao summoning rituals, and it's also the last day the 5-star Pyro character, Hu Tao, is featured on the Moment of Bloom banner.
This was basically my last chance to get her.
So far, I've asked for the Cryo zombie Qiqi's help, I've made special Hu Tao candles, and I even visited a cemetery, but nothing has worked up until this point. You can read about my Hu Tao summoning rituals here.
So this time, it's time to bring out my trump card.
---
---
Let's cook Ghostly March to usher in some good luck in pulling Hu Tao
Step aside, Chef Mao — there's a new cook in town!
For this ritual, I recreated Hu Tao's favorite dish, Ghostly March, an upgraded version of the Vegetarian Abalone.
Ghostly March requires 2x Matsutake and 2x Snapdragon in the game, but since these Genshin Impact ingredients don't exactly exist in real life, I came up with my own version inspired by Nadine's recipe.
Let's start luring Hu Tao with this healthy meal!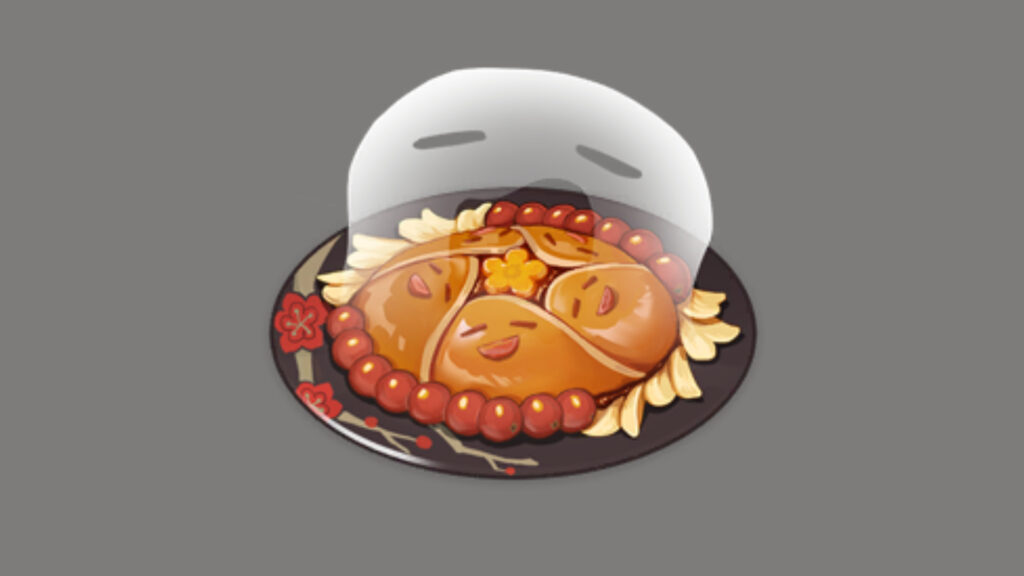 Ghostly March ingredients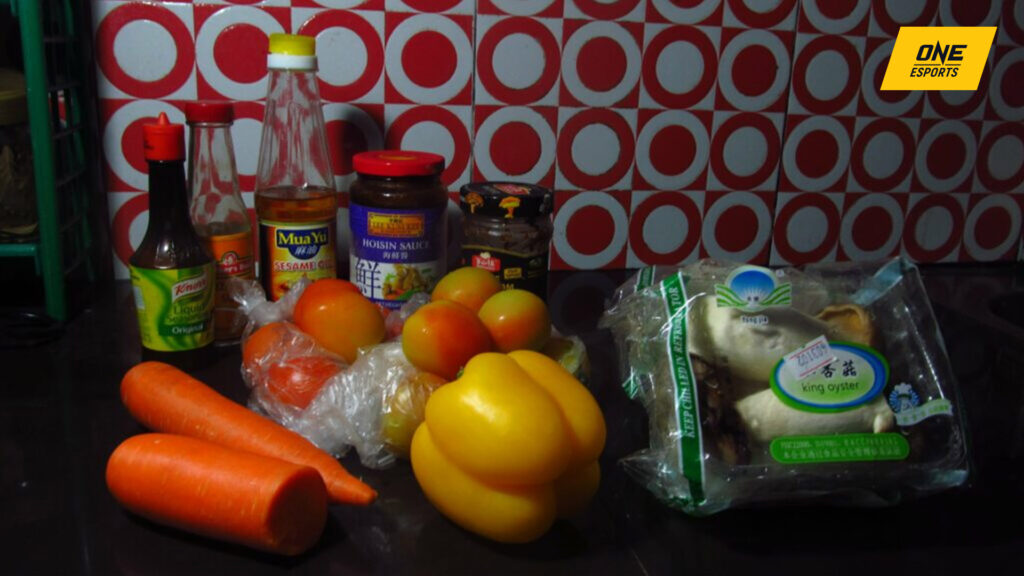 1 cup cooked white rice
King oyster mushrooms
Yellow bell pepper
Carrots
Cherry tomatoes
Sesame oil
1 clove of garlic, minced
1 shallot, minced
1 tbsp hoisin sauce
1 tbsp Worcestershire sauce
1 tbsp mirin (rice wine)
1 1/2 tbsp honey
salt and pepper to taste
---
Ghostly March recipe
If you want to try this ritual yourself, here's what I did.
Before anything else, wash your hands thoroughly. Make sure to wash all vegetables too before slicing them up.
Cut the head of the king oyster mushrooms and set it aside. Slice the stem into thin pieces. Trim down all sliced mushrooms until it starts to take the shape of Hu Tao's spirit companions.
Remember, no sharp edges! Since I am closely following the official in-game photo, I went for five pieces of mushrooms.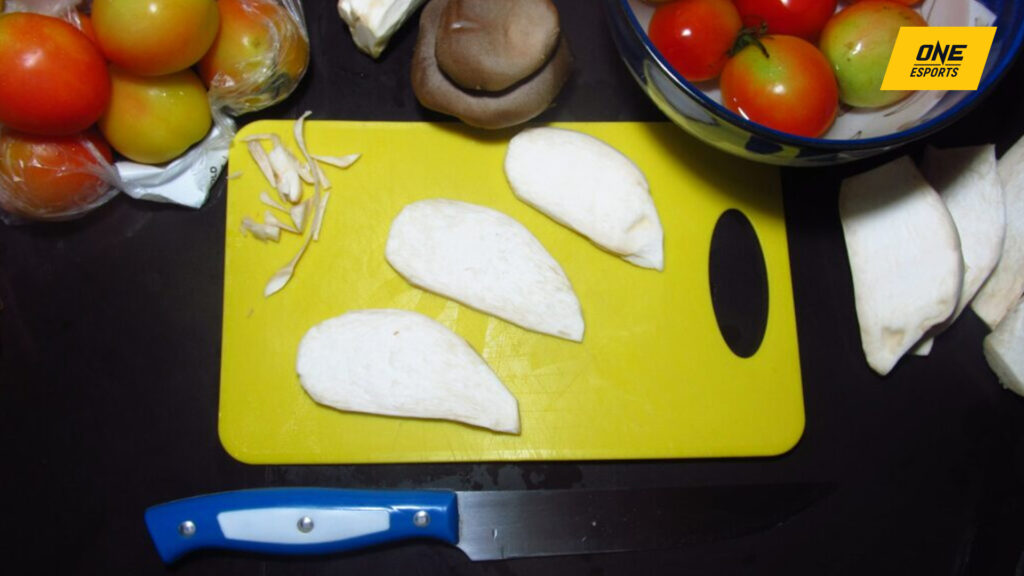 Set your spirit-shaped mushrooms aside and start preparing your garnishes. The in-game recipe calls for Snapdragon flower petals so I tried making the bell pepper looks like yellow flower petals.
As for the carrot, I just made these small triangle cuts to form a cute flower shape.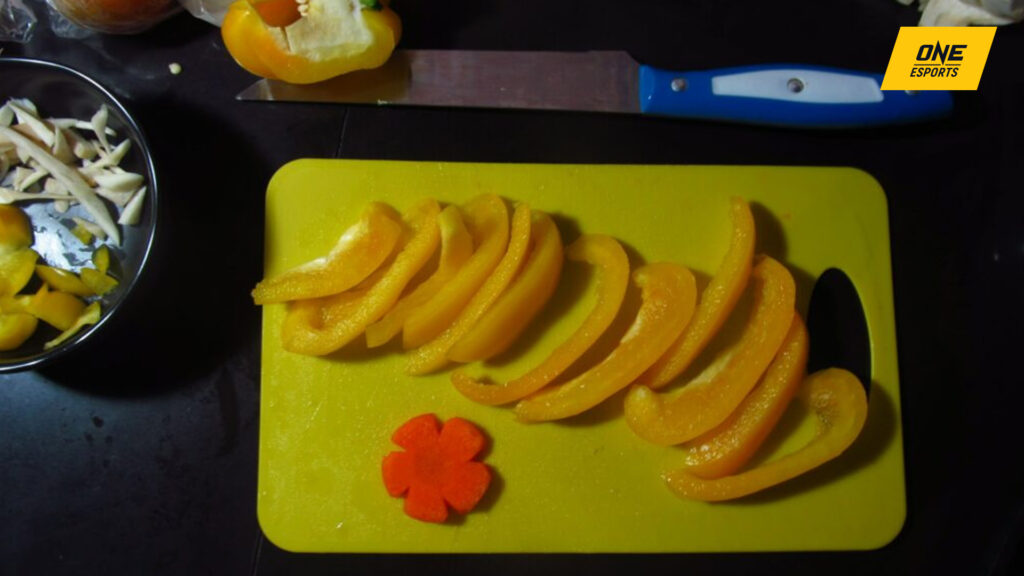 After slicing all the ingredients, get a small bowl and mix your sauces — hoisin sauce, Worcestershire sauce, mirin, honey, and salt and pepper.
Then, grab your pan, put some oil on it, and saute your garlic and onion. As soon as the onion turns golden brown, pour in your sauce mixture.
Grab your sliced mushrooms and let the spirits swim around the pan. Let it simmer for eight to ten minutes.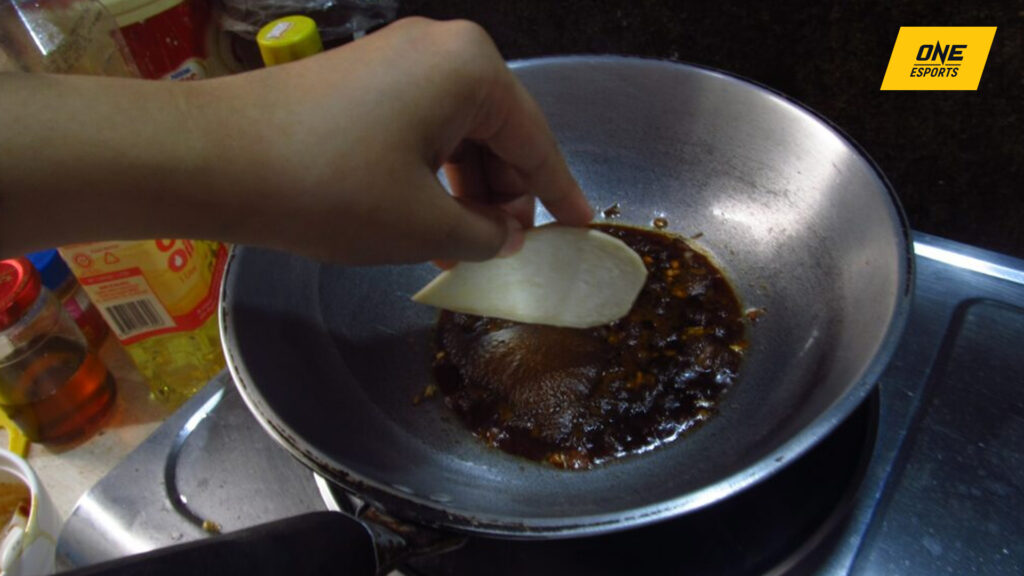 Take the sauce mixture from the pan and drizzle it on top of the white rice.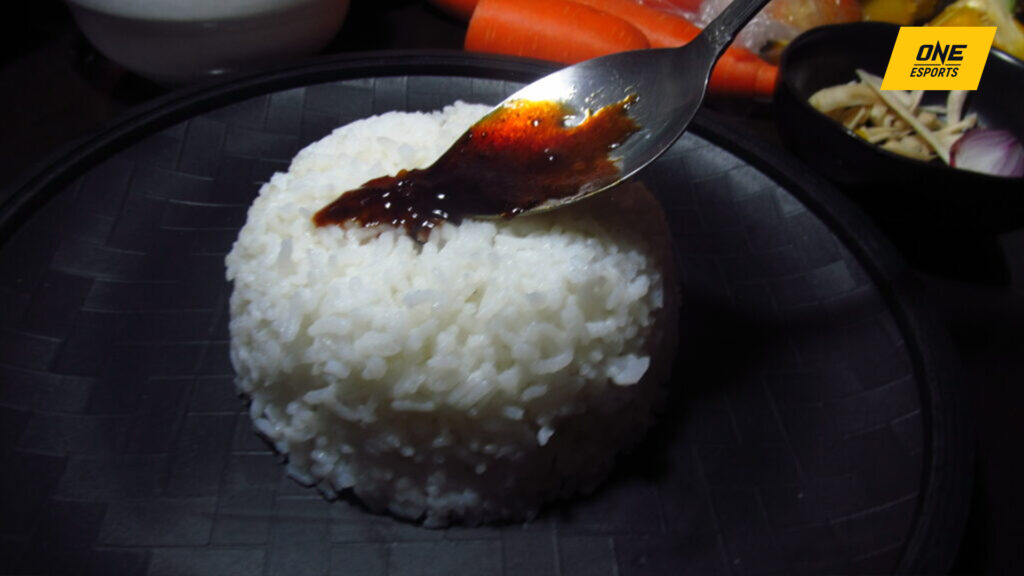 Then, pick up your cooked mushrooms and place them all neatly on top of the rice. Here comes the exciting part — garnish time!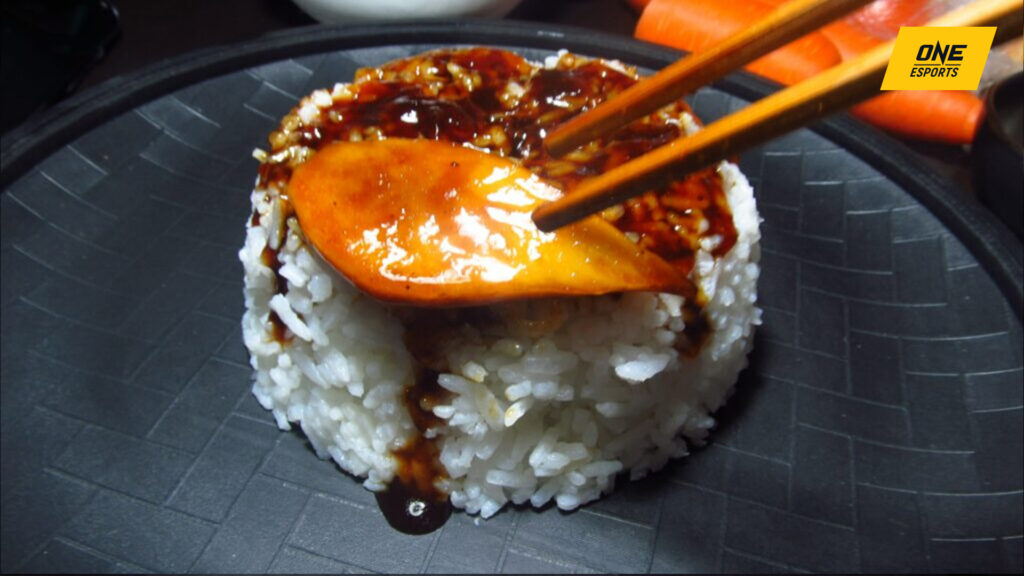 Take your cherry tomatoes and sliced bell peppers and decorate them around the rice. Take some of your remaining carrots and start slicing to create five pairs of faces.
The finished product: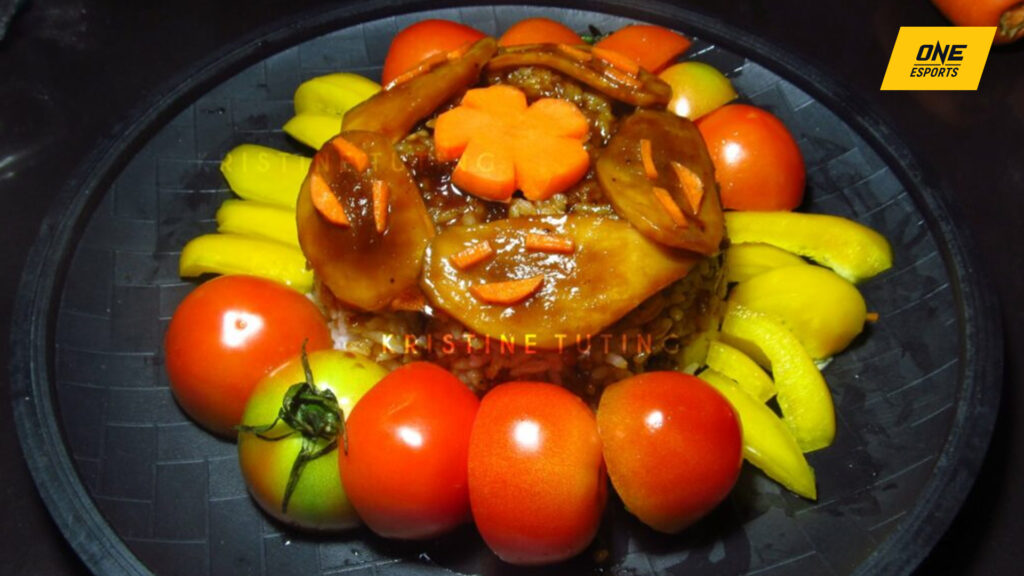 The spirit-shaped smoke is a little bit difficult to achieve so I will just leave it. After recreating Hu Tao's special dish, I took my phone and made my last Wish for this series.
Remember to take all your mushroom trimmings, extra carrots, and bell peppers and store them in the fridge! They can still be used to make other exciting dishes like homemade pizza or a hearty soup.
---
---
The result
Three-star weapon: Harbinger of Dawn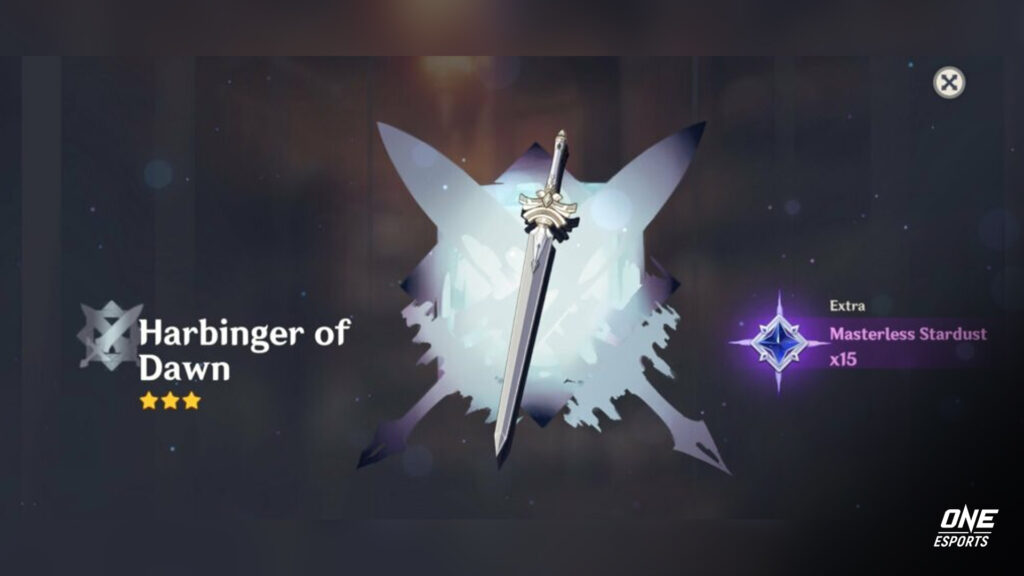 I really enjoyed cooking Hu Tao's special dish! Despite all the effort that went into the process of recreating it, I did not get Hu Tao.
---
Hu Tao summoning rituals conclusion
Five different gacha rituals.
5x Intertwined Fates.
No Hu Tao.
Not even a close call with a four-star character.
All I got was 3-star weapons that I will just turn into fodder for my other stronger, 5-star weapons.
So would I try a gacha ritual again? 100% yes.
The way I see it, a gacha ritual certainly can't hurt your chances, and I had a fun and memorable time trying each one. Maybe my luck just sucks. Maybe I was never meant to get Hu Tao. Maybe your luck is better.
If you feel inspired to try out any of these rituals yourself, please let me know what the results were. Or if you have a different gacha ritual you want me to try out, let me know too.
If you'd like to see the best Hu Tao wish spots in the game, here are five locations you should visit.
---
Follow ONE Esports on Facebook for more Genshin news, guides, and highlights.
READ MORE: The 5 best action cards that you need to have in Genshin TCG, Genius Invokation