Find your balance, travelers!
From alternate sprints to gliding races, movement mechanics have always been part of the Genshin Impact experience, but what about Chasm tightrope walking?
Genshin's V2.6 update introduces The Chasm, a new Liyue location that holds mysteries deep in its Underground Mines. It takes some effort to navigate through the dark tunnels, where travelers are bound to come across a single tightrope that's hard to miss.
The Chasm tightrope is Genshin Impact's newest overworld challenge
The tightrope is actually a railway cable that's been suspended in mid air, held at each end by the Chasm's mining structures. While it has no real importance by itself, the cable does hold a lone Lumenspar gem, a precious material that's used to upgrade the Lumenstone Adjuvant gadget.
Players are definitely encouraged to walk the tightrope in order to collect this reward, but doing so only results in two possible outcomes: fall into the mines or secure the Lumenspar.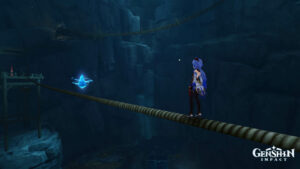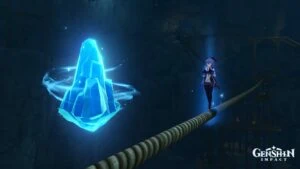 The main task is quite doable after a few tries, but members of the Genshin community have been finding more creative ways of reaching the material. Genshin YouTuber DimBra found 17 unique ways of crossing the rope, including one that features the elemental skills of Geo characters Albedo and Zhongli.
A handful of travelers thought outside of the box on how to reach the Lumenspar. Rather than gamble their lives on the tightrope, they would climb up to a higher ledge and simply glide down to the glowing material. Ingenious, I must say.
How to cross the Chasm tightrope on Mobile
Mobile users seem to have the hardest time on the tightrope due to their limited controls. One Facebook user faced the facts and stated that "as a mobile player, we always fall."
One solution for mobile users is to utilize a Bow character's aim mode as they traverse the Chasm tightrope. When in the mode, a character will continue to stay on the rope because the game does not let you fall while aiming.
Bear in mind that your character will get stuck on the wheels of the cable car, so make sure you exit the aim mode to get past the wheels and back on the cable.
---
---
Where is the Chasm tightrope?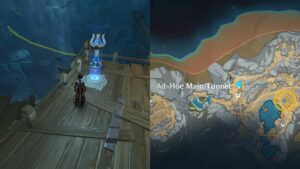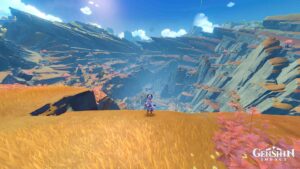 The Chasm tightrope is located near one of the waypoints at the Ad-Hoc Main Tunnel of the Underground Mines.
To access the Chasm's Underground Mines, you must first:
Reach Adventure Rank 28
Complete the "Chapter I: Act III – A New Star Approaches" Archon Quest
Complete the "Surreptitious Seven-Star Seal Sundering" World Quest
Follow ONE Esports on Facebook for more Genshin news, guides, and highlights.
READ MORE: Ayato and Venti Genshin banners break records with US$20.3M estimated earnings