One part of Gamescom 2023 shone brighter than the others, quite literally. Lit by incandescent bright white lights, we saw the alphabets EVA hanging from above.
"What is EVA?" we wondered. As we stepped closer, we saw esports commentators on the screens talking about men and women within this black and white space engaged in a real-life VR shooter.
It was a new experience altogether, even for esports. We found ourselves looking up at the screens where the map was, observing how their in-game characters were moving, as well as the arena where we could see opposing teams physically moving towards each other in an impending clash.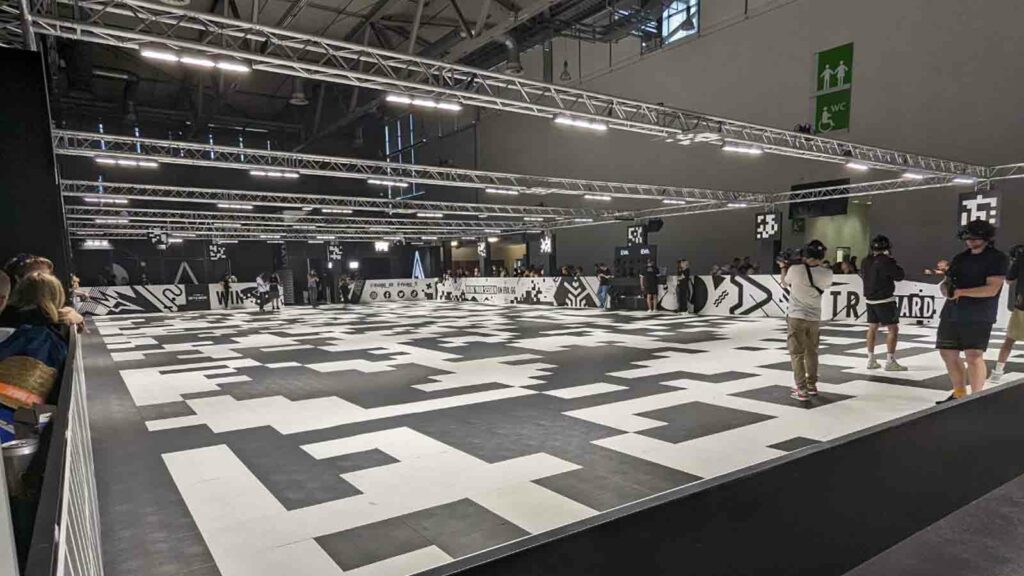 What is EVA? Let's learn more about this FPS VR game
EVA stands for Esports Virtual Arenas. Think of it as a combination of paintball and virtual reality.
There are no conventional controllers, no backlit keyboards, and no ergonomic chairs in this setup. Instead, it's a novel form of esports, unfolding on an expansive 500 square-meter game board.
Two teams, each comprising four or five players, square off against virtual obstacles that exist solely within their headset displays.
These obstacles demand physical agility — running, walking, crouching, and crawling — as you strive to outmaneuver your opponents without falling victim to surprise attacks.
---
---
How do EVA esports arenas work?
The VR shooter seamlessly incorporates physical movement into a virtual environment, allowing 8-10 people to share the same space without interfering with one another
Every player's position is tracked within the game via their headset's geolocation.
A typical session consists of three to four games, each lasting six minutes. On average, players cover a distance of 1.5 to two kilometers during a gaming session.
An additional advantage of virtual reality is that teams can face off either on the same game board or remotely, even if the players are situated on two different pitches in separate cities.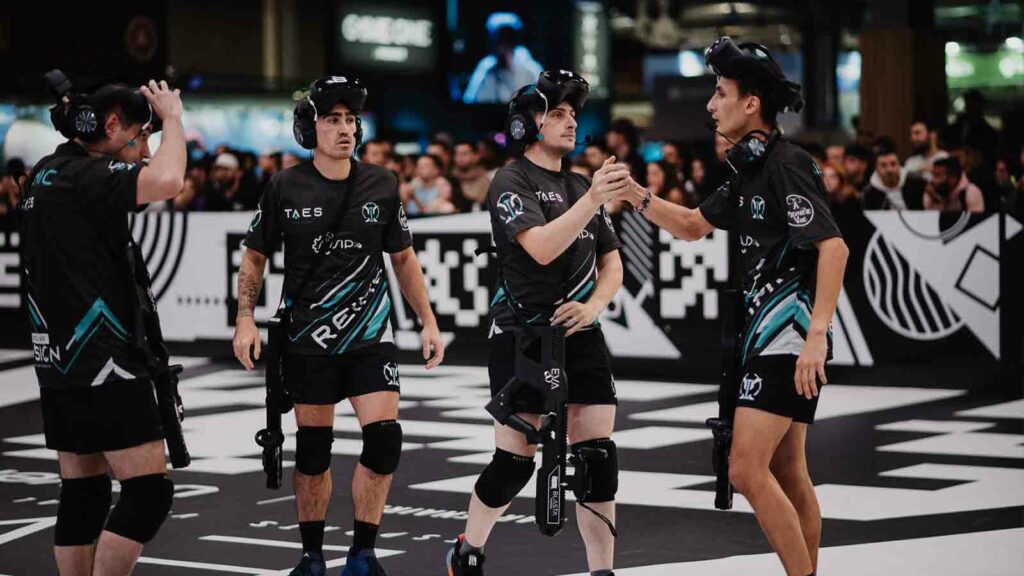 What's the technology behind this FPS VR game?
EVA is the official name of its esports, while the FPS game that was developed for it is called After-H.
Players use connected virtual reality headsets, the HTC Vive Focus 3, which offer a highly immersive experience. The company engineered an advanced tracking system that allows for unrestricted player movement within a 500 square-meter arena that requires continuous streaming of 1.4GB of data per second to players in constant motion on the field.
To achieve accurate tracking, it employs an inside-out tracking system, incorporating cameras within the HTC Vive Focus 3 headsets to record the game zone. Black and white patterns on the playing surface assist players in positioning themselves correctly within the virtual map.
To prevent player collisions and drift in larger playing spaces, the company developed an in-house algorithm ensuring real-time synchronization of all headsets on the field.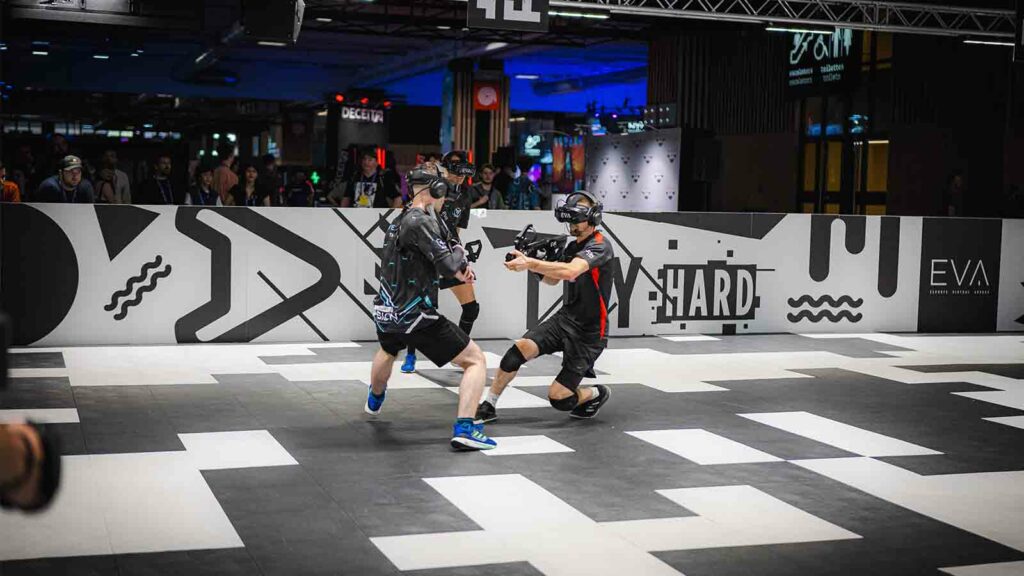 How EVA esports is growing
In 2023, the company collaborated closely with Webedia to launch the inaugural French Virtual Reality Esports Championship, EVA League 1.
During the regular season, teams engaged in two-legged ties, either within the same arena or remotely. The top four squads reconvened for the playoffs at a major event, culminating in the crowning of the French Champion, won by orKs Grand Poitier.
Where can you play EVA?
Today, the VR shooter has 20 franchise locations open. More than 40 are being built in France alone.
For newcomers, a 40-minute session priced at €19 includes a briefing to acquaint you with the game. Monthly subscriptions starting at €49 enable players to train, enhance their skills, strategize with team members, and participate in competitions. Some dedicated players even log over 45 kilometers of gameplay each month.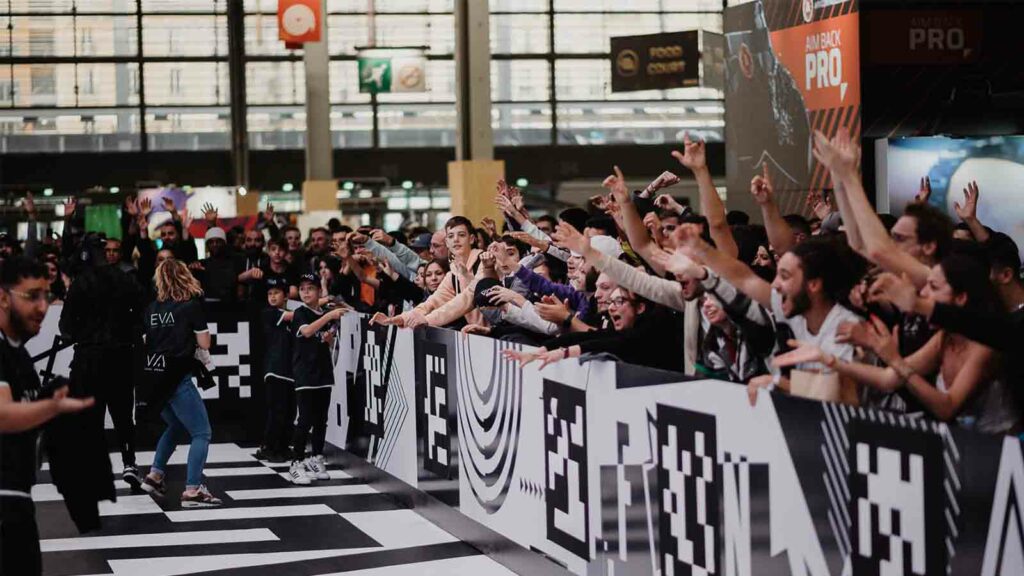 In the United States, its first overseas location opened in Texas in December 2022. 25 additional locations
are due to be open by the end of 2025 with the goal of eventually reaching 500.
Each location ranges from 1,500 to 2,000 square meters and can host one to two arenas with large screens for spectators to watch the game, including a snack and bar area.
Who are the game developers behind FPS VR game EVA?
EVA is a French start-up founded in 2018, a pioneering force in the virtual reality esports sector.
"My dream was to play Call of Duty on a football pitch," said Jean.
Along with Stéphanie Belle and William Klein, they left their marketing jobs to build a VR shooter that incorporates high-end technology without sacrificing user-friendliness despite having no experience in video game development.
Stéphanie is now their Chief Operations Officer (COO) while William acts as Chief Technical Officer (CTO). "We had no preconceived ideas about how to create a video game, which allowed us to think 'out of the box' without setting ourselves any limits", said Jean.
Discuss stories like these with us — join the ONE Esports Discord community.
READ MORE: Zenless Zone Zero gameplay: Combat system, trailer