Ever since it was announced in 2022, fans have been wondering about Zenless Zone Zero gameplay. This new addition to the HoYoverse universe brings a fresh experience to gamers with its setting, environment, and most importantly, its core gameplay.
If you're looking to play ZZZ soon, here's everything you need to know about its game mechanics, combat system, and more.
Zenless Zone Zero gameplay
Zenless Zone Zero is fundamentally an action role-playing game centered around an action-oriented combat system.
In the game, players assume the identity of a "Proxy," a unique specialist tasked with assisting individuals entering chaotic dimensions referred to as "Hollows."
Numerous characters are drawn to the Hollows for a variety of motives, and the "Proxies" play an essential role as their guides. As a player, you will help these individuals navigate the Hollows, engaging in battles against enemies, and helping them attain their objectives, all while uncovering more about their personal stories along the way.
Zenless Zone Zero combat system
Zenless Zone Zero introduces a dynamic, cinematic action-based combat system. When confronting mysterious creatures known as "Ethereal," players have the opportunity to switch between various characters, unleashing a blend of skills and an array of QTE (quick time event) combos.
The game has also developed a roguelike gameplay mechanism.
In terms of its primary combat mechanics, Zenless Zone Zero draws parallels to the hack-and-slash elements seen in Capcom's Devil May Cry and Santa Monica Studio's God of War 3.
Zenless Zone Zero gameplay trailer
During Gamescom 2023, held at the Koelnmesse Congress Center in Germany from August 23 to August 27, fans were treated to a more comprehensive view of Zenless Zone Zero's overworld and gameplay through a six-minute trailer.
The trailer showcased Belle, one of the main characters, as she accepted a commission from a nonplayable character (NPC). Utilizing a team consisting of Von Lycaon, Soldier 11, and Nekomiya Mana, Belle delved into the Hollow Deep Dive System. In the latter part of the video, all three characters from Zenless Zone Zero took turns fighting to defeat a formidable Ethereal.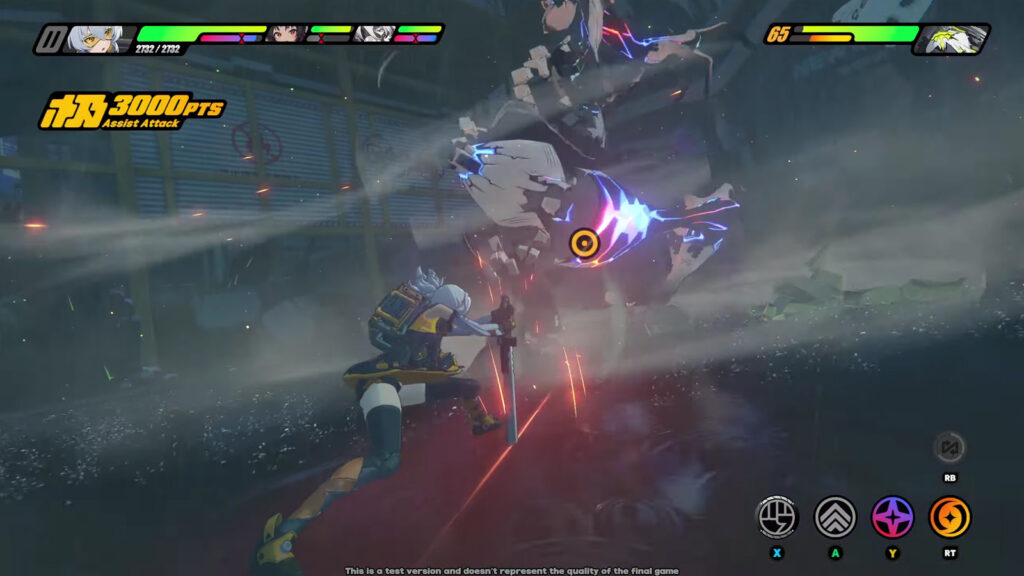 A closer look at the combat system revealed that players could accumulate points through chain attacks, assisting, launching counterattacks, and dodging on time. Additionally, players also have the capacity to perform combo attacks, automatically triggering character switch mode for a brief two-second interval to execute these combos.
In line with other titles from the HoYoverse universe, characters in Zenless Zone Zero possess ultimate abilities that can be activated once the ultimate bar reaches its peak.
Watch the Zenless Zone Zero gameplay trailer below:
---
---
Set in a post-apocalyptic metropolitan city called New Eridu, Zenless Zone Zero follows the story of siblings Belle and Wise, who help others explore the hostile alternate dimensions called Hollows.
Discuss stories like these with us — join the ONE Esports Discord community.
READ MORE: Full list of Zenless Zone Zero characters, factions, and their voice actors