Diablo 4 is set to release in just a few days, and some popular creators are already posting their reviews.
Having been under a non-disclosure agreement until May 30, the videos are now beginning to populate YouTube and we're here to tell you what the people are saying.
---
---
Rhyker, Fextralife, and Force Gaming share reviews of Diablo 4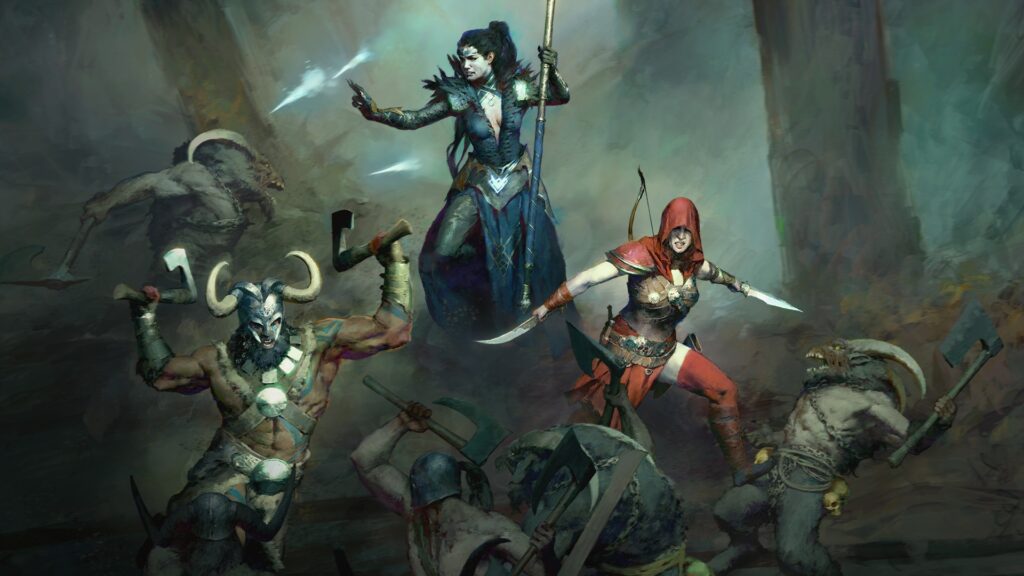 Rhykker
We'll start things off with Rhykker, a Diablo aficionado who has built a whopping 651,000 subscribers off of mostly Diablo content. After breaking down the various and many aspects of the game, he provided a conclusion in which he stated he believes this may end up becoming "the most popular Diablo game yet, and the most popular APRG ever."
He does give some caveats, however. "If you are an ARPG fan that hates Diablo 3 to this day, then you may feel that Diablo 4 is too much like Diablo 3 for your liking. If you're a fan of the super-fast pace of modern APRGs, then you may find the game is too slow for you," he explains.
He does add that while the previous title in the franchise removed systems in order to open it up to a more casual audience, the new iteration is still reaching out to a new group of players, but not necessarily the casual base.
"It's opening up to the enormous audience of MMORPG players. Diablo 4's open world, world bosses, its shared world experience."
He goes on to say that there are elements that will give those players an opportunity to jump in and enjoy the game.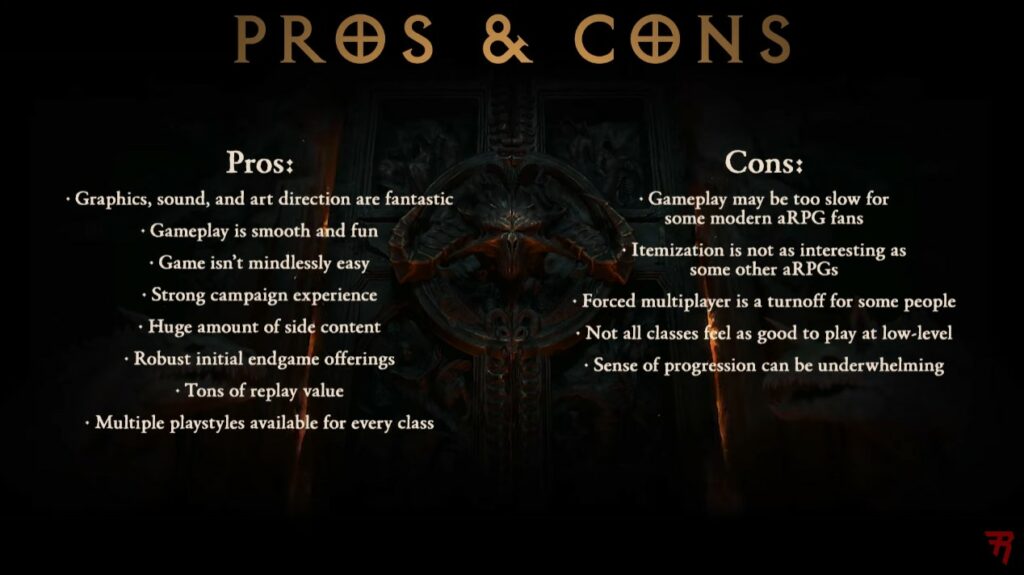 ---
Fextralife
Next up are the thoughts from Fextralife. "The game was absolutely phenomenal," they claim in their video's final thoughts.
One of the big pros according to Fextralife is the crossplay and cross-progression. The ability to swap back and forth between PC and console is a massive selling point.
According to this review, Diablo 4 is going to appeal to non-Diablo fans more than the more traditional fans. He also goes on to state that "the endgame is more than enough to convince you that Diablo 4 is up there with some of the best ARPGs ever made."
Overall, the game is given a score of 9.3 with an 8.0 in the story and setting being the lowest while gameplay, replayability, and pricepoint are all marked at a perfect 10.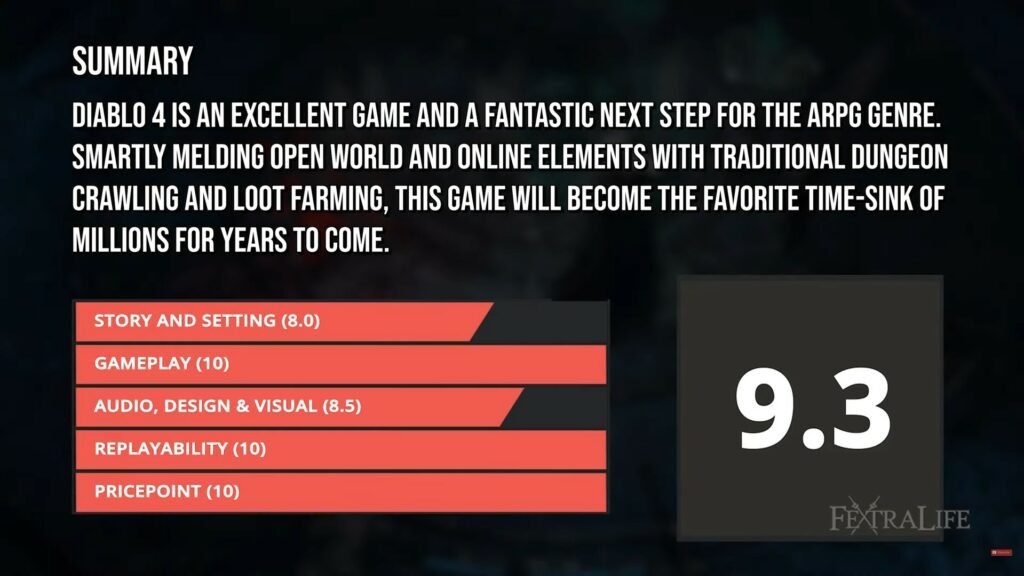 ---
Force Gaming
Force Gaming is the final review we'll be taking a look at for the soon-to-be-released game. Once again, the popular creator gives an overview of the different systems the game has with a focus on the endgame before sharing his final thoughts.
Before that though, he chose to talk about some of the biggest concerns he had from the review build. Those concerns consist of a lack of challenging content.
"The capstone dungeon bosses weren't all that difficult, the campaign bosses weren't all that difficult, the world bosses aren't all that difficult, and that is all really disappointing."
He also felt most of the bosses weren't "unique" or "inspired," saying that they felt similar to most other APRG boss mechanics and situations. He says his biggest critique of the game in general is that Blizzard didn't take many risks with the game.
But overall was the game good and will he be playing it? "All told, the core of Diablo 4 is a lot of fun, I really enjoyed playing through it and I'm pumped to dive in this week and play the game with everyone else," he explained.
"I do have some critiques, but ultimately the worst part about playing the review build last week is when the servers went offline because I just wanted to keep playing. And for me, that is a telltale sign that I enjoy a game."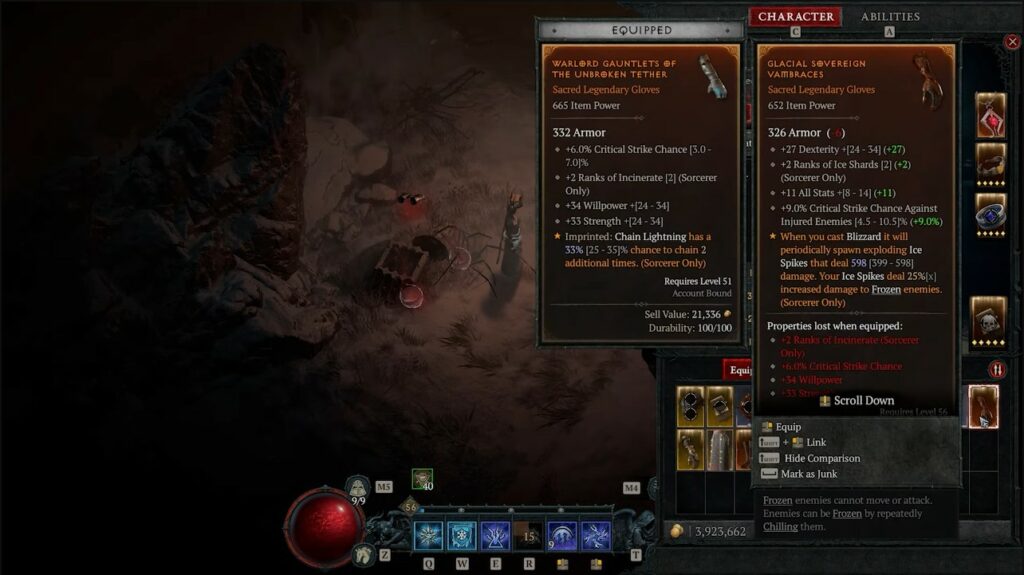 ---
After looking through and watching a few more, it seems the overall sentiment for the full game is positive and many early reviewers are looking forward to being able to jump back into the world of Sanctuary on launch.
Feel free to check out any of the linked videos for more in-depth thoughts about each of the games systems, graphics, gameplay, and more from Rhykker, Fextralife, and Force Gaming.
READ MORE: How to get Primal Instinct mount Diablo 4 Twitch drop