After months of hard-fought battles, Hi5 are your champions of the Pokémon UNITE Asia Champions League 2023.
Coming into the tournament finals as favorites to win after their undefeated run in the East Asia League, Hi5 had a big reputation to uphold. Even with a target on Hi5's backs, it didn't take many games for viewers to realize why so many of the competing teams look up to them.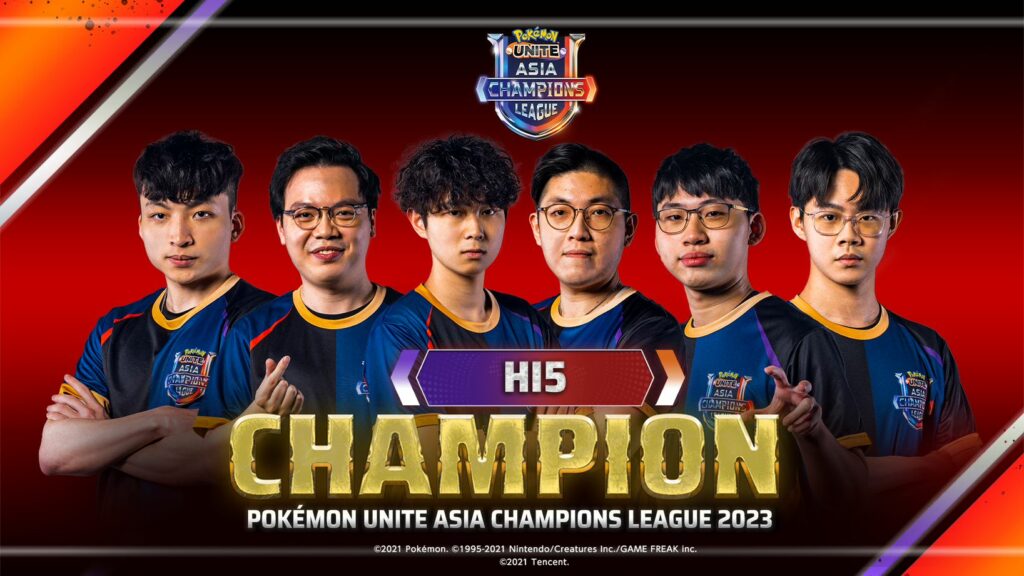 The team soared their way to the grand finals whilst maintaining their impressive win streak from the very beginning of the tournament. Though they encountered a few tough matchups along the way, their biggest challenger ended up being Team MYS, from the Southeast Asia league.
---
---
Team MYS pushed Hi5 to the absolute limit in the grand finals
In all past encounters, Hi5 had managed to best Team MYS. The Pokémon UNITE Asia Champions League 2023 finals, however, would go on to be the toughest and closest series ever played by these two titans.
Things were looking dire as Team MYS secured two back-to-back wins in games one and two of the grand final. Backed into a corner, Hi5 somehow miraculously turned games three and four in their favor by capitalizing on some game-changing openings that allowed them to secure Rayquaza during the final stretch.
Tied with two wins a piece, it all came down to a deciding game five.
Having more scored points during the final stretch, Hi5 just needed to stall the game out and make sure they didn't give Team MYS a chance to score. Restraining themselves from making the first move, they focused on deflecting and reacting to MYS's advances.
In a last-ditch effort to flip the game, MYS resorted to burning down Rayquaza. ZzzRay saved the game for Hi5 by getting the final hit with a well-timed Psyshock. With most of Team MYS knocked out, Hi5 scored the remainder of their Aeos Energy and celebrated their victory.
If you missed this spectacular final, the VOD is available to watch on the ONE Esports Youtube channel.
READ MORE: Sky Wee: 'The Pokémon UNITE Asia Champions League has been really enjoyable to watch as I was huge fan of Pokémon growing up'