The playing field narrowed even further in Good Game Asia Episode 5. With just 10 contestants left, two would be going home this week.
Contestants need to do even more to stand out, finding new and more creative ways to engage their audiences and entertain.
They are also judged on their skill in-game — they are tested every week in games ranging from Valorant and Warzone to Butter Royale and Sifu, spanning a wide range of genres.
At the end of 10 weeks, only one will be crowned the next gaming content superstar and win S$200,000 in cash and prizes, on top of a yup.gg brand ambassadorship.
---
---
Good Game Asia Episode 5 demands a champion in Apex Legends
---
---
This week's Get Real challenge saw contestants face off in an epic paintball battle, racing to collect as many balls as they could.
Dylan "Rudeism" Beck's team edged ahead with 18 balls collected, thanks to a sneaky strategy that saw them start gathering balls as the other team were still loading their weapons.
In the On Air challenge, the game of the week was Apex Legends, Respawn Entertainment's hit battle royale title.
Rudeism once again impressed with his creative motion controllers, repurposing the gloves he used to play Sifu with a flex sensor that allows it to tell how much he's bending it. A nifty microphone addition allowed him to fire his weapon just by speaking into it — a testament to his ability to innovate on his trademark controllers.
Finally, gamers headed to The Box, where they were able to recruit their own team to battle to be champions in Apex Legends. Unlike last week, players were not in the same lobby, so there could be multiple champions.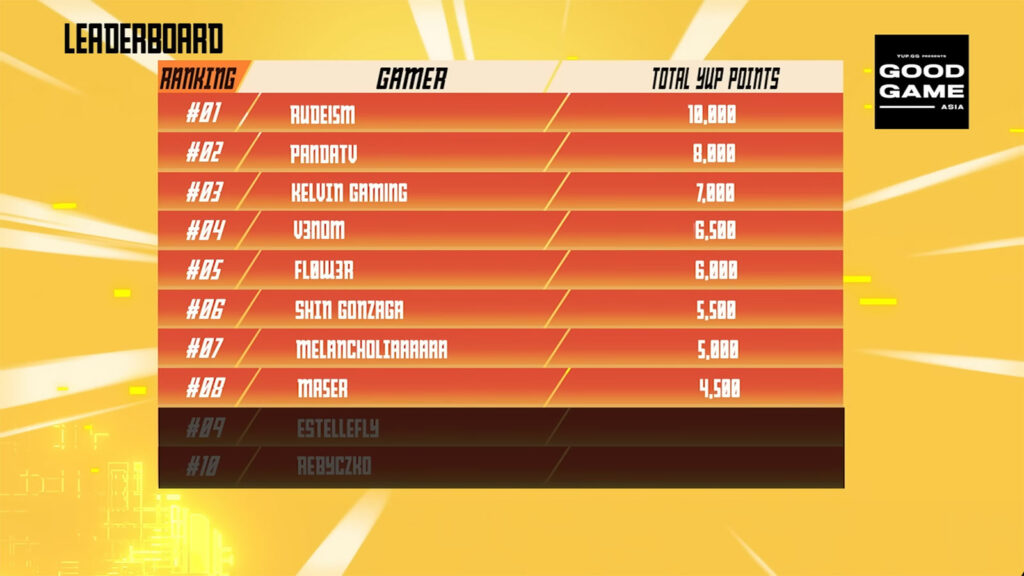 Hwang "Fl0w3R" Yeon-oh and Ankit "V3nom" Panth topped the scoreboard, with their teams securing 19 eliminations each and emerging as the last squad standing. Elsewhere, Ryan "PandaTV" Dingle, Loedphonganukun "Maser" Tha, Shin Gonzaga, and Rudeism also bagged first-place finishes.
At the end of the day, Estelle Fly and Valerie "Rebyczko" Byczko were eliminated, with the judges citing their inconsistent performance.
Tune in to Good Game Asia every Friday on YouTube, goodgameasia.com, or Warner TV.
READ MORE: Homelander wants Hideo Kojima to make 'The Boys' video game