With just 12 contestants left, the competition is getting stiffer on gaming reality series Good Game Asia.
S$200,000 in cash and prizes are at stake, including a yup.gg brand ambassadorship, Elgato streaming gear, an Omnidesk table, a Secretlab chair, a custom-built PC from Aftershock, an 86-inch Prism+ TV, and an all-expenses paid trip to Melbourne, Australia.
Contestants are judged on their ability to entertain and their skill in-game, spanning a broad range of titles from tactical shooter Valorant to Butter Royale and Sifu.
At the end of 10 weeks, only one will be crowned the next gaming content superstar.
---
---
Good Game Asia throws contestants into the Warzone
This week's Get Real challenge pit two teams of contestants against one another in a high-octane game of trivia, testing their knowledge of the gaming world.
The quiz show did not go easy on contestants, challenging how well they know both popular culture and video game history. They racked their brains over the first movie made based on a video game (Super Mario) and the first video game played in space (Tetris), on top of questions that dug into the mechanics of specific games like Minecraft.
---
---
The On Air challenge was next, involving two hit titles from Activision Blizzard — Call of Duty: Warzone and Diablo Immortal. Gamers had to submit two clips of not more than two minutes each, one showcasing their ability to entertain and engage audiences, and the other their gaming skills.
Singer-songwriter Estelle Lim, who goes by the moniker Estelle Fly, stood out with her Warzone stream, taking a blind shot of either water or vinegar whenever she was eliminated from the battle royale game.
Next, gamers headed to The Box, where they dropped together into Warzone to battle to be the last man standing. Former Overwatch pro Hwang "Fl0w3R" Yeon-oh unsurprisingly made it high in the standings, before he was eliminated. But it was Ryan "PandaTV" Dingle that came out on top with his stealthy gameplay, winning the game despite having zero kills.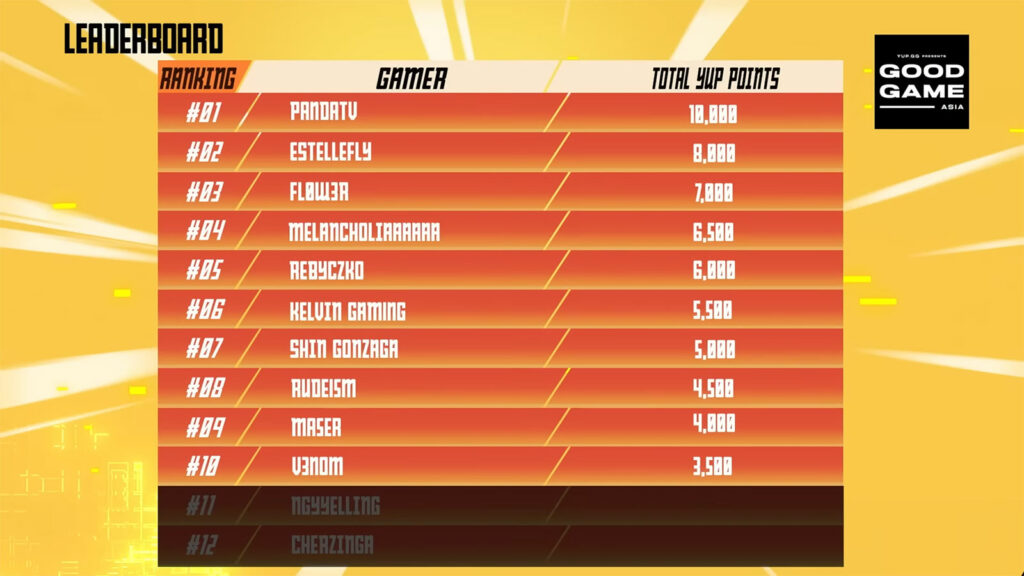 In the final leaderboard standings, PandaTV took the first spot, followed by Estelle Fly and Fl0w3R. The bottom two contestants were going home this week, which meant that it was the curtain call for both Tran "Ngyyelling" Bao Nguyen and Cheryl "Cherzinga" Allison Lim.
Tune in to Good Game Asia every Friday on YouTube, goodgameasia.com, or Warner TV.
READ MORE: Honkai Star Rail is the next best RPG for Genshin players, and here's why