In the first 2022 livestreamed episode of G4TV's Xplay, an American digital network for gamers, former League of Legends European Championship (LEC) shoutcaster Indiana "Froskurinn" Black spoke passionately about women who experience sexism in gaming.
After shoutcasting Worlds 2020, Froskurinn left the League of Legends esports scene to join G4TV in 2021 as a host for their Xplay Live show. She was joined by former LCS host and content creator Ovilee May, the network's first two esports talent additions.
---
---
Froskurinn's passionate speech about women experiencing sexism in gaming on G4TV Xplay Live
Froskurinn began by stating that she was "ecstatic" to join G4TV in 2021 because she grew up watching the network as a child.
"But every time G4 is brought up on various channels, without a doubt, there will be backlash because I'm not as 'bangable' as the previous host," she said.
"It has somehow been expected that you can talk about how much you jerked off to women as a compliment," Froskurinn elaborated. "It's not a compliment! It's dehumanizing."
Relating her personal experience on Xplay Live, she noticed that she'd get flamed in chat when she reads the second half of the same script that her co-host Adam Sessler shares, just because she is a woman.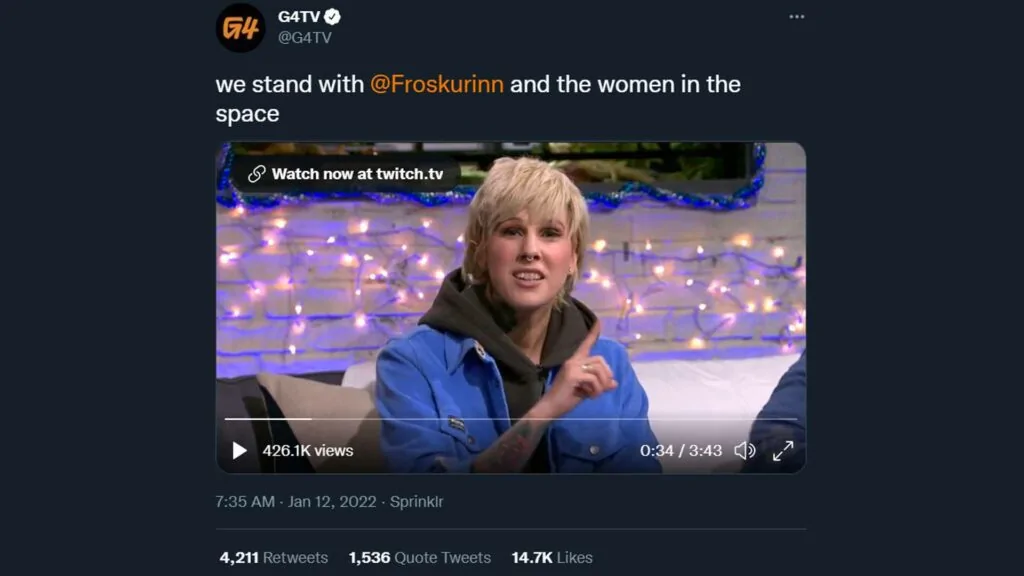 "Women do not exist to be nice on the eyes for you. That's just obvious sexism. You don't need to explicitly objectify women or declare that you hate women to be sexist," said Froskurinn.
She also made it a point to highlight that Xplay Live is a show that's written and produced by a team of people, half of whom are women.
"You're letting your unconscious biases ruin my day and you're gatekeeping the gaming space. So maybe for 2022, we'll be a bit nicer, a bit more self-reflective, and we enjoy the fact that people are working hard to make free content for you. If you don't like it, don't watch it. Peace," Froskurinn concluded.
An LGBTQ+ advocate, Froskurinn has been outspoken about various cultural and social issues present in the gaming community on social media.
Watch Froskurinn's clip on the official G4TV Twitter account here.
READ MORE: 7 best 2022 game releases that everyone needs to play