The International 11 Finals is almost here — but there's still lots of stuff to do at the TI11 Secret Shop before the competition kicks off between Team Secret, Tundra Esports, Team Liquid, and Team Aster.
If you are in town and want exclusive merch, or simply want to soak in The International atmosphere, head down to the Secret Shop located at the OCBC Square, just outside the Singapore Indoor Stadium, the venue for the Finals.
TI11 Secret Shop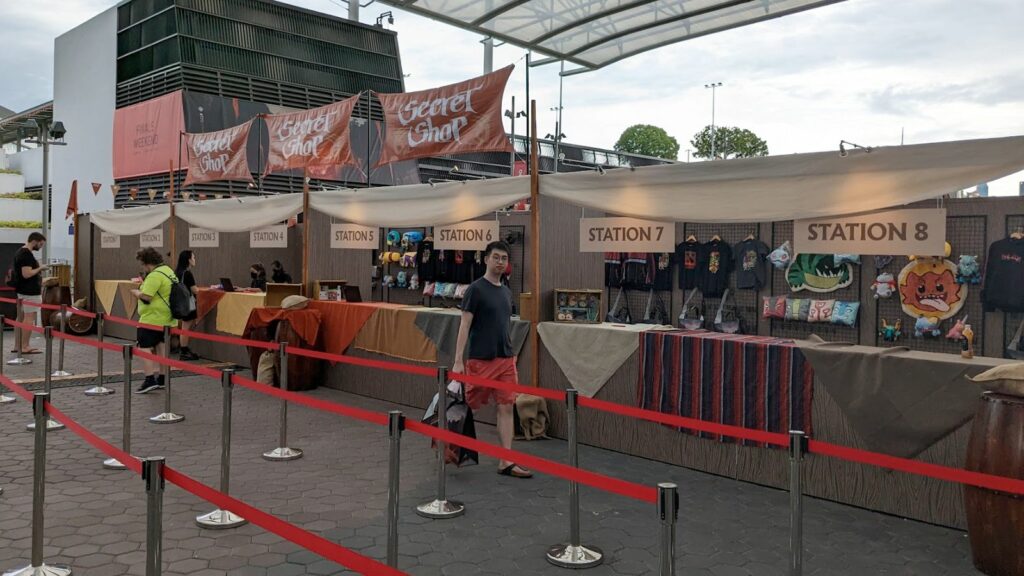 There's a whole host of merchandise available on sale, ranging from official TI11 player shirts and jackets, to collectible blind boxes, and even a full set of Hoodwink sleeping gear.
You can purchase items from the official online store, and pick them up here. The site will ask for your badge number or Ticketmaster code to order things, and you can use the code "singaporepickup" in order to bypass the restriction.
You must still pick up the items at the Secret Shop, however — there's no option for delivery.
Don't know what to get? Get a glance at a handy overview of everything the Secret Shop offers here.
---
---
Steelseries TI11-exclusive swag bag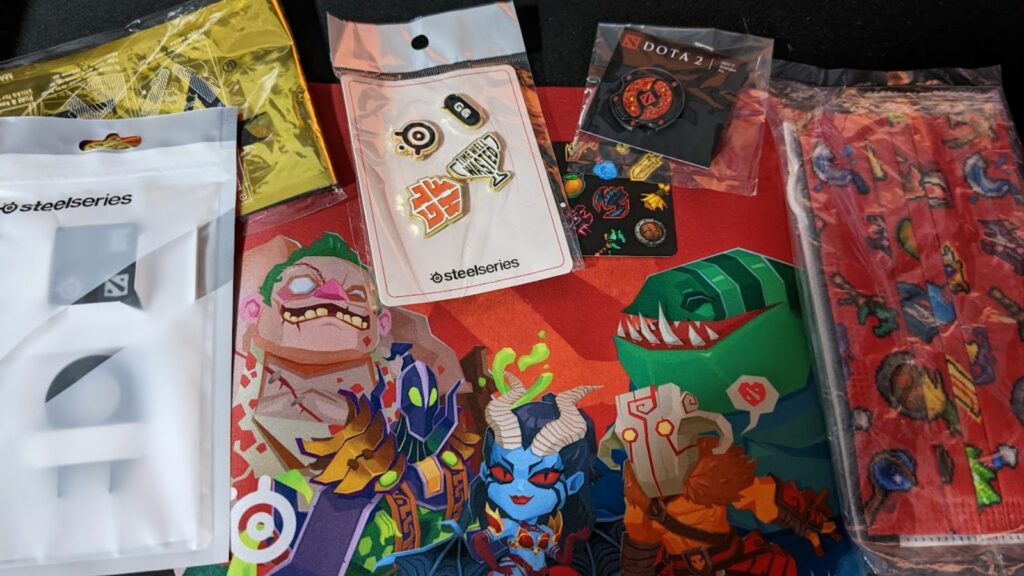 Everybody with their Finals ticket gets to redeem this sweet-looking bag with a ton of goodies inside. It's a nice, plain black, suitable for use even outside of your five-stack.
Here's what inside:
Four keycaps
Small QcK mousepad
TI11 Attendee pin
SteelSeries-themed pins
Three single-use masks
Inflatable clappers
Voucher code for 10 percent off SteelSeries products
The booth is visible from the entrance/exit of the Stadium MRT station. You'll need a Finals ticket, not just any TI11 ticket, to collect the goodies.
You'll also get a choice of glasses or a cap, both SteelSeries-branded.
---
SecretLab booth (plus a chance at freebies)
Secretlab's booth at TI11 is a showroom for the impressively varied chairs the brand has come up with over the years, and also includes a replica Aegis of Champions in the front that's likely the closest most of us will get to it.
Inside, you get deals on the Secretlab chairs, as well as the new lumbar pillows that come in Tidehunter, Roshan, and Snapfire editions.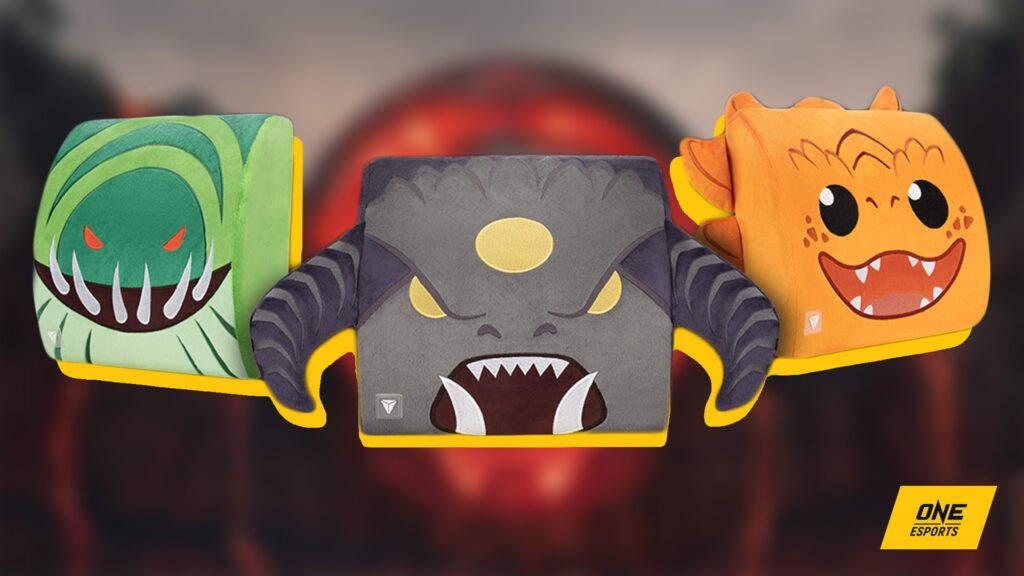 You'll need to clear some activities, including taking a picture and posting it to social media with the appropriate hashtag, and a round of lumbar pillow tic-tac-toe using the adorable Dota 2-themed ones.
The lanyard and Roshan pins are limited, and might run out by the time you get there. So go early, and hope that'll be able to snag them.
Take photos with Dota 2 heroes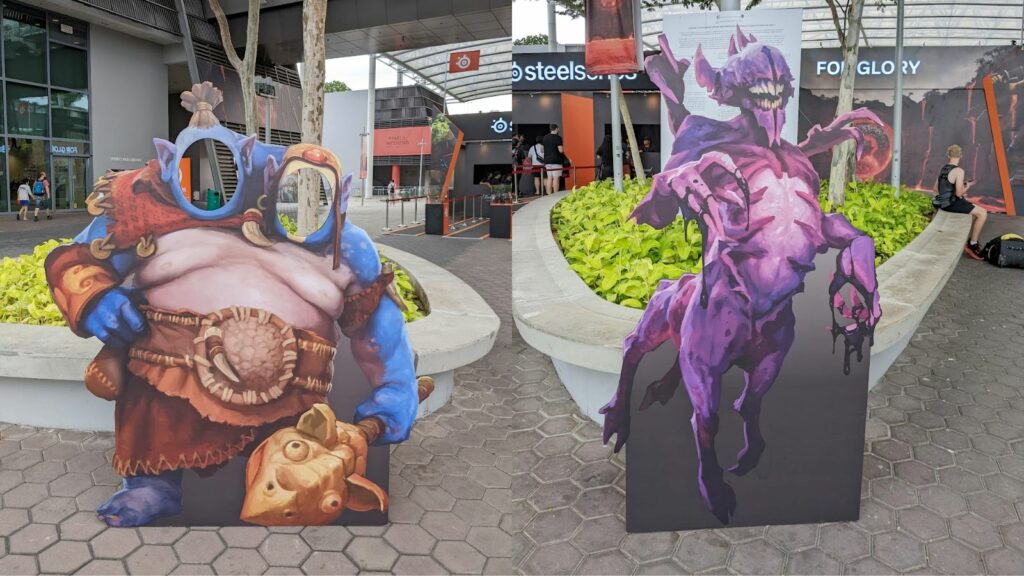 Want to get some photo opportunities before the crowd gets there? Standees of heroes are placed around the whole Secret Shop, where you can get your chance to snap your friends with your favorite Dota 2 characters.
READ MORE: Team Liquid iNSaNiA says MATUMBAMAN is the best player at TI11