After a long and arduous transfer process, Zhang "Eurus" Chengjun has finally completed his transfer from Vici Gaming over to Elephant.4AM's Dota 2 roster.
Eurus initially wasn't allowed to play in 4AM's match against Vici Gaming in the China Dota2 Pro Cup Season 2, due to the unpaid transfer fee that was owed to Vici Gaming.
However, the transfer dispute has now been settled by Elephant, after Vici Gaming made an official statement on their Weibo account. According to the official announcement, "VG has confirmed receipt of Eurus's transfer fee."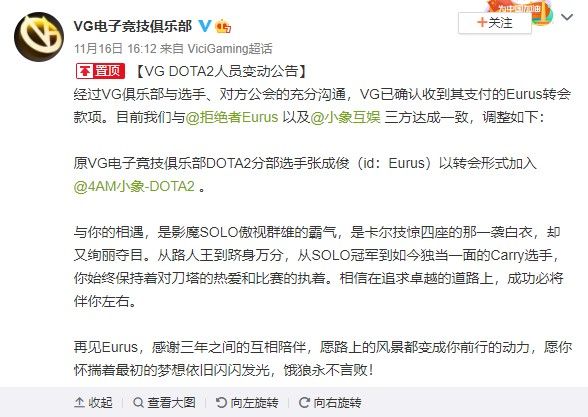 ---
---
Vici Gaming also said goodbye to Eurus, thanking him for his three-year stay with the organization. "May the scenery on the road serve as the driving force of your journey onward. May your original dream shine on, and may the hungry wolf never give up!"
Coincidently after the transfer, 4AM's Dota 2 roster was set to face Vici Gaming during the ongoing CDA-FDC Professional Championship Season 2. Vici Gaming would get the better of 4AM yet again in a 2-1, with Zeng "Ori" Jiaoyang and Yang "Erica" Shaohan putting together key performances as the team's midlaner and carry.
Fans can watch the broadcast directly on Chinese streaming platform douyu. Unfortunately, no English Dota 2 studios have decided to broadcast the tournament for non-Chinese audiences.
READ MORE: Evil Geniuses signs iceiceice to its Dota 2 roster