The controversy surrounding Chinese esports organization Four Angry Men (4AM) continues to deepen, after reports surfaced that star carry player Zhang "Eurus" Chengjun will be unable to join the Chinese superteam due to his unresolved transfer fee.
According to Vici Gaming's announcement on Weibo, "With consideration for the player, we still made concessions, allowing Eurus to acclimate and participate in 4AM's activities." VG continued, "But to this day, regarding Eurus' transfer fee, Elephant (4AM's partner company for its Dota 2 project) has not made the proper arrangements for payment, which is why the transfer procedures have not been completed."
The contract dispute was brought to light right before VG was set to face 4AM during the China Dota2 Pro Cup Season 2, which forced Eurus to sit out the match. The carry role was then filled by his former Vici Gaming teammate, Zhou "Yang" Haiyang; while the hard support position was played by 4AM's assistant coach, Chen "Xz" Zezhi.
VG eventually won their match against 4AM 2-1, which places the team on top of the group stage leaderboard alongside PSG.LGD, both with 2-0 match records.
---
---
In response to VG's announcement, 4AM released their own statement regarding the matter: "4AM Esports Club signed a two-year cooperation agreement with Elephant, an agent of various We-media (China) accounts, in March 2019. As such, the scope of this collaborative period is limited to We-media platforms. During the [aforementioned period], Elephant was unable to produce partial payment, nor were the parties able to finalize these operational plans. The Dota2 project was temporarily funded and operated by Elephant, with subsequent matters presently under investigation."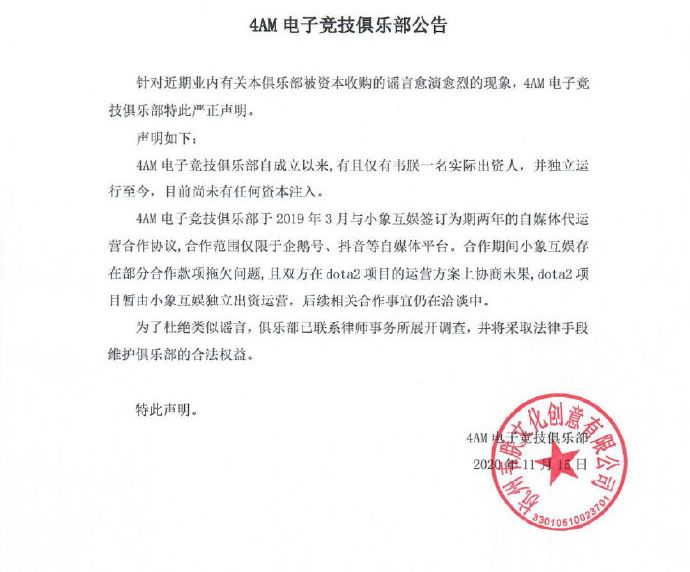 Elephant then joined the discourse with their own statement: "As initially discussed, the ratio of investment agreed upon by Elephant and 4AM was 5:5, with 4AM at the forefront [of these efforts]. However, as of November 15, 2020, this collaborative venture has yet to receive funds from 4AM, as all expenses have been shouldered by Elephant. Recently, some people have fabricated rumors and distorted facts [regarding these issues]; as such, we ask that everyone remain rational."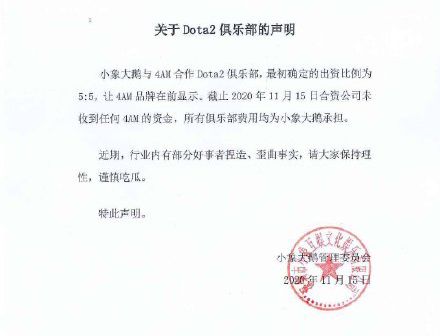 4AM's Chinese superteam has been plagued by controversy since it was formed in early October. Chinese Dota 2 legend, Bai "rOtK" Fan was at the center of the issue, when the organization was unable to add the coach to its roster. This resulted in rOtK taking a break from the competitive Dota 2 scene.
READ MORE: Evil Geniuses signs iceiceice to its Dota 2 roster