Tundra Esports have proven they're the best in the world in Dota 2.
The Western European squad capped off their marvelous tournament run by sweeping Team Secret in the grand final of The International 2022. The team will take home at least a total of US$8,489,501 for coming in first place at TI11.
---
---
Tundra's midlaner Leon "Nine" Kirilin and carry player Oliver "skiter" Lepko also became TI royal roaders – players who claim the Dota 2 world championship in their first year playing at The International.
The win also earned Kurtis "Aui_2000" Ling his second TI win, albeit in a different role as Tundra's coach. Aui_2000 won his first TI as Evil Genisues' position four support player in 2015.
TI11 was also the second time where the grand final ended in a clean sweep. Team Liquid pulled it off first when they dominated Newbee at TI7.
The team was head and shoulders above the competition with their superior hero drafts, exceptional team fight ability, and excellent individual performances.
---
---
Tundra Esports' perfect grand final performance against Team Secret wins them TI11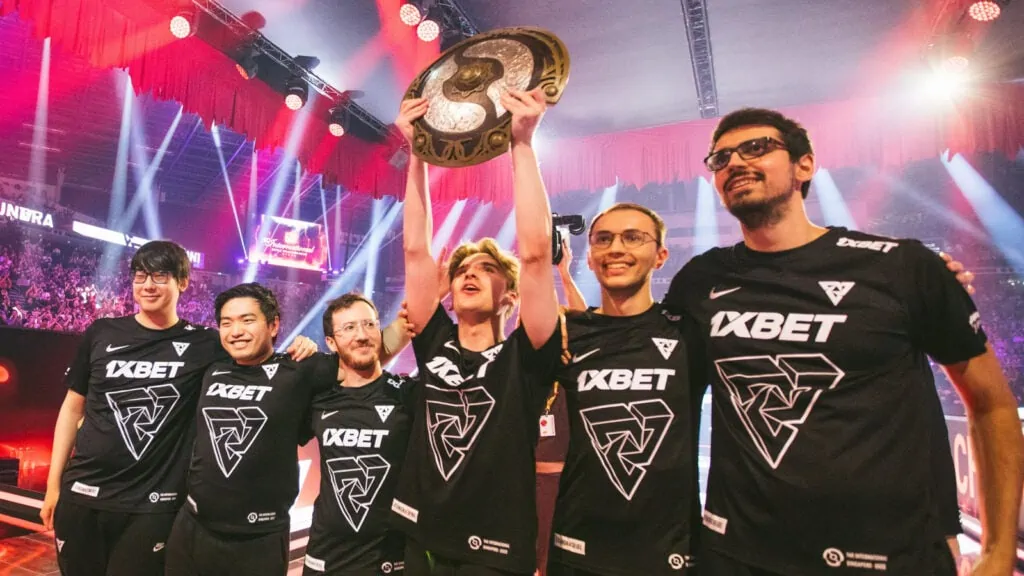 Throughout the grand final, Tundra showed they had a widely variable hero pool, which they used to gain an advantage in the drafts.
In the first game of the series, Tundra relied on skiter's carry Naga Siren in the late game. But the unsung hero was Neta "33" Shapira's offlane Tidehunter. By picking up an early Wraith Pact, Pipe of Insight, and Mage Slayer, 33 was unkillable against Secret's Leshrac, Pudge, and Enigma cores.
---
---
During a pivotal team fight inside the Rosh Pit, 33 also gave his team the Aegis advantage by holding on to his Ravage right when Roshan went down. With little resistance from Secret, Tundra quickly took control of the Radiant base and took a 1-0 lead.
---
---
Secret looked to even the series by picking Morphing, one of Michał "Nisha" Jankowski's best heroes. Meanwhile, Tundra went for another unorthodox pick, selecting the Arc Warden in the midlane for Nine.
Game two looked way more even, with Secret successfully hunting down skiter's carry Chaos Knight. But with the help of Martin "Saksa" Sazdov's support Marci, Nine was able to dish out heavy damage against Secret.
---
---
After winning consecutive team fights, Tundra took control of the map and forced Secret to hold in their base. With Nine's incredible farmed Arc Warden, Tundra was able to take fights inside Secret's base. Nisha's Morphling, who decided to buy out instead of saving his gold for buyback, was taken out — resulting in another win for Tundra.
---
---
Secret tried to give Tundra a taste of their own medicine by drafting the Naga Siren for Crystallis in the final game. But it was all for naught as Tundra was able to play perfectly around Secret's hard carry, along with their two cores.
---
---
Nine's midlane Pangolier prevented the enemy supports to make plays, while Saksa's Tiny and skiter's Medusa cleaned up the rest of Secret's heroes.
---
---
Team Secret looked lost against Tundra as they failed to contest for the Aegis. They were even caught outside the pit after Tundra took down Roshan.
---
---
Tundra was always ready to capitalize on every little mistake Team Secret made. After winning consecutive team fights, Tundra marched into the Dire base and took down Secret's Ancient to secure the clean 3-0 sweep.
Tundra Esports' TI11 winning roster
Oliver "skiter" Lepko
Leon "Nine" Kirilin
Neta "33" Shapira
Martin "Saksa" Sazdov
Wu "Sneyking" Jingjun
Kurtis "Aui_2000" Ling (coach)
Tundra's incredible TI11 run earned the organization its first Dota 2 world championship win, and the European region's fifth Aegis of Champions, following Alliance, Team Liquid, and OG's TI wins.
READ MORE: Topson on playing for T1: 'There was no strong leadership that I'm used to like with OG'