This is part of "Road to TI9", a series on the qualified Dota 2 teams for The International 2019, where we explore how they've been doing so far and why they deserve to be at Dota 2's biggest tournament.
Right behind Ninjas in Pyjamas is TNC Predator, an all Filipino squad who's made a name for themselves with unbelievable upsets, and the squad is hoping to pull off their biggest upset yet at The International 2019.
TNC was unable to win a Valve event this season, but they managed to bounce back after a difficult start and hit their stride right before TI9, even winning over two Chinese powerhouse teams, PSG.LGD and Vici Gaming.
Here's how the Filipino team performed this 2018-2019 season.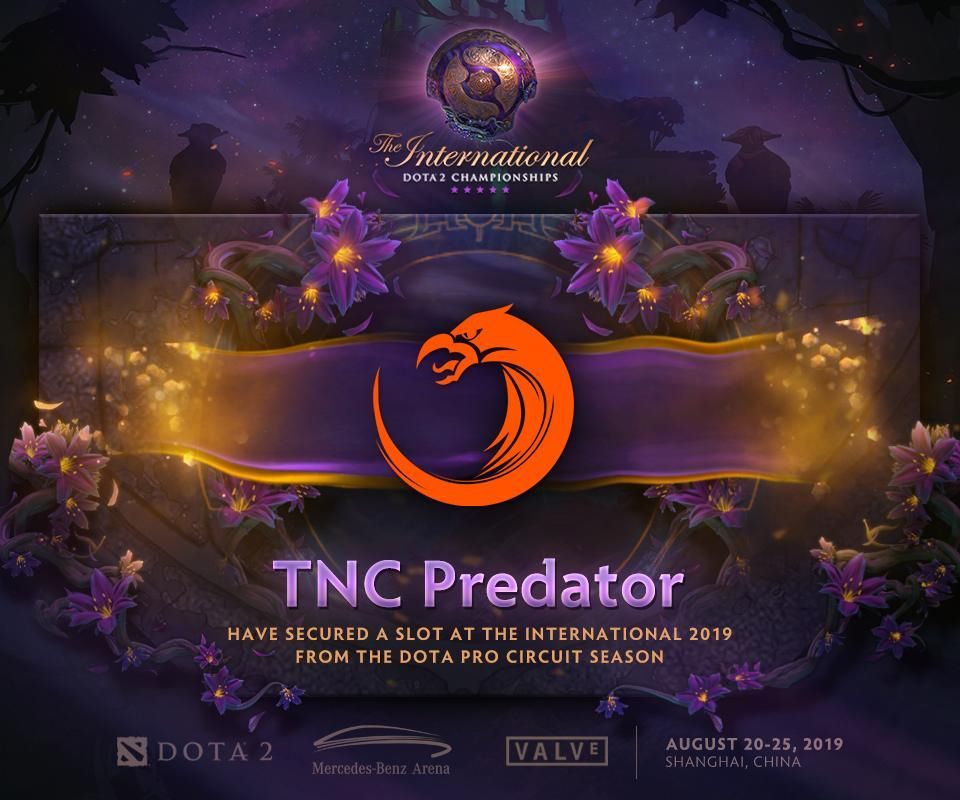 After a very disappointing performance at TI8, two TNC players decided to leave the team. Marc "Raven" Fausto and Samson "Sam_H" Hidalgo were then replaced by Michael "ninjaboogie" Ross Jr. and Kim "Gabbi" Villafuerte. They were joined by Armel "Armel" Tabios, Carlo "Kuku" Palad, and Timothy "Tims" Randrup, which became TNC's official roster at the start of the 2018-2019 DPC season.
TNC's first Valve event was the Kuala Lumpur Major, where performed terribly in the group stage. However, they managed to put together an amazing run in the lower bracket. They defeated Pain Gaming, Alliance, and upset Vici Gaming to earn a fifth-place finish.
The team, however, then found themselves making headlines after reports of Kuku's racist remarks. As a result, Valve decided to take action. Kuku was banned from the Chongqing Major and 20% of TNC's DPC points was docked at the time.
With Kuku out, TNC brought in Ryo "ryOyr" Hasegawa as a replacement. In the end, TNC had a terrible showing at the Chongqing Major. They lost to Virtus Pro and EHOME during the group stages, and were then eliminated by Team Liquid.
Shortly after, Ninjaboogie decided to leave the squad, and Kuku returned along with Nico "eyyou" Barcelon. The team's difficulties continued though, as they failed to qualify for the next three Valve events they tried to enter. But hope was all not lost — they managed to acquire Lee "Heen" Seung Gon, who helped Team Liquid win TI7, as their coach.
TNC put together their best performance of the season by finishing fourth place at the Epicenter Major. They dominated their incredibly stacked group stage. They managed to finish first place in the same group as NiP, OG, and PSG.LGD. They then defeated Royal Never Give Up, but then lost to Vici Gaming in a hard-fought series. TNC pulled off another surprise upset win by beating PSG.LGD 2-0, thanks to some heroic plays from Tims.
TNC is a Dota 2 team known for their aggressive playstyle. They're the type of team that looks to put as much pressure on their opponents as possible.
And, at times, this strategy works.
Dota 2 games have a tendency to get out of hand, and TNC thrives in those types of scenarios. But, eventually, most teams figured out what to expect from them and adjusted to a more defensive playstyle, which led to TNC's demise. During the Epicenter Major, however, something changed. With the guidance of Heen, TNC started to take a more tempered and calculated approach to team fights.
They've also managed to let cooler heads prevail in their games. They no longer try to win every team fight. Instead, they just want to make sure they get the upper hand in every encounter.
TNC is a team filled with young talent that's full of potential. They have the skills to compete against any other Dota 2 team today, but their inexperience has always been their biggest obstacle.
With the addition of coach Heen, they're not a just a team that's always on the offensive anymore. They've become a more formidable team right before TI9, and the thought of them winning it all this year now sounds a lot more plausible.
READ MORE: Dota legend Mushi to coach Mineski for TI9