This is part of "Road to TI9", a series on the qualified Dota 2 teams for The International 2019, where we explore how they've been doing so far and why they deserve to be at Dota 2's biggest tournament.
Close behind Fnatic is another European Dota 2 team that has been dominating the Valve minor events this season, Ninjas in Pyjamas (NiP).
Ninjas in Pyjamas have won two Minor events and also have victories over TI5 winners, Evil Geniuses, and the top Chinese team in this year's DPC, Vici Gaming.
Here's a rundown of the Swedish team's 2018-2019 season.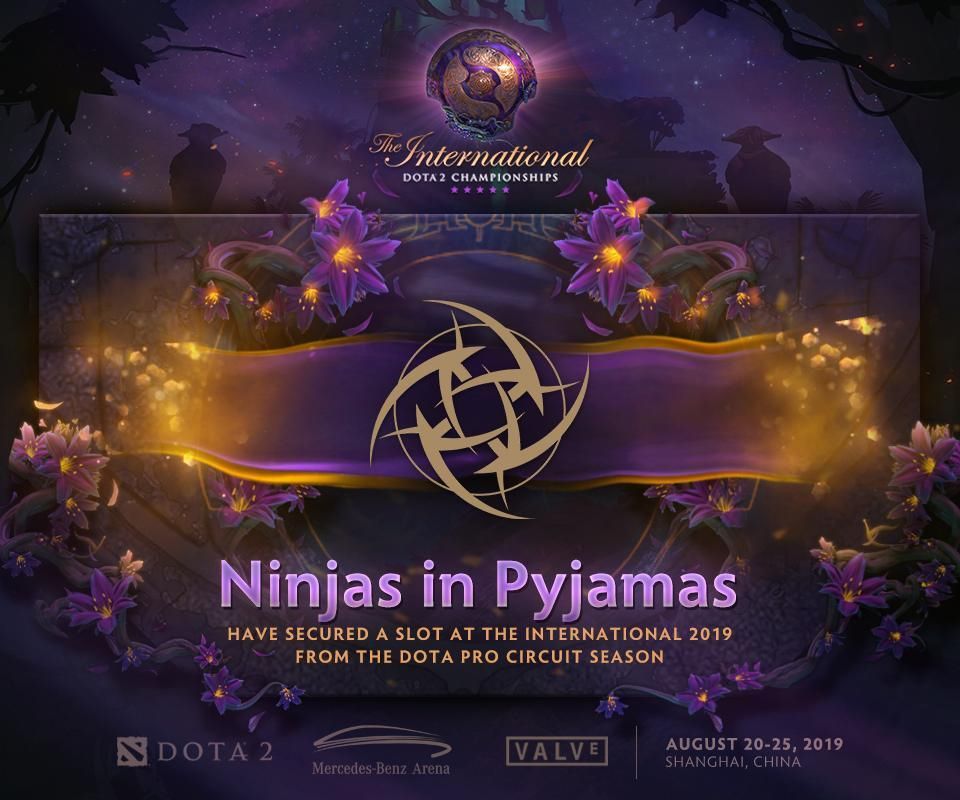 Ninjas in Pyjamas have been a competitive Dota 2 team in Europe since 2015. But in June of 2017, the team decided to shut down their Dota 2 division after a series of disappointing results.
NiP decided to give it another go following TI8.
The new NiP lineup features players with serious credentials. Peter "ppd" Dager, former captain of the TI5 winning team Evil Geniuses, calls the shots. Former Team Secret carry, Marcus "Ace" Hoelgaard, together with top European talents, Neta "33" Shapira, Martin "Saksa" Sazdov, and Adrian "Fata" Trinks round out the team. Because of these additions, Ninjas in Pyjamas were a force to be reckoned with during the 2018-2019 DPC season.
NiP showcased their best performance at the Kuala Lumpur Major, where they excelled in the group stage. During the playoffs, they caused an upset against Evil Geniuses, but were dropped to the lower bracket by Virtus Pro. They were eventually eliminated by Evil Geniuses in a revenge match.
NiP failed to qualify for the Chongqing Major and had a terrible showing at the Stockholm Major, where they lost to PSG.LGD and Fnatic in the group stage. They eventually managed to beat Foward Gaming in the lower bracket, but were knocked out of the tournament by Evil Geniuses once again.
Their first event win of the year was the OGA Dota PIT Minor, where they didn't lose a single game until the grand finals. NiP recovered to eke out a close win against EHOME.
During the MDL Disneyland Major, they did well in the group stage and then scored an upset against Vici Gaming in the upper bracket. But they lost yet again to Evil Geniuses and were eliminated afterwards by PSG.LGD.
NiP then won the StarLadder Ukraine Minor by defeating Alliance in a hard-fought grand final series. They had another disappointing performance at the Epicenter Major though, where they were eliminated by Gambit Esports.
Moving forward, Ninjas in Pyjamas have an "Ace" up their sleeve. He's one of the best carry players in Europe, and his ability to play Meepo is always dangerous against any team.
Another player whom NiP will rely on is 33. There are so many talented middle lane players in competitive Dota 2, and it's such a high-impact position that even the smallest mistake will put any team at a disadvantage. 33 has their needs at that position covered.
It's been a rough start for NiP, to say the least. They've shown a few glimpses of brilliance, especially during the Valve Minors. But against the very best teams in Dota 2, specifically against Evil Geniuses, they've left a lot to be desired.
Despite a difficult year for NiP, they were still able to secure a direct invite to The International 9. And that in itself is an impressive feat. In addition, this going to be NiP's first International, and a good finish would bode well for the team's future.
READ MORE: Dota 2 cleans up a ton of bugs with part two of the 'Summer Scrub' update