This is part of "Road to TI9", a series on the qualified Dota 2 teams for The International 2019, where we explore how they've been doing so far and why they deserve to be at Dota 2's biggest tournament.
China has long dominated Dota 2's top tournament — of the eight held so far, three of Aegis of Champions holders are from China, and that's also not including the five Chinese teams who have come in as runner-ups.
There's no denying that China is one of the most accomplished regions in Dota 2 and with the International 9 taking place in Shanghai next month, one Chinese team has risen above the rest.
Vici Gaming has had an incredible Dota Pro Circuit season. Coming in third place at this year's DPC season, they have secured a direct invitation to TI9, with wins over CIS powerhouse, Virtus Pro, and TI7 winners Team Liquid.
Here's a rundown of their 2018-2019 season.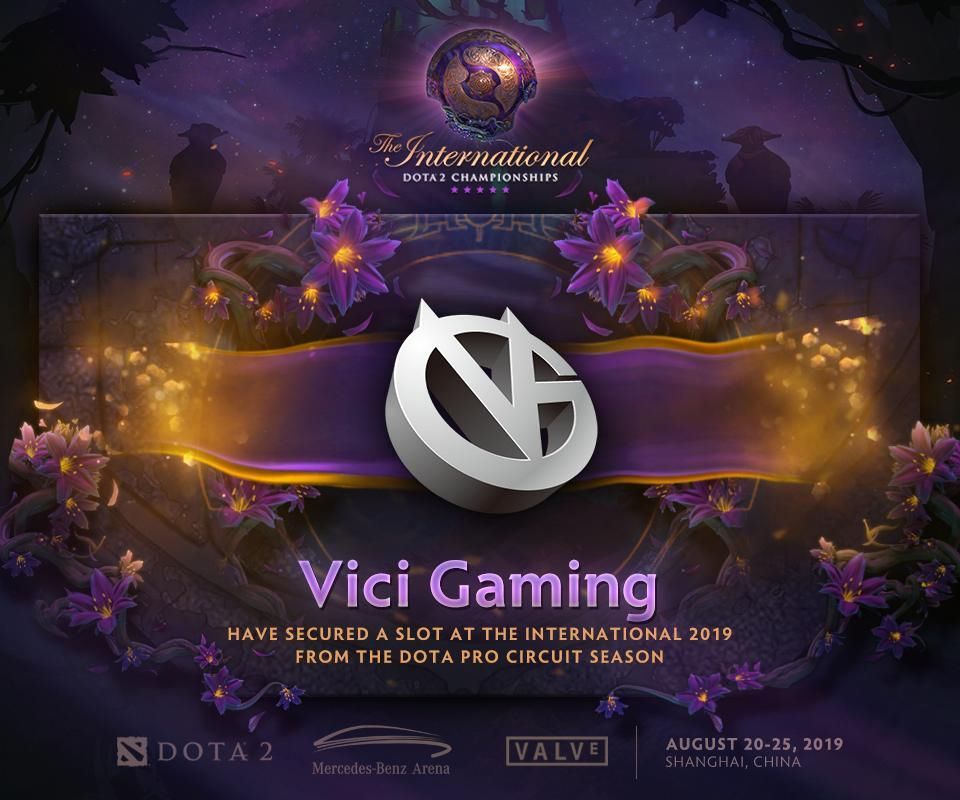 After coming in at the 9th-12th place at TI8, Vici Gaming decided to overhaul their roster for the 2018-2019 DPC season. They replaced Ren "Eleven" Yangwei, Zhang "Lanm" Zhicheng, and Lu "Fenrir" Chao with Zhou "Yang" Haiyang, Pan "Fade" Yi, and Ding "Dy" Cong. They decided to keep Zhang "Paparazi" Chengjun and Zeng "Ori" Jiaoyang.
The addition of the young trio meant VG was able to reinvigorate their competitive edge. With Fade as their new team captain, the squad also has more strategies to stymie their opponents, who have long grown accustomed to the previous squad's tactics.

With that change, Vici Gaming was able to take home two Valve Majors in the 2018-2019 DPC season. They won Dream League Season 11, where they defeated Virtus Pro back in March. They then defeated Team Liquid at the Epicenter Major last month.
Vici Gaming has earned a total of 11,250 points, with 9,900 points of that coming from finishing first at two Valve Majors, and the remaining points came from 5th-8th place finishes at the three other major events.
Vici Gaming is another team that consists of great individual talents who become exponentially better once they're grouped together. The team no longer relies on legendary Chinese players; the only big name left on the team is Bai "rOtK" Fan, the team coach.
But aside from guiding younger players, rOtK has become a father figure to them. rOtK has chosen to function as more of an all-around mentor than a coach, by helping them get through their real-life problems.
rOtK's support hasn't been going to waste either. With his help, the players have been able to solely focus on practicing for and performing at the Major events.
VG has never won the International. The closest they've gotten was back in 2014, when they lost to Newbee at the grand finals in Seattle, where their coach, rOtk was a player.
But with the success they've had at this year's DPC season, coupled with a revamped lineup, VG could easily be the next Chinese team to lift the Aegis of Champions, especially on home turf and with the local crowd support buoying them to a first place finish.