This is part of "Road to TI9", a series on the qualified Dota 2 teams for The International 2019, where we explore how they've been doing so far and why they deserve to be at Dota 2's biggest tournament.
Right behind OG is Alliance, the last European team to have earned a direct invitation to The International 2019.
As a relatively new squad, Alliance took the 2018-2019 DPC season as an opportunity to learn and improve as a team, scoring wins over the two strong CIS teams, Virtus Pro and Gambit Esports.
Here's how Alliance performed in this year's DPC season.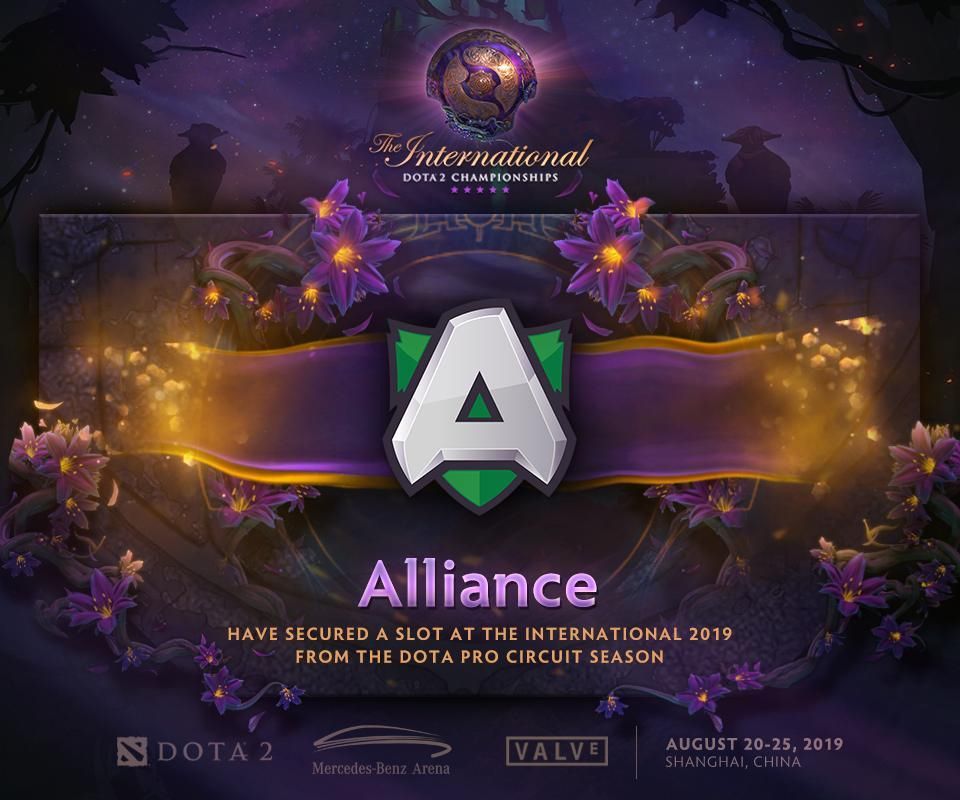 After failing to produce ideal results in various online qualifiers and tournaments throughout the first half of 2018, Jonathan "Loda" Berg chose to step down as an active player, which finalized the changing of the guard for Alliance.
With Loda placed as the team's coach, Maximilian "qojqva" Brocker was brought in as his replacement. Alliance's active roster includes younger Dota 2 talents like Michael "miCKe" Vu, Samuel "Boxi" Svahn, Tommy "Taiga" Le, and Aydin "iNSaNiA" Sarkohi.
During the start of the 2018-2019 season, Alliance found themselves struggling in a stacked European region. But, competing against some of the best Dota 2 teams in the world helped them develop much faster.
Alliance was able to get third place during the European qualifier for the Kuala Lumpur Major. They had a better showing during the group stage, where they defeated Pain Gaming and Forward Gaming. But during the playoff stage, they lost convincingly to PSG.LGD, and were then eliminated by TNC Predator.
During the Chongquin Major, Alliance was able to outqualify teams like NiP and OG from the European region. But, they finished at the bottom half of their group, and were eliminated by Chaos Esports Club.
After disappointing performances at the next two Valve Major events, it looked as if Alliance wasn't going to be able to qualify for TI9. But they finished the season strong, and earned a second-place finish at the StarLadder Ukraine Minor, which helped them qualify for the Epicenter Major.
And during the Epicenter Major, they were able to defeat Virtus Pro in the group stage. They then eliminated Infamous, Royal Never Give Up, and Gambit Esports to earn a fifth/sixth-place finish at the Epicenter Major. Because of their impressive showing at the tournament, they were able to secure a slot for TI9.
Alliance is a team that features no superstar player. Nor are they known for unorthodox strategies or an ability to come back from difficult situations. They're a group of players who believed that team chemistry and playing through adversity will one day lead to success, and they have been right so far.
That being said, Micke is a carry player that has the potential of being a superstar one day. His ability to see how team fights develop before they even happen is a special trait not all carry players possess.
There isn't a lot of expectation placed on Alliance at this year's TI9, especially when they haven't even been able to win a Valve event this season. But as we've seen in the past, underdog teams who have nothing to lose are the ones that are the most dangerous.
READ MORE: Dota 2: Tiney's Majesty of the Colossus' Prestige item, Custom Creeps is out now