This is part of "Road to TI9", a series on the qualified Dota 2 teams for The International 2019, where we explore how they've been doing so far and why they deserve to be at Dota 2's biggest tournament.
Close behind TNC Predator are the reigning champions, OG. After an incredible run at The International 2018, they're hoping to be the first-ever Dota 2 team to win back to back TI championships.
Even though they weren't able to win an event this year, they still managed to finish the 2018-2019 DPC season with 1,218 points, putting them at 10th place in the DPC rankings. They have a win over their main rivals, Evil Geniuses. They also defeated Team Secret more than once this season.
Here's how the reigning champions did this DPC season.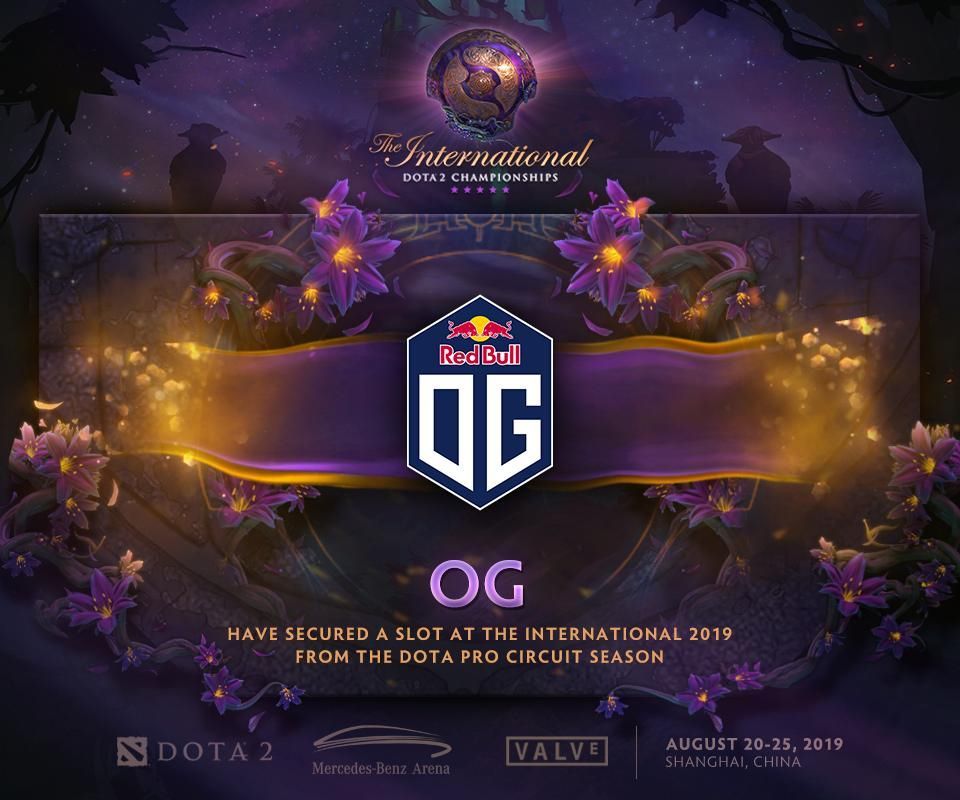 Following their Cinderella-story win at The International 2018, the team decided to take a break from competitive play at the start of the 2018-2019 DPC season.
Shortly after, OG's star carry player, Anathan "ana" Pham decided to take a longer break away from the game, and became an official substitute player for the team. OG then added Igor "iLTW" Filatov to their championship roster, which already includes Topias "Topson" Taavitsainen, Sebastien "7ckingMad" Debs, Jesse "JerAx" Vainikka, and Johan "N0tail" Sundein as their captain.
The start of the season was brutal for OG. They were in horrible form because of their hiatus. And, having to compete in the extremely competitive European region, OG failed to qualify for the next two Valve Majors.
With OG struggling so much, Ana decided to return to the team's active roster on March 13, and the rest of the team geared up for the remainder of the season.
Having Ana back on the team immediately helped OG. They were able to enter the MDL Disneyland Major, where they did well in the group stage and upset Virtus Pro 2-0 in the upper bracket. However, they were then dropped to the lower bracket by Team Secret, and eliminated by Team Liquid. Still, they were able to finish in fifth/sixth place and earned themselves 900 DPC points.
During the Epicenter Major, OG showed glimpses of the team that won TI8, as they were able to eliminate Evil Geniuses and Team Secret in the lower bracket stage of the tournament.
OG is known for their unorthodox approach to the game of Dota 2. Players Topson and Jerax often choose heroes based on what they feel like playing, instead of taking a strategic approach like most teams abides by.
This doesn't mean OG isn't capable of pulling off incredible team strategies against their opponents though. OG has always been a team that thinks outside the box when it comes to drafting, and this is the reason why they lose sometimes.
But, as we've seen in last year's TI8, OG's greatest strength lies in their ability to come back from unwinnable situations. In a losing game, if the enemy team makes one simple mistake, OG can capitalize and gain the upper hand in the blink of an eye.
OG's legendary TI8 run will always go down as one of the best team performances in Dota 2 history. So it is difficult to count out the reigning and defending champions this year, even after a lackluster 2018-2019 DPC season.
If OG is able to pull off another miraculous performance at Shanghai, not only will they be the first two-time International champions, they will also be the first team ever to win the tournament, back to back. And that will undoubtedly put them as the greatest team in Dota 2 history.
READ MORE: The International 2019: Everything you need to know