Right behind Team Secret is Virtus Pro, the Russian powerhouse team who've plowed through countless opponents in this year's Dota Pro Circuit season.
They have dominated the Commonwealth of Independent States region (CIS) all season long, and hope to continue their winning ways at this year's the International 2019 in Shanghai, China.
Virtus Pro has had an impressive run this year. Coming in second place at this year's DPC season rankings, the Russian squad were able to secure a direct invite to TI9. They've won against their European rivals, TI7 winner's Team Liquid, and most recently, sending TI9 favorites, Team Secret to the lower bracket during Epicenter Major last month.
Here's how VP has performed so far.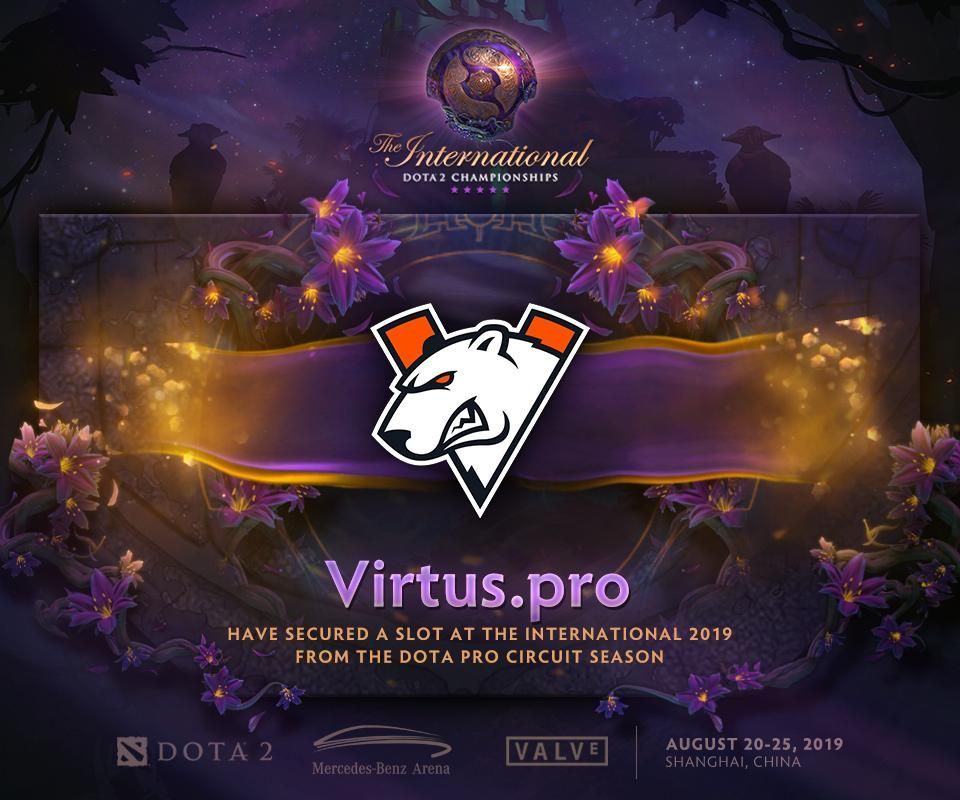 Despite having to replace Ivan "Artstyle" Antonov with Arseniy "ArsZeeqq" Usov as their coach back in September of last year, Virtus Pro has been one of the most stable teams in recent years.
Virtus Pro's strength comes from their ability to rely on one another in high-pressure situations. The team has shown they have no weak links whatsoever, and they have just as much team synergy as any other team coming into TI9.
Instead of changing personnel, they simply switched team captains. Alexei "Solo" Berezi, who was the previous captain last season, has given the reigns to Roman "Ramzes666" Kushnarev.
This change makes Ramzes, at 20 years old, the youngest team captain amongst all the other teams. There's no doubt about his drafting skill either — during an interview at the MDL Disneyland Major, he confidently stated that based on the draft, he already knows "what will happen in the game".
It's not just Solo and Ramzes who carry the team — with Vladimir "No[o]ne" Minenko at the mid-lane, Pavel "9pasha" Khvastunov at the off-lane, and Vladimir "RodjER" Nikogosyan along with Solo as supports, Virtus Pro has assembled a group of CIS all-stars.
Virtus Pro won the Kuala Lumpur Major in a dominant fashion back in November of last year, which was the first DPC event of the 2018-2019 season.
They have earned a total of 13,500 DPC points, with 4,950 coming from a first-place finish at Kuala Lumpur, 6,000 points from two second-place finishes at the Chongqing Major and the Stockholm Major, while also scoring a third-place finish at the Epicenter Major.
The two key players who can give VP the edge over the against the competition is definitely Pasha and RodjER, since everyone already knows what to expect from Ramzes, No[o]ne, and Solo. Pasha has proven himself to be one of the best off-laners in the world, while RodjER has really come to his own after joining the team last year.
The International has always been tricky for Virtus Pro. They've consistently had underwhelming performances when it comes to the International, as shown by last year's 5th-6th finish at TI8.
Nonetheless, Virtus Pro's body of work leading up to TI9 speaks for itself. They've shown they have what it takes to beat any Dota 2 team coming into TI9, and they are eager to lift the Aegis of Champions for the very first time.
READ MORE: Wrath of the Mo'rokai goes live on July 5