Shopify Rebellion is taking on a whole new look for 2024, following the departure of three key players.
Erin Jasper "Yopaj" Ferrer, Thiago "Thiolicor" Cordeiro, and Kartik "Kitrak" Rathi are the latest additions to the roster, Shopify Rebellion announced this morning.
The NA org continues to add a cosmopolitan touch to its roster — none of its new players competed in the Americas region in the last season. Yopaj comes from the Philippines, Thiolicor from Brazil, and Kitrak, surprisingly, becomes the Dota 2 roster's first U.S. player.
---
---
Shopify Rebellion Dota 2 roster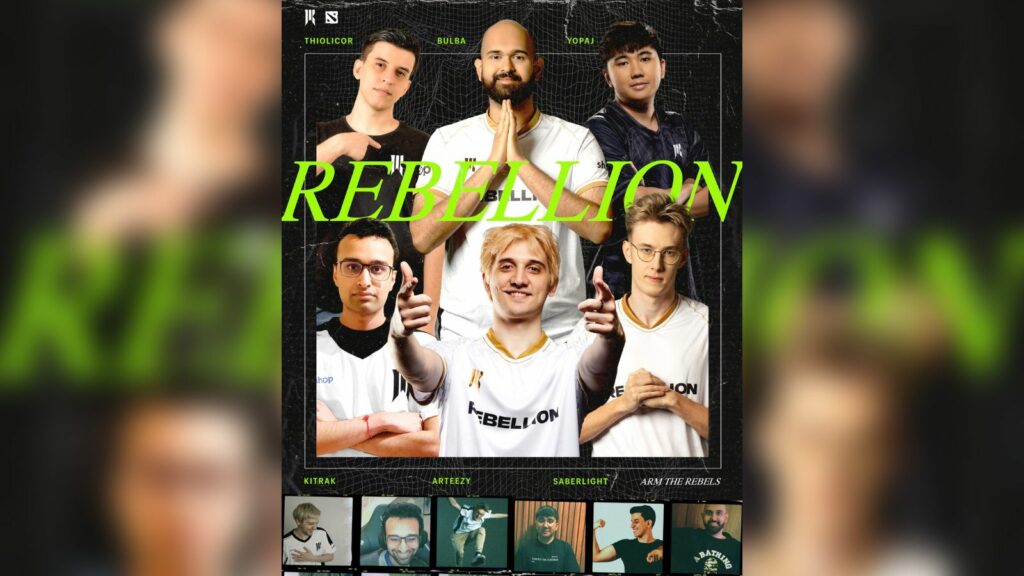 Artour "Arteezy" Babaev
Erin Jasper "Yopaj" Ferrer
Jonáš "SabeRLight-" Volek
Thiago "Thiolicor" Cordeiro
Kartik "Kitrak" Rathi
Kanishka "BuLba" Sosale (coach)
Yopaj joins as one of the brighter midlaner stars of Southeast Asia in the past few years — though his past year with BOOM Esports has been less than inspiring, with the team ping-ponging up and down the Divisions in the Regional League. BOOM ended up not attending any Majors, as well as missing out on qualifying for TI12.
Thiolicor, who's been jumping around South American squads for years, moved to Europe in March to compete with D2 Hustlers, which was signed by Luna Galaxy. The squad went on a surprising run through the TI12 qualifiers, finishing third behind two losses against eventual attendees Entity and Quest Esports.
Kitrak, who was away from professional Dota from 2019 to 2022, made a surprising return as a coach for T1 at the TI11 qualifiers, before joining up with Old G — which included former OG players like Sébastien "Ceb" Debs and Topias "Topson" Taavitsainen — and eventually ended up on the main OG roster for a brief three-month stint, where he gained recognition as an increasingly capable position five.
It'll take a while for us to see this roster in action, however — the team missed out on the ESL One Kuala Lumpur qualifiers, and will not attend the event in Malaysia.
READ MORE: Dota 2 patch 7.34e is a small balance patch — but more changes could be on the horizon