The ONE Esports Singapore Major continues today with the dreaded Lower Bracket elimination matches of the Playoffs.
If you've been playing ONE Esports Fantasy, that means it's time to make a new set of picks. And if you haven't there's still time to join the fun, and get a chance to win US$1,000 in Steam vouchers and a Tumi Finch backpack worth S$690.
For the Playoffs, only four games played each day, so we have to make every pick count. This is the part of the competition where you're going to need every bit of information on the teams in your head-to-head picks. The Playoffs also mean you're going to have to pick a winner, no more down the middle draws.
There are only four matches that are going to be played today, and they're all from the Lower Bracket.
Advice in this article is based on each team's performance in the Wild Card, Group Stage, DPC upper division, and previous tournaments.
---
Fnatic vs OB.Neon
Fnatic and OB.Neon (formerly Neon Esports) have faced one another in the Southeast Asian region 11 times. Fnatic has gotten the better of Neon so far with a 7-2 record against them, good for a 72.73% win rate over the Filipino squad.
Looking at their head-to-head stats since Daryl "iceiceice" Koh left Fnatic, Neon has a 1-3 match record against Fnatic, winning only three games to Fnatic's six. This makes Neon the clear underdog in their lower bracket elimination match in the playoffs.
We should also keep in mind that Neon is playing with a completely different stand-in player with Yang "Deth" Wu Heng. Rafael "Rappy" Palo was supposed to be the initial substitute player for John "Natsumi" Vargas who couldn't make it to the Singapore Major due to health concerns. Now Raffy has been removed from the lineup after being in 'close contact' with someone who has COVID-19.
Prediction: Fnatic
All evidence points to Fnatic winning this match. Fnatic also impressed us during the DPC SEA upper division finishing the tournament with a 13-4 game record and a 76.47% win rate. Meanwhile, Neon completed the first DPC season with a 12-7 game record with a less impressive 63.16% win rate.
---
Vici Gaming vs Team Liquid
Hats off to both Vici Gaming and Team Liquid for being tough and durable teams. Both have played a total of 51 games in the Singapore Major thus far.
During those games, Vici Gaming and Team Liquid have gotten to know each other quite well. On the second day of the Wild Card, Vici Gaming got the better of Team Liquid, winning their match 2-0. In the Group Stage, however, Team Liquid got their revenge against the Chinese team, earning a clean 2-0 sweep.
Vici Gaming and Team Liquid's upcoming elimination match ultimately comes down to which team has figured out the matchup most. In their last meeting, Team Liquid chose to drop their early game pressure strategy and elected to go for true hard carry heroes like Weaver and Juggernaut — which worked.
As a result, Team Liquid outplayed Vici Gaming in Game 1 of their Group Stage rematch. Liquid won all their lanes and ended the game in 22 minutes. Max "qojqva" Bröcker on the Storm Spirit finished with a perfect 13/0/6 KDA record. Then, in the final game they played in the Group Stage, Michael "miCKe" Vu stepped up for his team, going 11/1/9.
Prediction: Team Liquid
We believe the same Team Liquid squad will show up in their lower bracket match against Vici Gaming. This is also because Vici Gaming's performance has been declining. In their match against Invictus Gaming, VG were outclassed in Game 1 and 3, while the one win they earned was much more of a hard-fought battle.
---
---
Thunder Predator vs Team Aster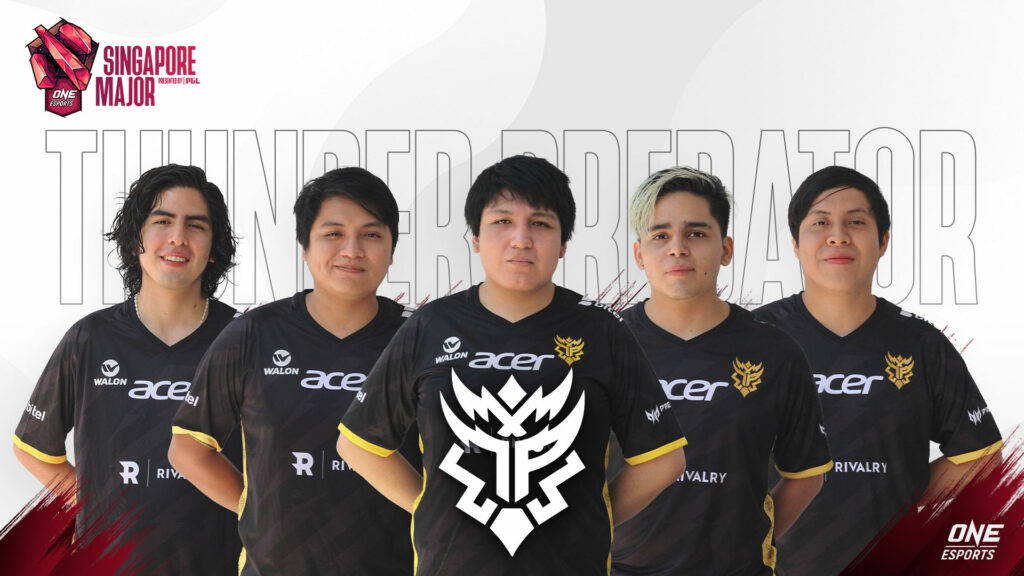 Thunder Predator handily won their Group Stage match against Team Aster 2-0. In both games, Thunder Predator won the laning phase. They maintained their lead all throughout the match and didn't give Team Aster a chance to get back into both games.
In terms of Group Stage standings, Thunder Predator performed much better, ultimately finishing with a 12-2 record. Meanwhile, Team Aster has shown inconsistencies in their play, but managed to qualify into the lower bracket with a 5-9 record.
Prediction: Thunder Predator
Even with a loss against tournament favorite Team Secret in the upper bracket of the playoffs, Thunder Predator showed glimpses of brilliance. While they were behind by 16,000 gold, they still managed to claim the first set of Barracks against Team Secret in Game 1. If Team Aster doesn't step up and play on the same level as Thunder Predator, they will find themselves eliminated from the Singapore Major.
---
Virtus.pro versus Quincy Crew
Virtus.pro was highly ranked coming into the Singapore Major because of all the success they've had prior to the tournament. Aside from Team Secret, VP is the only team that remained undefeated in the DPC upper division with a 7-0 match record with a 93.33% win rate.
Quincy Crew might not have as impressive of a DPC upper division record but they still managed to finish second place in the North American region with a 6-1 match record with a 76.47% win rate. Quincy Crew is also the only team who handed Evil Geniuses a loss in the DPC NA upper division.
Prediction: Quincy Crew
Comparing both teams' DPC upper division performances, you'd think this decision would have been easy to make for Virtus.pro. However, after their convincing loss to PSG.LGD yesterday, Quincy Crew has a legitimate shot at eliminating the CIS powerhouse team in their lower bracket match.
Despite not playing with their full roster with Wilson "poloson" Koh Chin Wei filling in for Arif "MSS" Anwar, Quincy Crew was able to finish ahead of Team Liquid, Team Aster, and Alliance in the Group Stage.
Quincy Crew has also played 14 games in the Singapore Major, which also gives them a better understanding of the tournament's current meta.
READ MORE: Singapore Major Playoffs Day 1 recap: Team Secret and Evil Geniuses look dominant