Filipino esports organization Omega Esports (Smart Omega) is now allowed to rejoin the Dota 2 2022 DPC season in Spring after appealing to Valve to remove the ban.
Omega Esports announced their return to the 2022 DPC season on December 1. The organization will have to rebuild its roster, as two of its players had their contracts terminated.
---
---
After getting unbanned, Omega Esports currently only has three players on the roster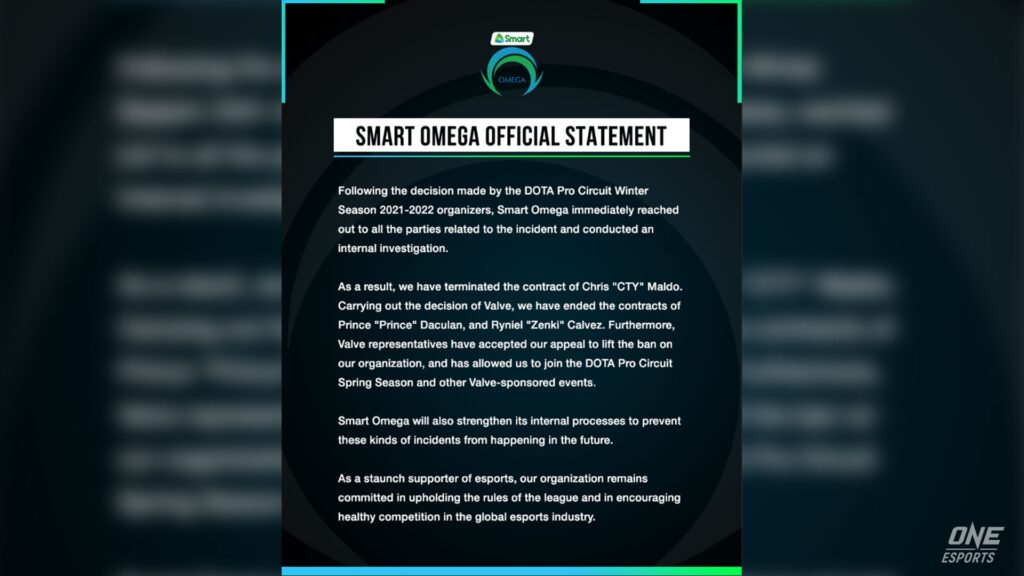 The Filipino esports organization was originally banned after it was discovered that its players had engaged in match-fixing activities. The team was subsequently removed from Division I of the first SEA Tour and replaced by BOOM Esports.
Since receiving the ban, Omega Esports appealed to Valve to allow them to compete again. It is currently unclear what Division the team will be playing during the Spring Tour, or if they'll have to go through the Open Qualifiers.
After the conclusion of their investigation, the organization decided to end the contracts of Prince "Prince" Daculan and Ryniel Keit "Zenki" Calvez.
The coach of the team, Chris "CTY" Ian Francis Maldo, was also removed from the organization.
Valve's second Dota 2 2022 Tour begins on March 14. Dota 2 fans can find the full announcement on Twitter.
READ MORE: Tundra Esports repeats identical draft in back-to-back games; wins anyway