Newly rebranded Filipino esports organization OB Esports x Neon (formerly Neon Esports) has announced that Yang "Deth" Wu Heng will be standing in for Rafael Sikat "Rappy" Palo at the ONE Esports Singapore Major.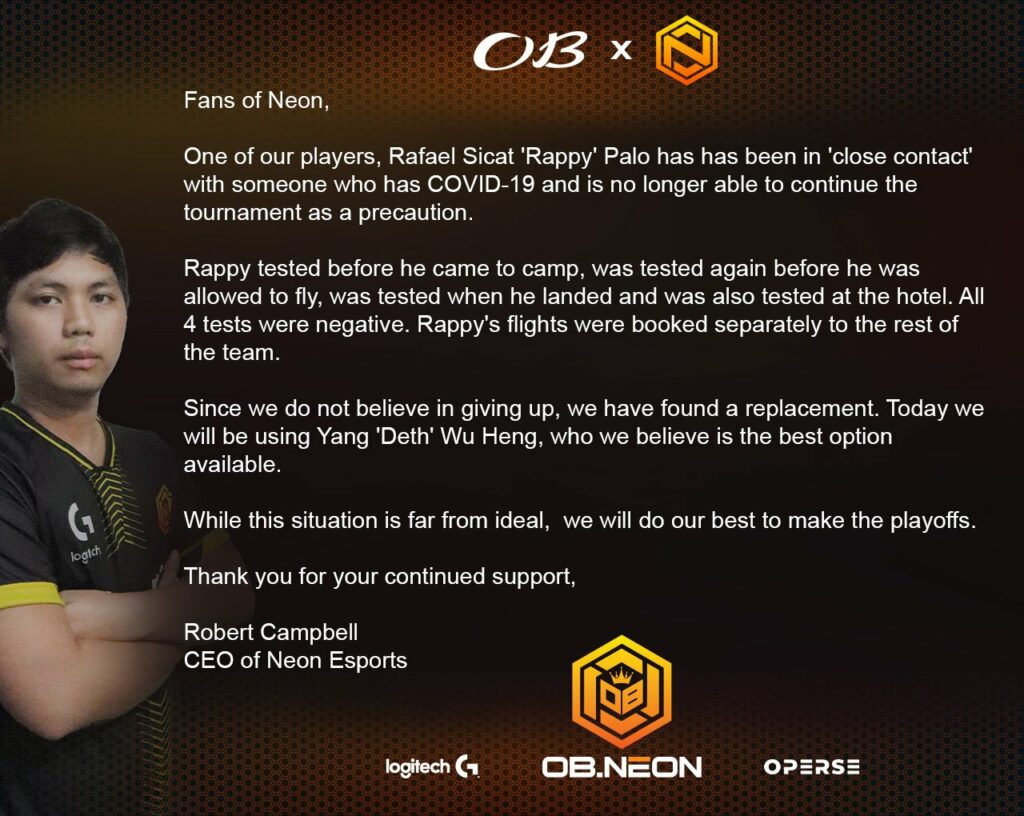 The news broke right before the start of the second day of the group stage. OB Esports x Neon shared that Rappy has been in 'close contact' with someone who has COVID-19 and is no longer able to continue the tournament as a precaution.
---
---
OB Esports x Neon also explains that Rappy has gone through multiple COVID-19 tests before and during the Singapore Major with all tests coming back negative. "Rappy was tested before he came to camp, was tested again before he was allowed to fly, was tested when he landed and was also tested at the hotel," stated OB Esports X Neon.
With Rappy out, OB Esports x Neon will be playing with Singaporean native Deth who was added to the competition as a last-second replacement. Deth is a 26-year-old professional Dota 2 player who has been playing since 2014. He's been part of different Southeast Asian Dota 2 squads like Team Flash and Resurgence. Deth last played for Galaxy Racer towards the end of 2020.
READ MORE: Everything you need to know about poloson, Quincy Crew's sensational last-minute sub