Galaxy Racer is the grand champion of the BTS Pro Series Season 7: SEA. The team was able to pull off an incredible comeback to reverse sweep Fnatic 3-2 in the grand final.
It's a tall order for any team to be down 0-2 in a grand final. It's even more daunting when it's against a team like Fnatic, who qualified for The International through the SEA Regional Qualifier.
---
---
Mizu and inYourdream stood out in game three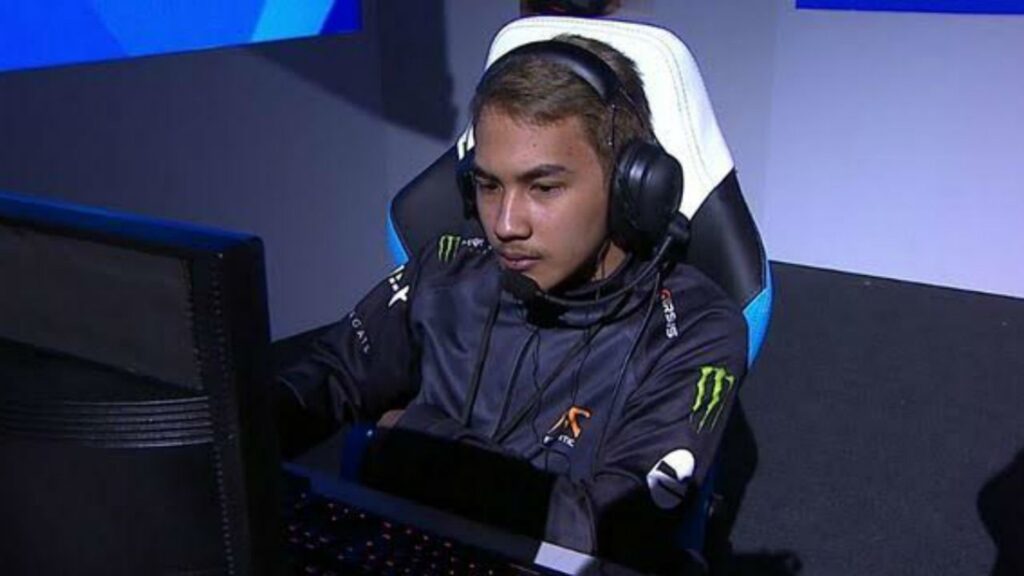 It was looking bleak for Galaxy Racer after dominating performances from Fnatic in the first two games.
Keeping up their mental game, Muhammad "inYourdreaM" Rizky got the ball rolling in game three by farming a ton on Templar Assassin. This was compounded by Galvin "Mizu" Kang Jian Wen, who was able to dismantle Fnatic's high ground defense with Magnus to get Galaxy Racer on the board with their first win in the series.
In game four, up to the 25-minute mark, both teams were neck and neck in terms of farm and kills. A giant fight at Roshan gave Fnatic a major advantage, after Marc Polo Luis "Raven" Fausto's fantastic use of Sunder.
After Roshan, Fnatic played it safe and extended their lead slightly. Fnatic went on to secure the second Roshan, and things were looking dire for Galaxy Racer.
However, Galaxy Racer still had one last ace to play — a farmed Medusa with Divine Rapier. Fnatic was clearly not ready for such massive damage output in the late game, and eventually dropped game four as well to tie up the BTS Pro Series Season 7 grand final series.
---
Galaxy Racer supports show up big time in BTS Pro Series Season 7 grand final game five
In game five, both teams approached with the same draft style. With emphasis placed on ultra-late game carries, Terrorblade and Spectre were picked.
Fnatic took an early and very decisive lead in game five, with Ng "ChYuan" Kee Chyuan going godlike on Kunkka. Fnatic even took down the top barracks, and looked set to get the mid lane as well.
However, with incredible timing from Wilson "Poloson" Koh Chin Wei, Galaxy Racer managed to hold onto their base just a while longer in another near impossible situation.
Despite the setback, Fnatic was still firmly in the lead. As the game went on, both teams started to pin their hopes on Roshan, which ended up in the longest team fight in this series.
After the first skirmish, Fnatic utilized four buybacks, compared to Galaxy Racer's one by inYourdream. They smelled blood, recognized their advantages, and knew that Raven had already used Metamorphosis.
With everything on the line, Galaxy Racer pushed ahead for Roshan. Poloson on Winter Wyvern and Tri "Jhocam" Kuncoro on Nyx showed up huge, for they were responsible for setting up the fight beautifully for their team to clean up and win the series.
---
The champion of BTS Pro Series Season 7 is crowned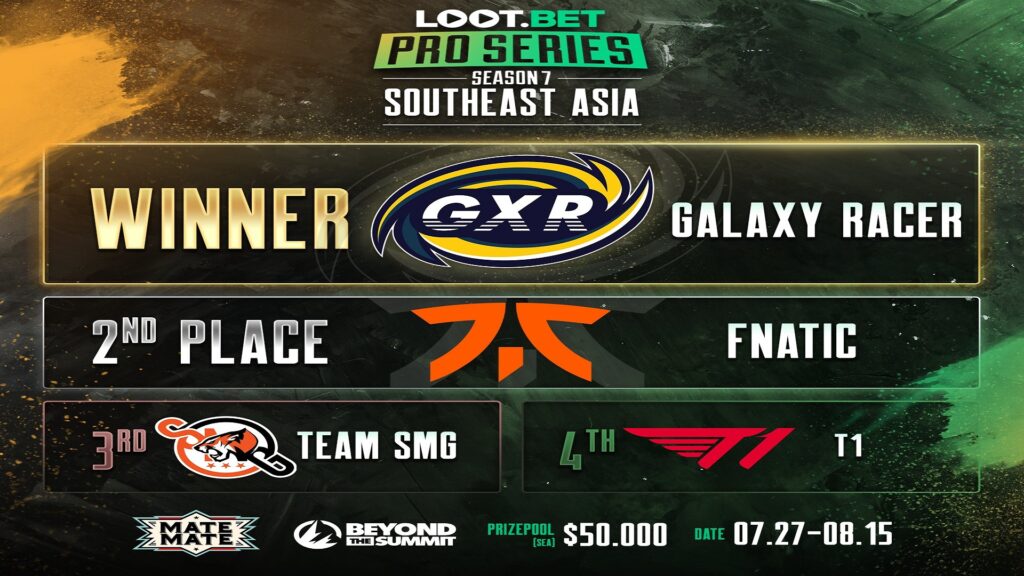 After a string of podium finishes, Galaxy Racer finally adds a trophy to their collection. In an epic finish to the tournament, they took down the titans, Fnatic, and took home US$20,000.
Galaxy Racer Dota 2 Roster
Muhammad "inYourdreaM" Rizky
Vincent "AlaCrity" Hiew Teck Yoong
Galvin "Mizu" Kang Jian Wen
Wilson "Poloson" Koh Chin Wei
Tri "Jhocam" Kuncoro
READ MORE: Climb the MMR ladder with these easy to use Dota 2 heroes