Recently retired Dota 2 pro Zhang "Faith_bian" Ruida, who last played for PSG.LGD at TI11, has been through many highs and lows in his illustrious esports career.
The 24-year-old shared how he experienced these extreme peaks and valleys with Wings Gaming during OG's Monkey Business podcast with two-time TI winners Johan "N0tail" Sundstein and Sébastien "Ceb" Debs.
Wings were a young Chinese squad that took the competitive Dota 2 scene by storm. Despite their lack of experience, they were crowned Dota 2 world champions at TI6 when they defeated Digital Chaos 3-1 in the grand final.
They were considered the best team in the world at the time, which earned them the respect of their peers around the world, including TI8 and TI9 champions N0tail and Ceb. Wings were even briefly featured in TI11 when the Chinese team was remembered as Dota 2 icons.
---
---
Faith_bian says that Wings Gaming went through great turmoil before winning TI6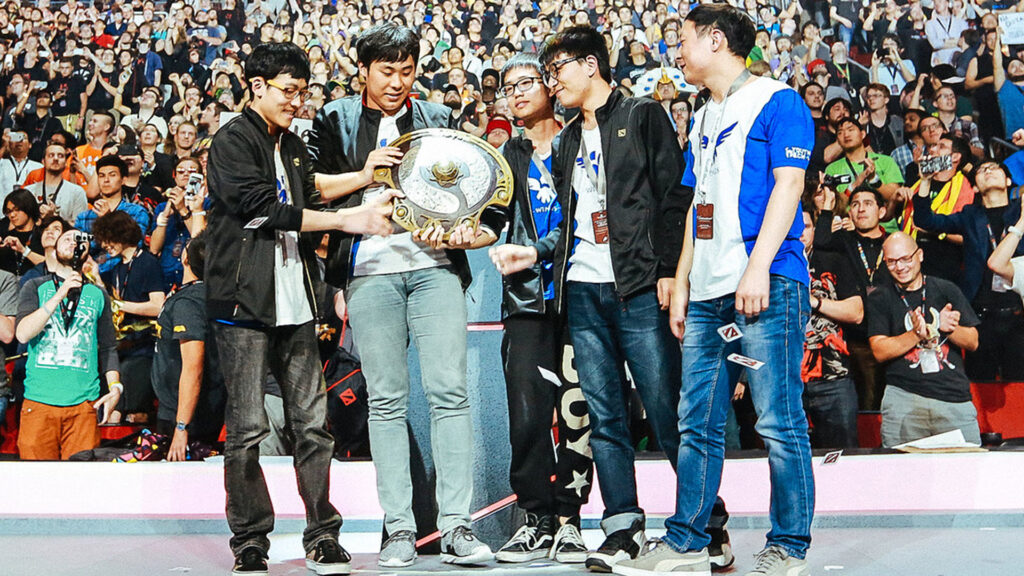 N0tail asked Faith_bian what type of bond he had with his Wings Gaming teammates when they were on top of the Dota 2 world.
"It is hard to say because we are all so young," Faith_bian responded. "We did not know how to deal with relationships. We always hurt each other. We always fought and argued, and sometimes we completely didn't respect each other."
At the time, Faith_bian, Zhang "y`" Yiping, and Chu "shadow" Zeyu were young up-and-coming players who were between 17 to 18 years old. Meanwhile, Li "iceice" Peng was 20 years old, and Zhou "bLink" Yang was the eldest player at just 23.
As the team was inexperienced, Faith_bian shared that they all struggled to compromise with each other. He also explained that they didn't have coaches at the time. They were on their own, with no mentorship from veteran players or even esports psychologists that most organizations provide today.
Fellow guest and Dota 2 esports insider Jack "KBBQ" Chen expounded on what happened behind the scenes when the team was preparing for TI6. KBBQ had been helping manage Wings and witnessed firsthand the internal problems they had while they were in America.
"They were scrimming against Digital Chaos, a team that did really well against them," said KBBQ. "So Wings were going high ground, and one player from the team got really upset that someone kept throwing their pushes."
"He kept getting angrier, and at some point, he exploded," continued KBBQ. "He threw his teammate out of their chair, and before you know it, fists were flying. I was just trying to make sure the computers didn't get damaged. They got separated, and then they suddenly went back to fighting again."
KBBQ questioned if the team could resolve their issues before TI6.
"They hit a real low point," he said. "They were all very emotional and they weren't talking to each other."
According to Faith_bian, it got so bad for Wings that at one point during their boot camp after The Summit 5, that some of his teammates thought about dropping out a few weeks before TI6. The team eventually found common ground and, because of the hardships they faced in TI6's group stage, were able to bounce back.
While playing at TI6, the retired Chinese offlaner also shared that Wings had no expectations of winning the Dota 2 world championship. As a new team in the scene, they just wanted to play in big tournaments.
N0tail believes that teams sometimes need to vent out their frustrations, rather than let those negative emotions fester. He explained that unresolved issues could lead to stress that might prevent players from performing at their best.
"I've been in teams, same concept, same high ground failure all the time," he said. "Instead of finding a resolution, I'd rather get physical."
---
---
READ MORE: Iceiceice: 'After what happened with Team SMG, I'm going to take a break'