Enjoyed the fancy stats you saw on TI11's broadcasts? Thank the enterprise-level software company behind it.
For most of us in the wild, SAP is something you get from a tree. For those in the world where suits are daily attire rather than for special occasions, SAP is the world's largest provider of enterprise application software. So why is a company like that involved in something that's arguably still pretty grassroots — esports?
Thomas Esser, director of global sponsorships for SAP, said in a live demo held before The International 11 finals that video games and data turned out to be a natural fit for each other.
"Esports is digital by nature," Esser said. "There are hundreds of data points created… It's the perfect ground from our point of view to do data analytics."
SAP isn't new to the esports scene. Before TI11, the company was already partnered with Team Liquid since April 2018. But the biggest event on the Dota 2 calendar needed something else — a quick, easy, and accurate process to pull up whatever stats were needed to serve the story on stream.
---
Don't just get the stats, get them in real-time
There's little time to waste in a Dota 2 match. Even hours-long broadcasts have relatively little downtime. And while we knew how impressive Oliver "skiter" Lepko's Naga Siren performance was from the eye test, just how great was it in the history of TI?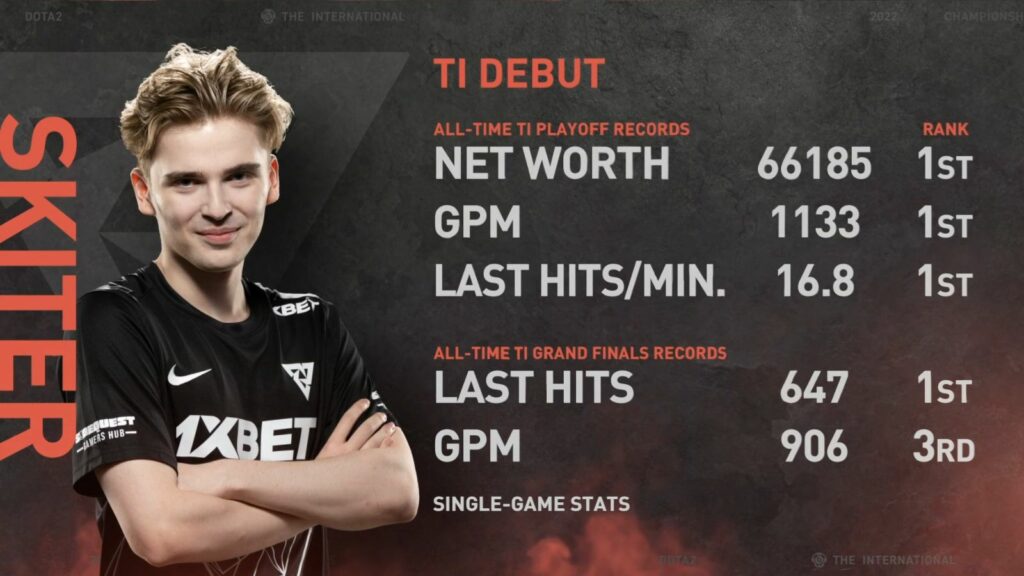 Record-breaking great, it turns out. And SAP's speed was key to letting the audience know about that while still tuned in.
"Leveraging real-time analytics can add additional value with insights on matches, teams, and players. Those insights bring the game to life and deliver a compelling experience to the fans watching across the globe," said Esser.
Before SAP, pulling stats still required manual input from Valve. Therefore, the two companies worked together to streamline the process.
"We fully automated the process, so the stream producer can just select the teams they want to see on the scoresheet, press a button, and the graphic is instantly created and translated," he said.
Esser also shared that these stats could be tuned to specific teams and players — though the technology was not demoed — allowing for even deeper dives into strategy.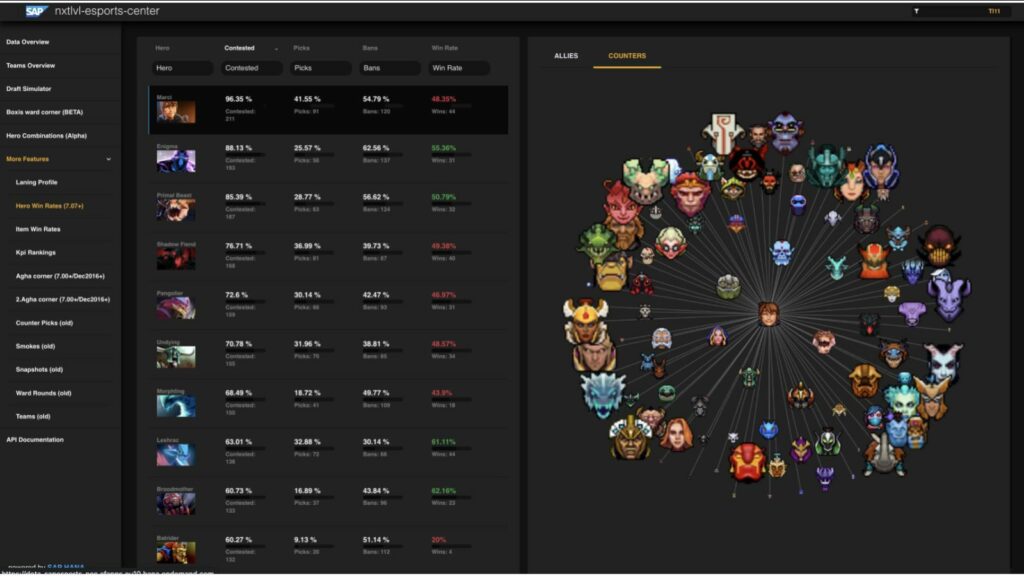 ---
---
SAP wants to see the future — how pre-game analytics work
While plenty of post-game analytic tools exist for the typical player — Dotabuff, OpenDota, and Stratz are three of the most popular — real-time and pre-game analytics are a different deal. During a live broadcast, the best conclusion fans can quickly draw from are often the kill score for each team, the net worth difference, and the opaque Dota Plus win probability that's based on an unknown formula.
While real-time analytics are currently SAP's jam, there's an increasing interest in trying to get in even earlier — with pre-game predictions that can immediately inform at a glance.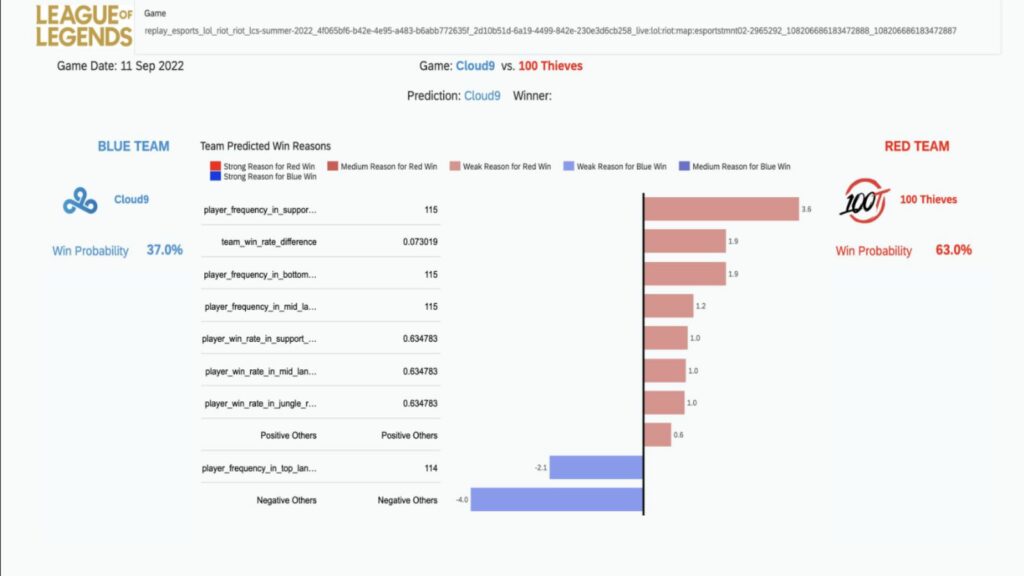 SAP's predictions are much more transparent in this aspect. During the demonstration, using League of Legends games as an example, the program calculated the pre- and post-draft odds of any matchup. The metrics aren't input manually — instead, the AI has been trained to recognize the most important factors to winning a match.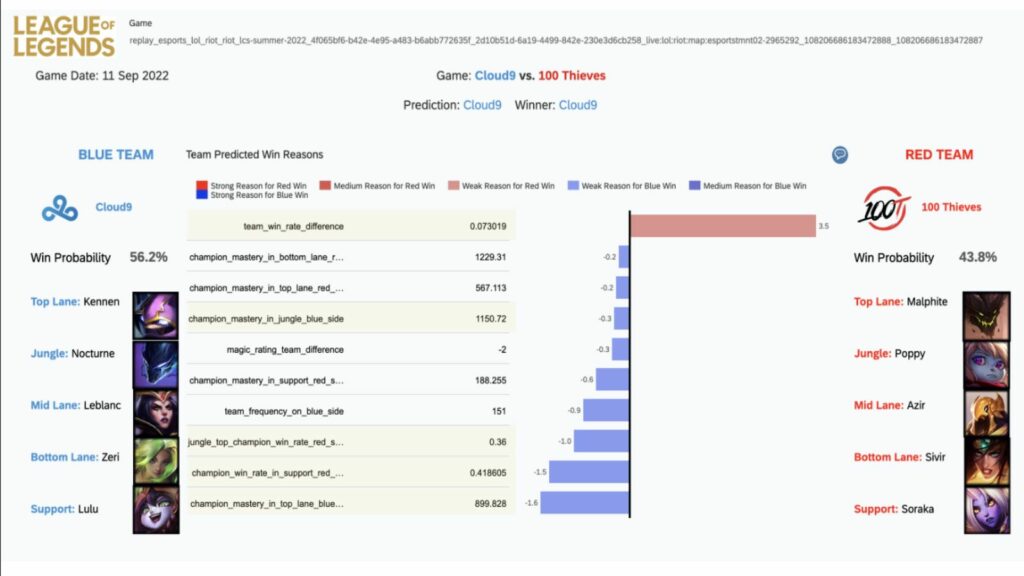 "We feed all the data into the system, and then based on the history of the game, the system derives which factors are influencing the final result," explained Esser.
This is still a prototype, with just 1,500 pro games trained in the model. But as with all machine learning, more matches will only make the data more accurate. Esser said that there were about six million Dota 2 matches available to them.
---
Will a consumer version ever be available?
Unless you're with Team Liquid or Valve, access to the SAP software is still limited. But Esser didn't rule out the possibility that a more consumer-friendly version might eventually happen.
"That's an option we could consider in the future," he said. "Right now, the focus is on broadcast and professionals."
"If we put predictions on such a site, that would be something totally new nobody has."
READ MORE: Everybody's playing Dawnbreaker: Why she is Dota 2's do-it-all