BOOM Esports is starting their DPC SEA 2021/2022 Tour 2 Division I campaign on the wrong foot.
Unexpected "technical issues" meant that defending champions BOOM received a default loss in their first series of the campaign against Nigma Galaxy SEA. This means BOOM will start the season with a 0-1 record—already the same number of losses as their dominating Tour 1 where they finished 6-1.
---
---
BOOM Esports had 'no electricity'
The team had no electricity due to heavy rain causing electricity disruptions, and wasn't able to book a car to travel to a LAN cafe, according to BOOM's Timothy John "Tims" Randrup.
Although some players made it to the LAN cafe eventually, they missed the cut off time for the match as there was a Dota 2 client update.
BOOM's founder Gary Ongko also penned a Twitlonger explaining the incident. "It just wasn't meant to be today. If there [are any drivers] in the area, send me your number, if this ever happens again, we'll call you up," he wrote.
"Unfortunately, this incident is beyond our control and we are doing everything we can to bring you the entertainment you deserve," BOOM wrote in a statement. "This is a tough lesson to learn and we will do better."
Nigma Galaxy SEA improves to 1-1 in their first season in the upper division., after achieving a promotion last Tour. The team even posted a light-hearted meme about the incident on Twitter.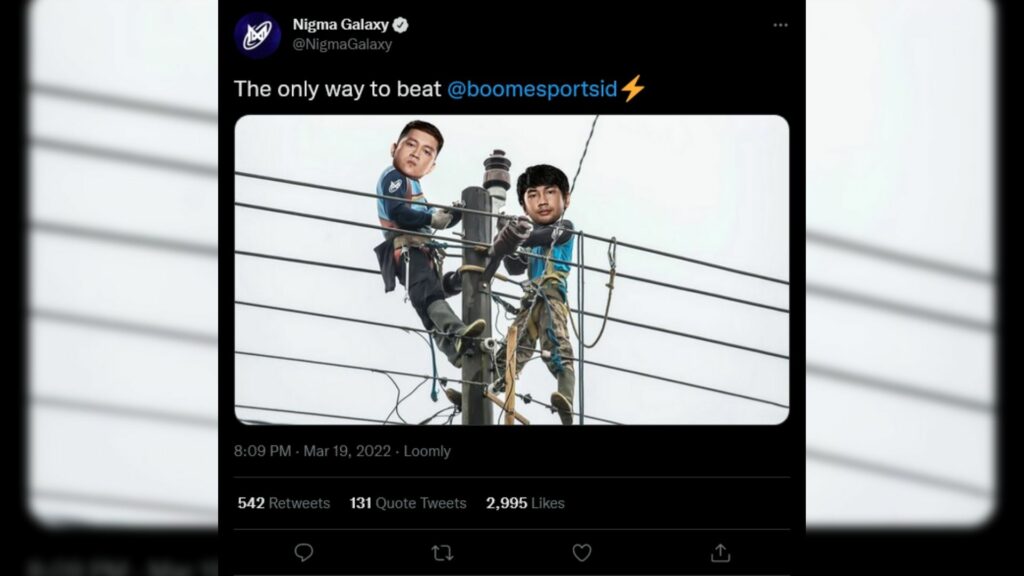 Hopefully, BOOM will be able to bounce back swiftly. The SEA team has made their name as one of the world's best squads after a stellar performance at the Gamers Galaxy Dota 2 Invitational Series Dubai 2022, led by burgeoning superstar Erin Jasper "Yopaj" Ferrer.
READ MORE: PGL Arlington Dota 2 Major to run from August 4 to 14, spectators allowed