YouTuber and 100 Thieves co-owner Rachell "Valkyrae" Hofstetter is ready to hit the streets of Los Angeles in a new whip.
In her latest video, the content creator revealed that she bought a Lamborghini Urus, which is priced at around US$200,000. Rae also mentioned that the vehicle was pre-owned, but cost almost as much as a brand new one since it was only used for 9,000 miles.
The main reason for the purchase was that Rae gave her previous car, a baby blue 2018 Subaru Crosstrek, to her mother. Since most of her money goes to her mom and sister, she decided it was time to treat herself by buying a luxury car.
---
---
YouTuber Valkyrae is in love with her new car, a Lamborghini Urus
After Rae got the key fob, the previous owner gave her a quick crash course on how to use the numerous features inside the four-door luxury SUV.
The height of the trunk can be adjusted by two buttons to make it more accessible to shorter people. The two front seats have built-in massage modes, and passengers can individually adjust the air conditioning by degrees. If Rae is looking to bask in the sun while driving, all she has to do is flick one switch to open up the sunroof.
Once she drove the Urus out of the dealership, she discovered another fascinating gadget from the driver's seat, the holographic display. The display gave a handful of details on the actual windshield, such as her location, her speed, the next turn, and the speed limit of the area.
With the Lambo rocking black and white leather seats, Rae and her friends decided to nickname it Orca.
"It's sickening how much I spent on this car, but I love it so much. It's so stunning and beautiful. It's my dream car," she said.
Rae isn't the only one who'll be pulling up into the Cash App compound in an Italian bull. Fellow 100T co-owner Jack "CouRage" Dunlop also has the same model, but with a glossy black paint job.
Since CouRage wasn't able to appear in the video, Rae is looking forward to seeing his ride in a future "Lambo meetup".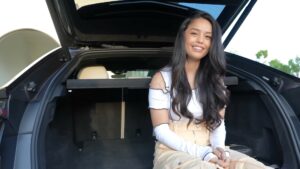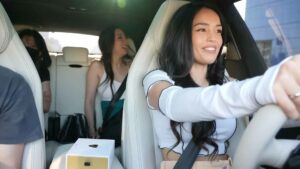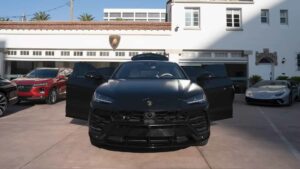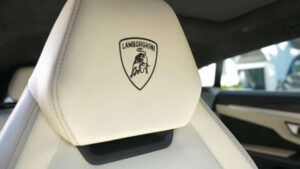 You can check out the full reveal down below:
---
---
Follow ONE Esports on Facebook and Twitter for more culture news and stories.
READ MORE: Supreme Tekken collection lets you wear all your favorite fighters on one shirt