High-end merch manufacturer Prime 1 Studio has just released a new videogame statue that survival horror fans will definitely love — if they can afford the hefty price tag.
In its latest addition to the Ultimate Premium Masterline Series, Prime 1 Studio brings Resident Evil 2 protagonists Claire Redfield and Leon S. Kennedy to life with a two-piece statue set that mimics the horrors of Racoon City.
The iconic duo are exquisitely detailed and 100% game accurate as the sculpting team were supervised by Capcom from start to finish.
"We have aimed for a quality higher than ever before," stated Prime 1 Studio. "Not to mention the modeling, the facial expression, and equipment which has been very carefully crafted, we surely don't leave out a single detail in this statue."
For the main characters, Leon dons his armored police attire with his trademark bangs while Claire is equipped with her more casual, signature red leather jacket and jeans. Even down to their weapons, the two are shown with their exclusive guns of a grenade launcher (Claire) and a pump shotgun (Leon).
The dynamic police station diorama completes the entire RE2 aesthetic. The zombies being blown apart in a still pose will make some reminisce about their own chill-inducing playthroughs of the horror game.
If you look closer, you can see zombies reaching out from under the stairs and even catch in-game items in the background such as pistol ammo, first aid spray, and the ink ribbon used for saving.
---
---
As for their sizes and weight, Claire's statue stands at about 55cm with a weight of 18.4 kg while Leon's side is slightly taller and heavier at 58.5cm and 21kg.
Despite being a set, Claire Redfield and Leon S. Kennedy will be sold separately, each for US$1,349, with an estimated arrival date around January to April 2022.
For more information, you can check out its official Prime 1 Studio product page.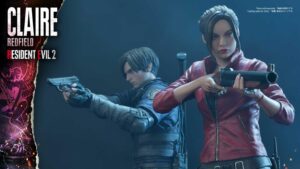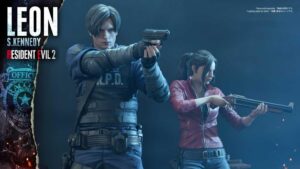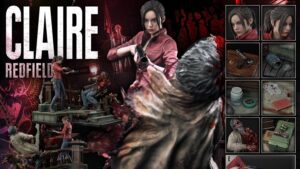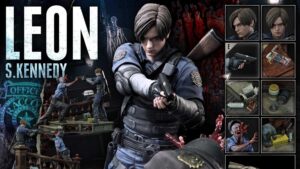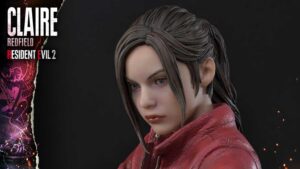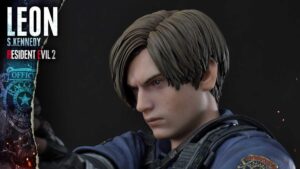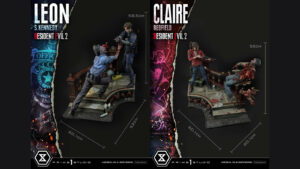 READ MORE: This incredible Jin Kazama statue actually lives up to its US$1,100 price tag