Standing desks have become all the rage recently, with some research showing that they can reduce back and neck pain, reduce obesity and blood sugar levels, and elevate your mood and productivity.
But most standing desks are expensive, drab affairs only suitable for the office or the most minimalist of home interiors.
Fortunately, that's about to change as, for the first time, you'll be able to game on your very own Pokémon Desk in this collection of three designs comprising starter Pokémon, Eevee evolutions, and a huge fiery Charizard, presented by Omnidesk.
The Singapore-based company officially released its Omnidesk Pokémon Collection today, the world's first Pokémon standing desks. Called "The Evolution", this table showcases Pikachu with all eight Eevee evolutions on a red and white Poké Ball backdrop. Poké Ball motifs are also found on the sides of the table's legs, as well as on its back cable management bar.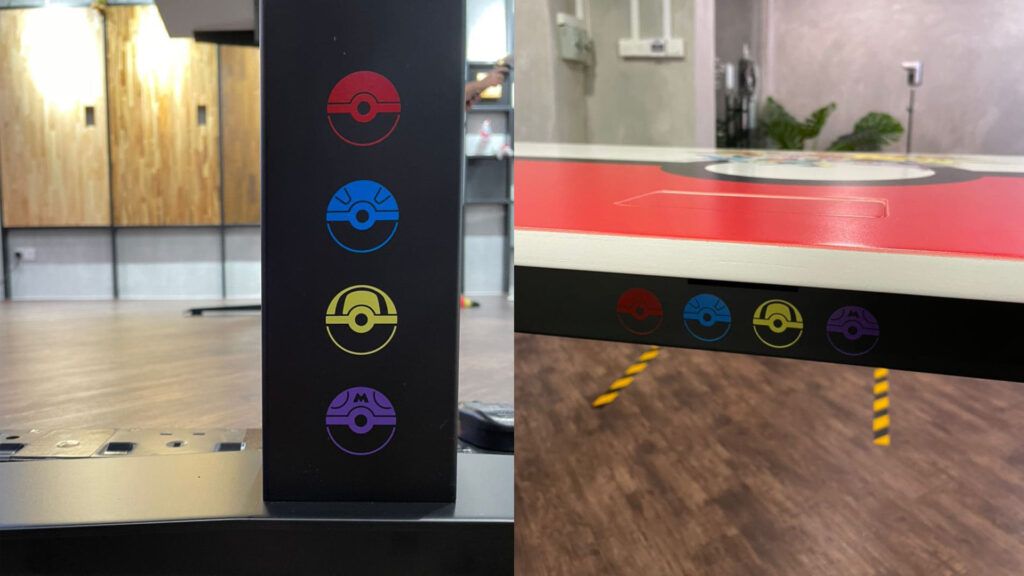 "The Classic" refers to Pokémon's recognizable starters in its original Red and Blue games, combined with the latest Pokémon Sword and Shield starters. Bulbasaur, Charmander, Squirtle, Sobble, Scorbunny, and Grookey join Pikachu in the lineup on a white tabletop. Light grey Poké Ball motifs are printed at the ends of the table, its legs, and cable management bar.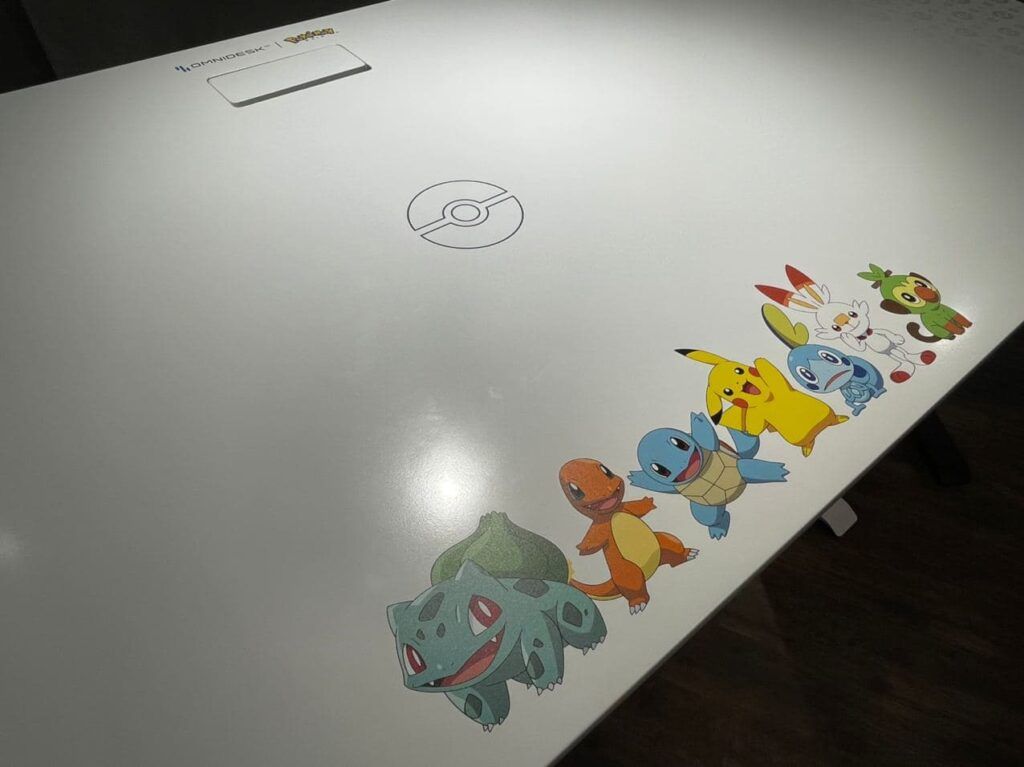 ---
---
Standing out from the rest is "The Icon", which pays homage to the legendary Charizard! The fire-type, final evolution starter Pokémon is seen blasting a powerful Flamethrower in vibrant hues of orange across half the length of the table. Like all the desks in this series, it also has Poké Ball motifs on its legs and bar, colored orange to contrast with its black base.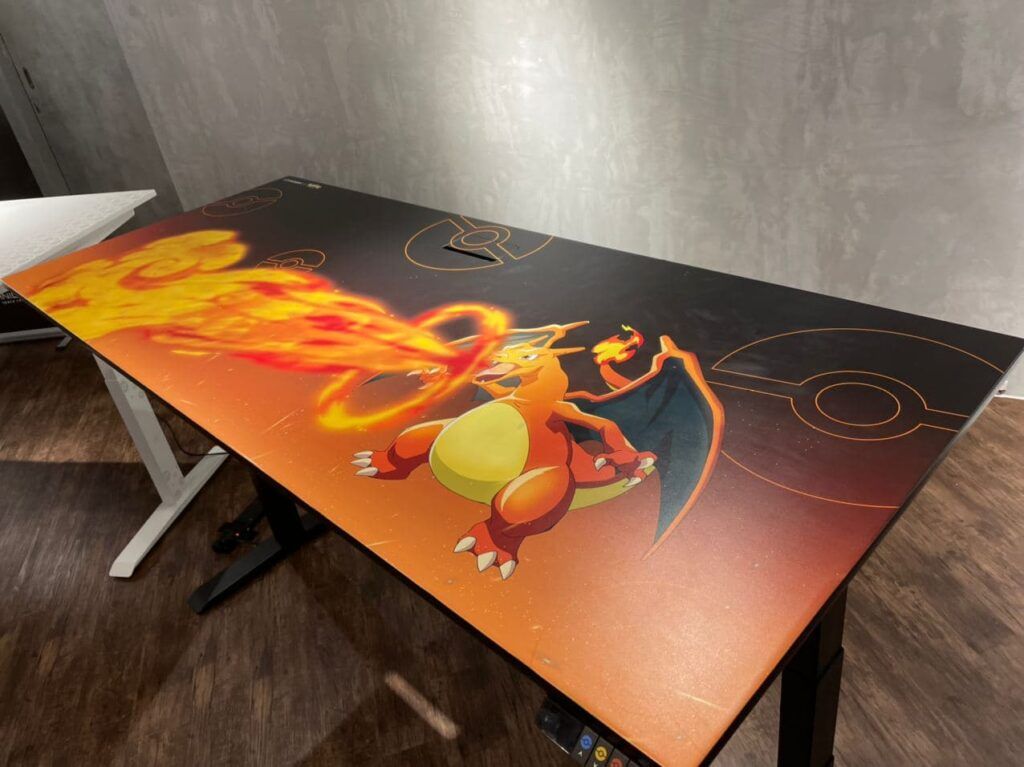 The Omnidesk Pokémon Collection is part of Omnidesk's PRO 2020 series. All the tables are made of the highest grade MDF wood, contains bevelled edges, and are fully modular and electric so you can instantly adjust the height of the table at the press of a button. The buttons have been designed with Poké Balls too, and its lighting can be customized.
Since the table is electric, you can even set an alarm that will vibrate the table to remind yourself to take a break. It can also save two profiles, that is, two different height preferences, which allows you to switch between ideal sitting and standing positions conveniently.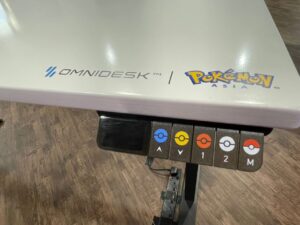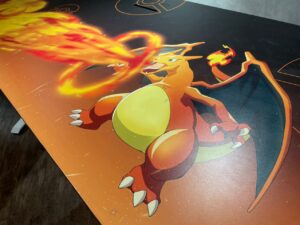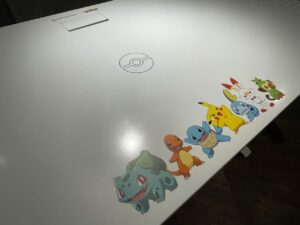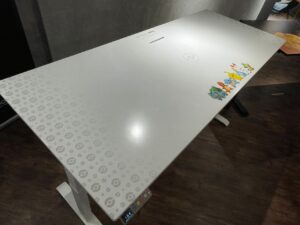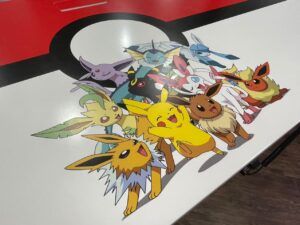 "The Pokémon Collection by Omnidesk brings together some of the worlds' best-loved Pokémon… This is the start of more exciting announcements to come, and we look forward to presenting more trend-setting products to customers in Singapore and the region," said Benjamin Huang, Managing Director of Omnidesk.
Each desk in the Pokémon Collection starts at SGD$950 during this special launch promotion, and comes in three sizes. The price includes free flat-pack delivery and five years warranty. Orders placed before 15 December will be delivered in time for Christmas.
For more information, visit Omnidesk's online store.
READ MORE: Seiko launches limited-edition Pokémon watch collection