A man of esports, style, and likes?
From classy collaborations to showcasing his fancy Porsche, 100 Thieves CEO Matthew "Nadeshot" Haag is known for his luxurious lifestyle, but he's also about paying it forward…for a few likes.
In a recent personal vlog, Nadeshot was planning to do a regular unboxing video of his latest purchases, but things got interesting when his new shoes were looking good on another pair of feet.
Nadeshot does a quick unboxing of the new Nikes with his assistants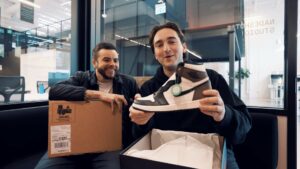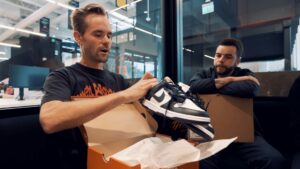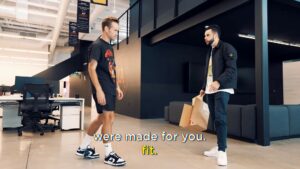 While most unboxing videos talk about the product and its qualities, Nadeshot's latest video featured a wholesome look into his work crew.
Aside from veteran assistant Logan getting to show off his nice calves, the 100T CEO introduced his new personal assistant, Joe Kalas.
With the two having similar personalities and sharing the opinion that Christopher Nolan's best film was "Interstellar", Nadeshot and Joe displayed natural chemistry in front of the camera.
The trio unboxed Nadeshot's latest kicks for 2021. Joe revealed a crisp pair of Nike Air Jordan 1's Dark Mocha, while Logan got his hands on some Nike Dunk Low's Black White.
Even though the Jordan 1 Dark Mocha shoes heavily resembled Nadeshot's current pair of Travis Scott's, the 100 Thieves CEO said that he likes the similar designs, and talked about a shoe rule made by OpTic Texas president Hector "HECZ" Rodriguez.
"He basically buys two pairs of the same shoe. If he really likes them, he'll wear one pair and then stock the other one for a couple of years and then break it out," said Nadeshot.
---
---
The 100 Thieves CEO's viewers get to decide the home of his new shoes
As the three conversed about their love for sneakers, Nadeshot also mentioned that he only wore Adidas before he started working with Logan.
With Logan being a part of his Nike journey, he egged his assistant to put the Dunk Low shoes on. Despite Logan's slight preference for thinner shoes, Nadeshot hyped up the pair on Logan and said that it was made for him.
Looking to engage his viewers and give back to his two personal employees, the content creator is willing to give the two brand new pairs of Nikes to Joe and Logan if the unboxing video gets 25,000 likes.
Check out the full unboxing video down below and make sure to give it a like:
Follow ONE Esports on Facebook for more Culture news, guides, and highlights.
READ MORE: Will Neff proves himself to 100 Thieves with kung fu and dance moves