Rejoice, anime fans!
Activision is expanding its Call of Duty x Attack on Titan collaboration with a one-of-a-kind Armored Titan bundle, following its surprise release of the Levi Ackerman Operator.
The latest Mastercraft bundle shines the spotlight on the raw power of the titans – the mysterious giants that are the focal point of the series – with an Operator skin, three weapon blueprints, and other cosmetic items.
The Armored Titan bundle brings Isayama's powerful giants into Call of Duty Warzone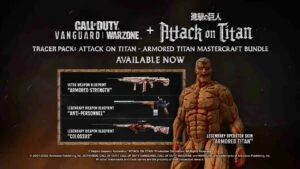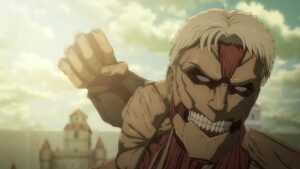 While there are nine superpowered titans that wreak havoc in the series, the popular Armored Titan is the star of this bundle.
The skin is an impeccable rendition of Reiner Braun's fearsome titan and was designed for Task Force Barbarian's Roland Zeimet.
No detail has been overlooked at all. The Operator has the titan's signature armor, silver mane, and glossed-out eyes, complete with gaps that reveal its pinkish flesh.
In keeping with the theme of the Armored Titan bundle, players can charge into the fray with the ultra-rarity Armored Strength assault rifle weapon blueprint, outfitted with the same armor-like detailing and red tracers.
If you're looking to pop heads from a distance, another iconic titan has you covered with the legendary Colossus sniper rifle weapon blueprint.
The last weapon of the bundle is a deep cut that longtime Attack on Titan fans might recognize. The Anti-Personnel legendary pistol blueprint is a faithful recreation of Kenny the Ripper's long-barreled pistol, perfect for close-range engagements.
Other items in the bundle include an Unstoppable Force legendary highlight intro, the Die-Urnal legendary watch, Titan Serum epic charm, Paradis Lost legendary emblem, and more.
---
---
Attack on Titan fans love the Armored Titan bundle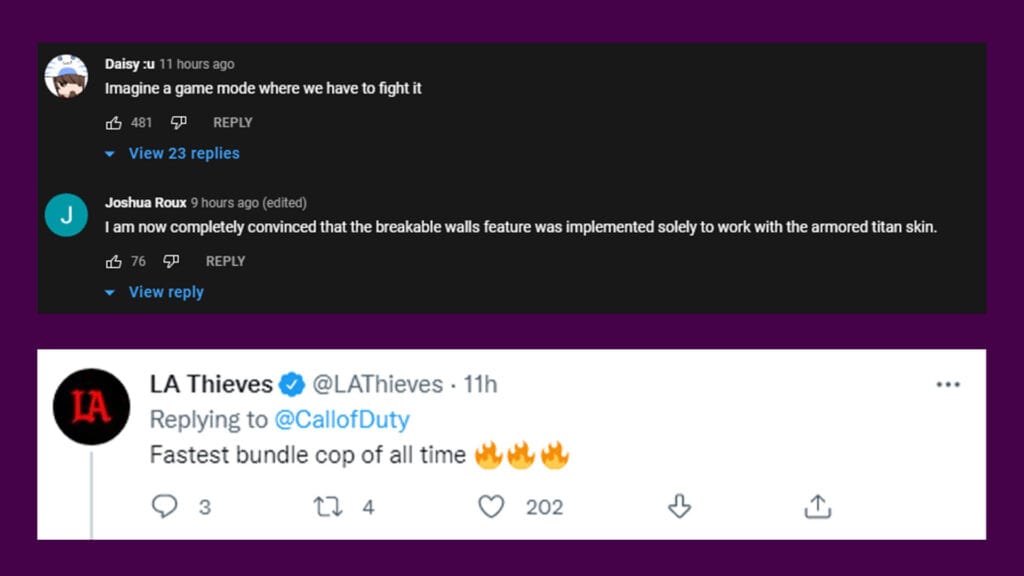 With Activision finally adapting a titan for the game rather than just a person as they did with Levi, many fans reacted positively.
User Joshua Roux commented that Vanguard's breakable walls were made for the Armored Titan, while another talked about having a mode where players have to battle the supersized humanoid. With Warzone previously experimenting with NPCs like Krampus, a giant titan would not be out of the question.
Call of Duty League team LA Thieves is ready to bring the titan to the big leagues too, tweeting that it was their "fastest bundle cop of all time".
---
How to get the Armored Titan bundle in Call of Duty Warzone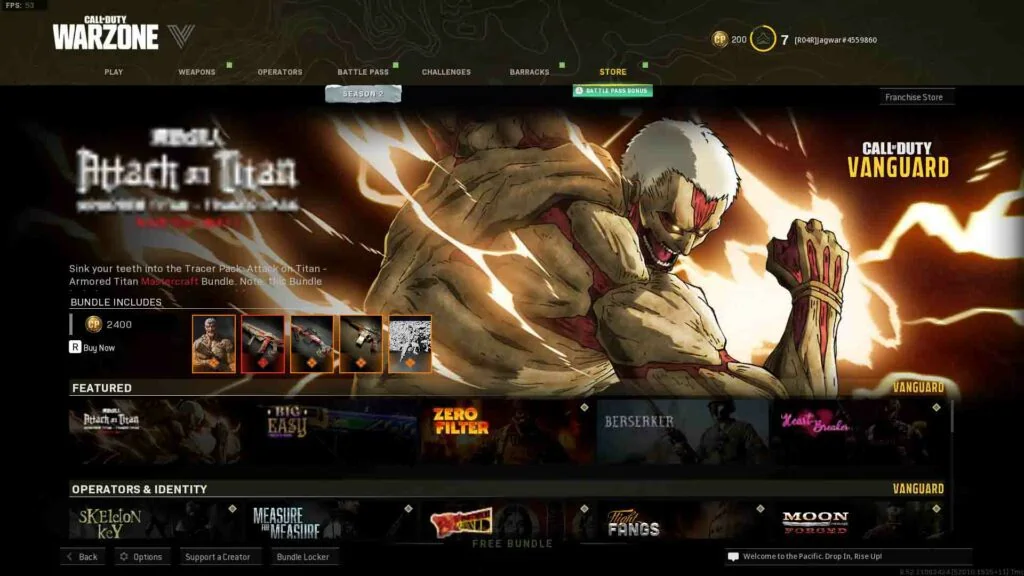 You can purchase the Armored Titan Mastercraft bundle in the in-game store for 2,400 CP.
Follow ONE Esports on Facebook for more CoD news, guides, and highlights.
READ MORE: Attack on Titan's Levi Ackerman is now slaying operators in Warzone