The Warzone 2.0 and Modern Warfare 2 Season 1 Battle Pass offers a wide selection of rewards, including weapon blueprints, Operator skins, XP tokens, and Call of Duty Points (CP).
It is also the first Battle Pass in the franchise to adopt a non-linear progression system. Instead of earning experience and advancing through a horizontal, tiered system, the Battle Pass takes the form of a map where you can choose which rewards to unlock and in what order.
There are a total of 20 Combat Sectors in Season 1, in addition to a Bonus Sector and Victory Sector. The latter two are only available to players who have purchased the Battle Pass.
The base Battle Pass contains 20 free items to unlock. However, purchasing it will unlock up to over 100 rewards, including new Operator Zeus.
---
---
How much does the Warzone 2.0 Season 1 Battle Pass cost?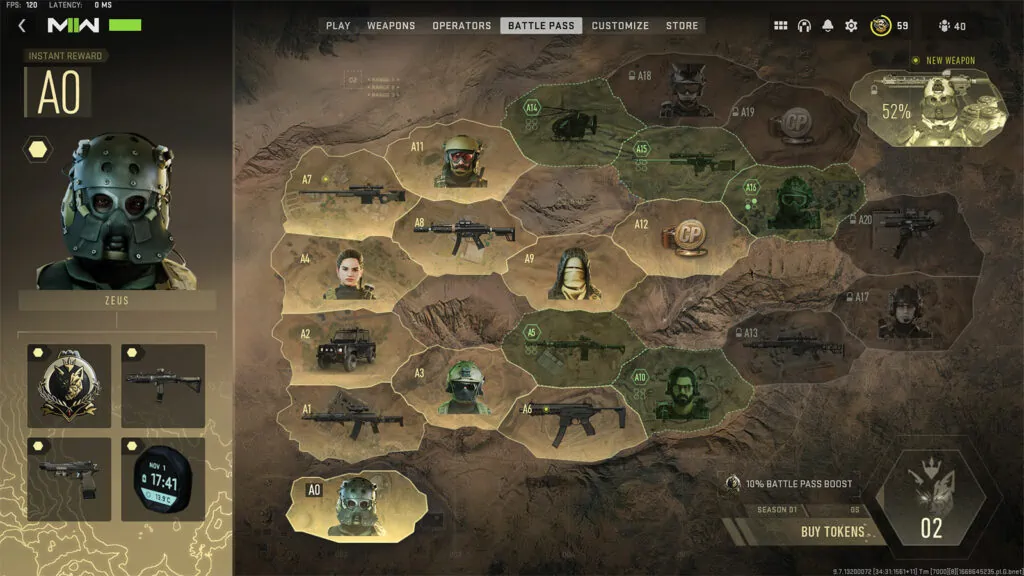 The Season 1 Battle Pass costs 1,000 CP, or around US$10. That instantly unlocks the Bonus Sector, A0, giving you access to Zeus right away.
On top of that, you get the following rewards in Sector A0:
10% Battle Pass XP bonus
Myth Maker VEL 46 weapon blueprint
Articulate Response .50 GS weapon blueprint
Chronophobia gun screen
The Victory Sector grants you the Olympus King Zeus skin, decked out in a gold mask and matching accessories. You'll also receive the Mortal's Bane M4 weapon blueprint and 300 CP.
The value of the Battle Pass may depend on how much you like the included cosmetics. The vast majority of the rewards comprise items like Operator skins, calling cards, emblems, and gun screens, with only a few functional rewards in the form of blueprints or new weapons.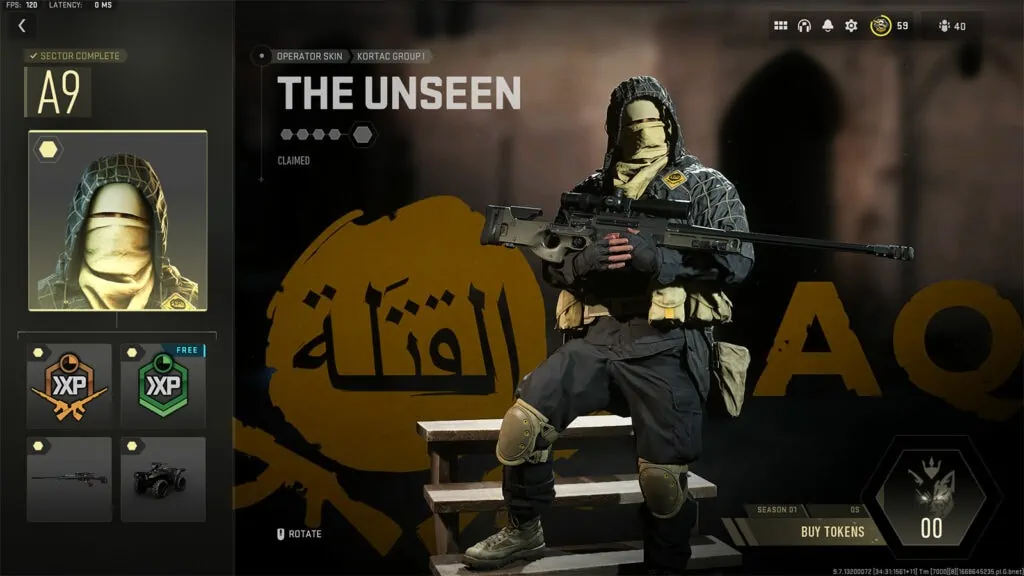 At the same time, the non-linear design means that you can get the rewards you want earlier than usual. There is some freedom to choose exactly which rewards to unlock first, although you still have to complete Sectors in order to move on to the adjacent ones.
Should you buy the pass and not complete it, there's a good chance you can still get the rewards you want.
That said, it's best to think of the Battle Pass as a one-time investment. Those who purchase the Battle Pass and complete it stand to earn 1,400 CP, which is more than enough to cover the cost of next season's pass.
If you intend to play the game regularly, you may not have to pay for another Battle Pass again. Together with the Double XP Tokens you get from the pass, you'll also be earning Battle Token Tier Skips fairly quickly.
So if you know that you're going to be putting hours into the game, buying the Battle Pass is almost definitely worth it. Even if you're not a fan of this season's rewards, you won't have to pay a penny in Season 2 if you complete all the Sectors.
Learn how to escape Warzone 2.0's DMZ, the best settings for visibility and performance, and how to unlock every Operator.