If you want to take down your enemies in Call of Duty Warzone 2 even faster, then this is for you. The time-to-kill otherwise known as TTK is the speed at which a weapon takes down an enemy by combining its damage, fire rate, and range.
In a recent video from Call of Duty expert WhosImmortal, he takes a look at some data from analytics platform TrueGameData and shows how you can use it to improve your TTK in the popular battle royale via the tools on the site.
---
---
TrueGameData can compare loadouts TTK in Warzone 2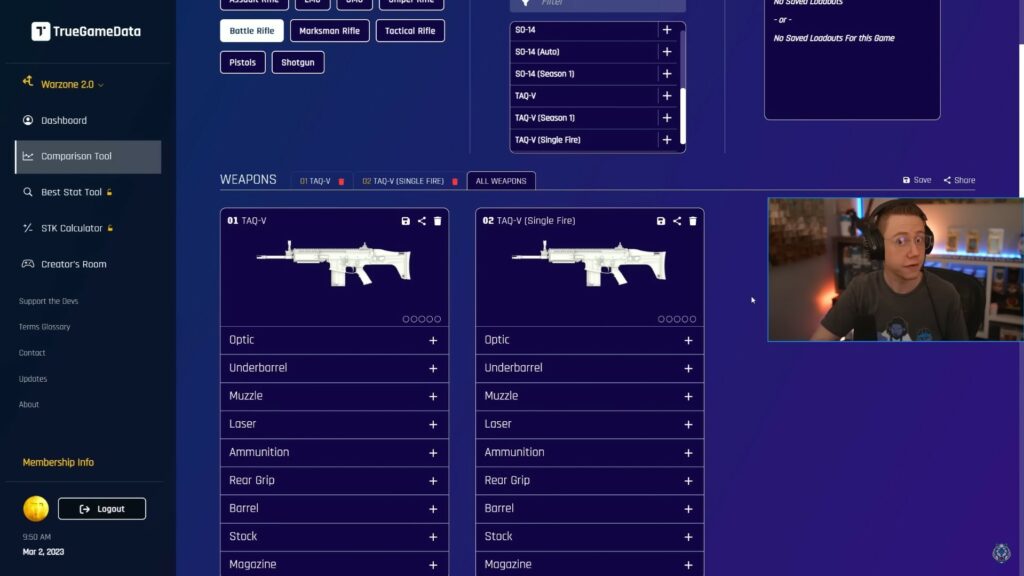 WhosImmortal goes through the comparison tool on TrueGameData where you can compare both individual weapons as well as different attachment combinations. Once applied, you will be able to see the TTK for the Y axis alongside the distance as the X axis.
Players can select whether a weapon is set to automatic or single fire, swap out various attachments, tunings, and more to find the best weapon build to suit their needs. This will allow you to find a weapon you enjoy and craft it in a way that will give you the fastest time-to-kill it can.
The tool can also dispel ideas of certain previously considered meta weapons. During the video, he explains that the TAQ-V which was a top pick in the past is the worst at all ranges in terms of TTK when compared to the FTAC Recon, Lachmann 762, and SO-14. In fact, it's the FTAC Recon that proves to have the highest time-to-kill out of the four despite being the only single-fire gun on the list.
If you're interested in giving the weapon a shot, he provides the best loadout for the weapon.
| | | |
| --- | --- | --- |
| SLOT | ATTACHMENT | TUNING (VERTICAL, HORIZONTAL) |
| Muzzle | Sakin Tread-40 | +0.46, +0.18 |
| Optic | Schlager 3.4x | -1.55, -1.50 |
| Underbarrel | Edge-47 Grip | +0.44, +0.23 |
| Ammo | .458 High Velocity | +0.39, +6.10 |
| Mag | 15 Round Mag | N/A |
If you're looking to figure out other details such as damage per second or minute, you can also set the tool for that as well. In addition it will show you your reload time, fire rate, damage to each part of the body, and more.
Overall, this tool is a huge benefit to those who utilize it to put together their loadouts.
READ MORE: Microsoft and Activision 'confident' Call of Duty can be optimized on Nintendo Switch