Warzone 2's extraction-style DMZ mode is Call of Duty's take on Escape from Tarkov.
It is a high-stakes mission into the heart of Al Mazrah, where players must battle enemy AI and players alike in an effort to secure as much loot as they can before exfiltrating. If they die, they lose everything they entered the map with.
Over the past months, players have painstakingly built up an inventory of extracted items to give them an edge the next time they enter DMZ — but they might soon find themselves starting back at square one.
DMZ progress will be wiped in Season 4, and player inventories, including contraband items and keys, will be reset.
---
---
DMZ progress is set to be wiped on June 14 for Season 4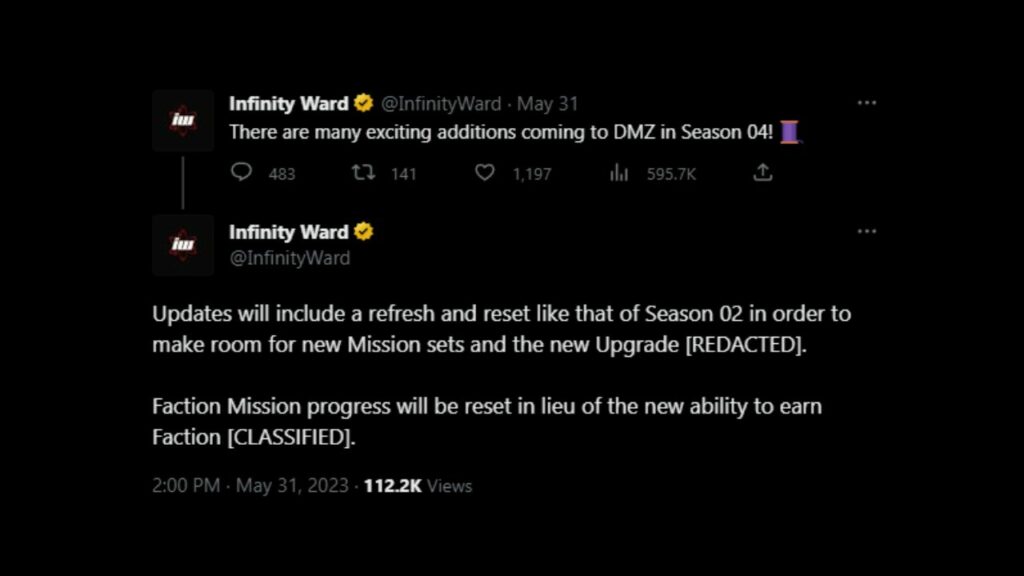 According to the tweet, all-new missions will be coming to the DMZ, and all Faction mission progress and inventory will be wiped.
The update and fresh wipe will also bring forth a brand-new upgrade, although no information has been officially shared for that yet. In addition, the reset of the Faction mission progress will be in order to earn something new according to the final portion of the tweet.
While DMZ players might have been caught by surprise, Escape from Tarkov veterans may have already seen this coming. Tarkov resets player inventories with every new update, in order to introduce new content and keep the game fresh.
If you're unsure of how exactly a reset works, here are the details provided by Infinity Ward:
Contraband, key, and mission inventories will be emptied
Insured Weapon Slots will be reset as we introduce new ways to unlock them
Earned rewards such as Blueprints, Skins, and Calling Cards will not be affected
So if you still have unused keys, now is the time to use them before Season 4 drops on June 14.
READ MORE: How to get powerful Tempered Vest in DMZ Season 3 — you're going to want this