Sometimes when you drop into DMZ, it's more about not losing what you got, and that's what dead drops save you from.
Throughout the map, you can find dead drop locations in which you can deposit gear you don't want to risk losing and save yourself from the sorrow.
---
---
There are 11 dead drop locations to utilize in DMZ in Al Mazrah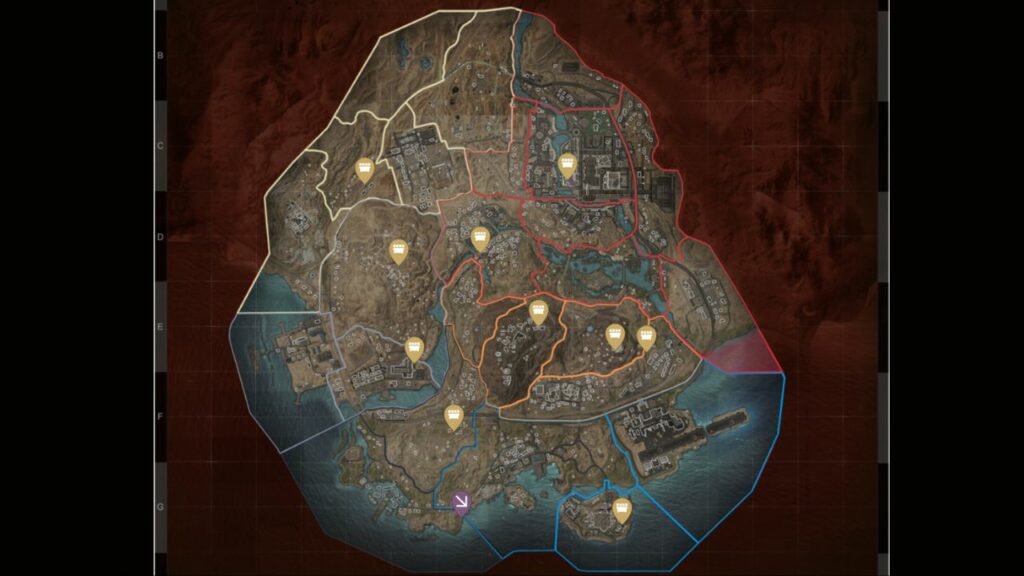 If you're looking to find exactly where all 11 of the dead drop locations are, then you're in for a treat. Luckily, MapGenie provides the locations of each and we're here to pinpoint them for you.
Once you've made it to the locations, make sure to look for a dumpster, that's going to be the dead drop.
G5 — East of Al Bagra Fortress
For the first on the list, you'll want to head to the southeast quadrant of Al Mazrah. On the east side of Al Bagra Fortress, there will be a building on the outskirts. If you find the building, you should be able to spot the dumpster.
---
E5 — Northeast of Zaya Observatory
This one is going to require you to watch out for enemies. As a regular hot drop in DMZ, there are plenty of both AI and real players. Head to the Zaya Observatory where you'll move to the northeast. There you should see a trio of houses where you'll find the dumpster you're looking for.
---
D3 — Sattiq Cave Complex
For this one you'll want to find the ambulance and tent in the center of, but outside of, the Sattiq Cave Complex. If you're in the cave, you're in the wrong spot.
---
C3 — Between Rohan Oil and Al-Safwa Quarry
If you're traveling on the main road between Rohan Oil and the Al-Safwa Quarry, you should come across a building. If you see a dumpster, that's the one!
---
F3 — Al-Mazrah City post office
Knock out two birds with one stone at this one. There's a faction quest to drop 20 pieces of lethal equipment here, so definitely make sure to head this way. The dead drop can be found inside an alley right by the post office.
---
F5 — Akhdar Village center
This one isn't easy. The Akhdar village center dead drop is surrounded by AI that wants to see you sent back with nothing. You'll need to make your way to the main bazaar square, the dumpster will be by one of the main entrances.
---
D4 — Zarqwa Hydroelectric
Head to Zarqwa Hydroelectric, spot the bridge, and voila. There should be a dumpster right next to it.
---
F4 — Maziweh Marshlands
First things first, head to the Maziweh Marshlands. Once there, you'll want to locate a tower in the northwest portion of the zone. There you'll find the dumpster you're looking for.
---
G6 — North of Al Malik Airport, east of Al Sharim Pass
If you find yourself North of the Al Malik Airport and yet east of Al Sharim Pass, look for a dumpster, that's where you want to be.
---
E7 — Al Samman Cemetary
Just to the northeast of the Al Samman Cemetary, you'll find a dumpster on the edge of the D/E and 6/7 grid.
---
D6 — Sa'id City Shopping Center
Head into Sa'id City and toward the shopping center. On the east side of the center you'll find a dead drop.
---
If you're still in need of some assistance, check out the map above or visit MapGenie directly here. To make things easy, you'll want to filter the key on the left down to just dead drop.
READ MORE: Call of Duty League Championship 2023: dates, location, and tickets