What happens when you put together the biggest names in the anime industry in one epic project backed by Netflix? You get the Bubble anime—a movie masterpiece.
The film is the latest work of Gen Urobuchi, a renowned anime writer known for Puella Magi Madoka Magica, Fate/Zero, and Psycho-Pass. It will be directed by Attack on Titan's Tetsuro Araki, with character designs from Death Note illustrator Takeshi Obata. To complete the all-star animation staff, musical genius and composer Hiroyuki Sawano will grace fans with astounding OSTs fit for the science-fiction anime.
Here's everything you need to know about Netflix's Bubble, including its release date, trailer, voice actors, and plot.
---
Bubble anime release date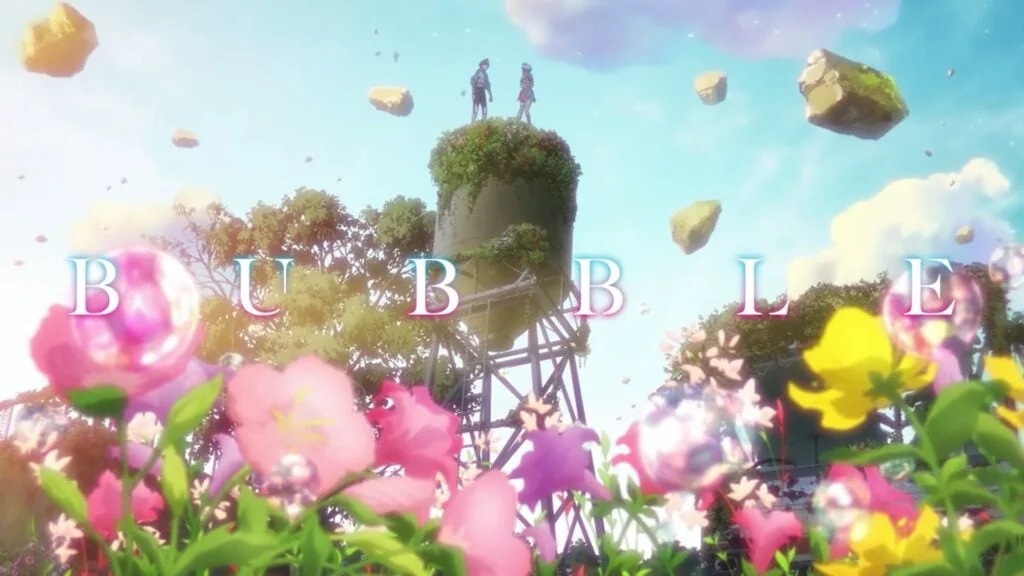 The Bubble anime movie will premiere on Netflix on April 28 and later in Japanese cinemas on May 13. Japan-based anime fans can purchase movie tickets in advance here.
---
Bubble anime trailer
The trailer starts with Hibiki and Uta's fateful encounter in a post-apocalyptic Tokyo, with cities and buildings submerged in water. Scenes show the movie's characters leaping and soaring high between floating debris and abandoned buildings, boasting rich visuals and superb animation from WIT Studio, known for producing the first three seasons of Attack on Titan.
The trailer also featured the movie's opening theme song, "Bubble Feat. Uta" performed by EVE, the singer behind popular OSTs "Kaikai Kitan" from Jujutsu Kaisen and "Ao no Waltz" from Josee, the Tiger and the Fish.
---
---
Bubble anime voice actors, characters, and cast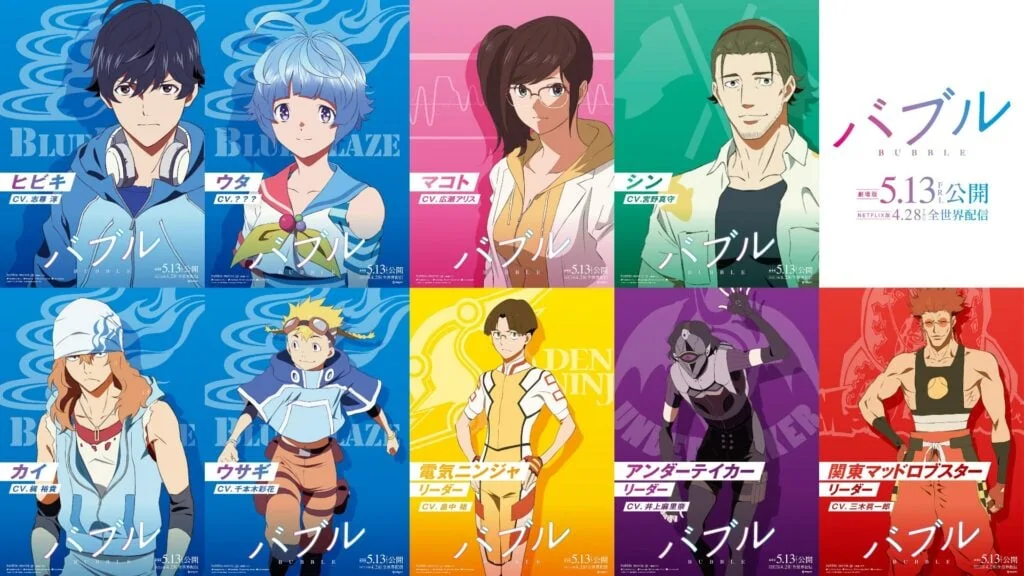 CHARACTER
SEIYUU/VA
DESCRIPTION
Hibiki
Jun Shison
Hibiki is one of the main characters of the movie, a boy who was saved by a mysterious girl named Uta.

Hibiki's voice actor, Jun Shison, is a regular in live-action adaptations and has played The Way of the Househusband's Masa and The Flower We Saw That Day's Atsumu "Yukiatsu" Matsuyuki.
Uta
Riria
Uta is the movie's heroine, blessed with superpowers. The sweet and soothing voice of singer Riria will give life to Uta in Netflix's upcoming movie.
Shin
Mamoru Miyano
Shin will be voiced by the award-winning VA Mamoru Miyano, known for his roles as Light Yagami in Death Note, Rintarou Okabe in Steins;Gate, and Amai Mask in One Punch Man.
Kai
Yuki Kaji
Yuki Kaji, Eren Yeager's seiyuu, will play Kai in the Bubble anime movie.
Denki Ninja
Tasuku Hatanaka
Tasuku Hatanaka, another Attack on Titan voice actor, will be playing Denki Ninja.
Usagi
Sayaka Senbongi
Kabaneri of the Iron Fortress' Mumei voice actor, Sayaka Senbongi, will play Usagi in this anime movie.
Undertaker
Marina Inoue
Behind the odd-looking Undertaker is the beautiful Japanese voice actress Marina Inoue. Marina is known as the voice of Armin Arlert in Attack on Titan, Yoko Littner in Gurren Lagann, and Mai Zen'in in Jujutsu Kaisen.
Makoto
Alice Hirose
Alice Hirose is a tokusatsu (live-action films) regular and has appeared as an actress in the Kamen Rider series and as a voice actress in the Power Rangers franchise.
Kanto Mad Lobster
Shinichiro Miki
The physically-toned Kanto Mad Lobster will be voiced by the legendary Shinichiro Miki, known for playing as Tanjuro Kamado in Demon Slayer, Assassin in Fate/stay night, and Kojiro (James in Western adaptations) in Pokémon.
(To be updated)
---
Bubble anime plot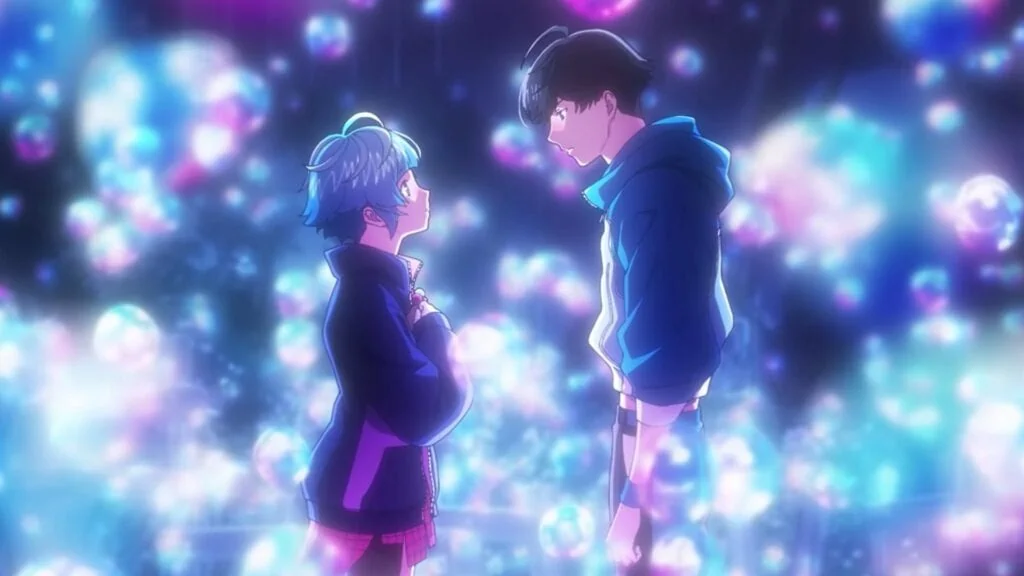 Bubble is set in Tokyo, Japan, following a catastrophic event in which bubbles rained down upon the world and broke the laws of gravity. Once a bustling metropolis, the city has become a playground for a group of young people who have lost their families, acting as a battlefield for parkour team battles as they leap from building to building.
Hibiki, a young ace known for his dangerous playstyle, makes a reckless move one day and plummets into the gravity-bending sea. His life is saved by Uta, a girl with mysterious powers. The pair then hear a unique sound audible only to them.
---
Follow ONE Esports on Facebook and Twitter for more news and updates on anime and culture.
READ MORE: Jujutsu Kaisen 0 release dates, movie trailer, where to buy tickets