The first season of Chainsaw Man ended with a metal-clanging battle between Denji and Katana Man.
Instead of slicing through with a few jabs and headbutts, Denji got innovative and used his never-before-seen chainsaw feet to take down the fellow devil-hybrid.
The 2022 anime has inspired many cosplayers to bring Denji's chainsaw form to life, but one diehard fan pushed the limits by adding a real chainsaw into the mix.
---
---
Fashion engineer creates a Chainsaw Man sneaker with an attached chainsaw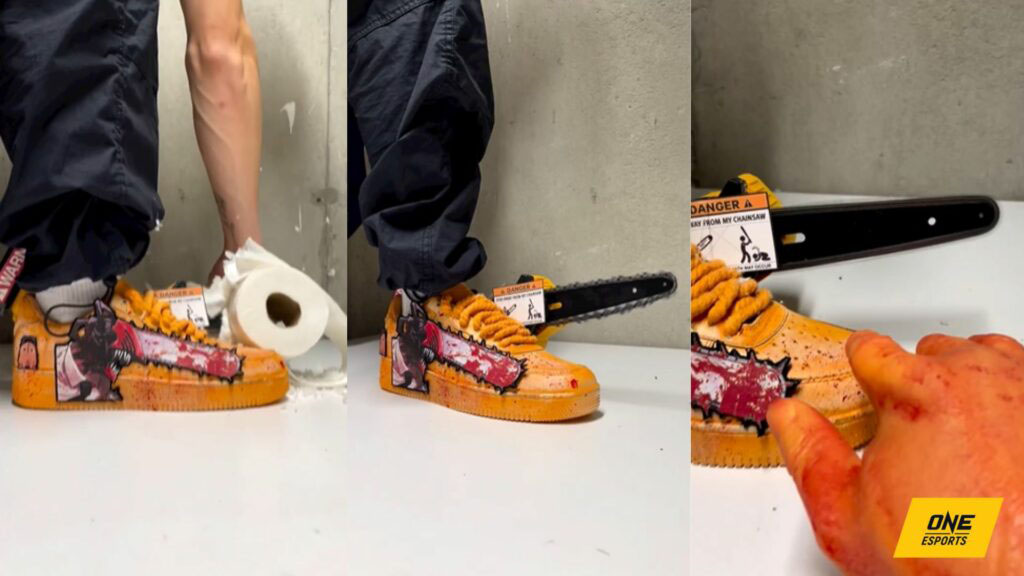 Fashion engineer VØID designed a Chainsaw Man sneaker that looks a lot like Pochita, Denji's devil-dog companion.
VØID used a Nike Air Force 1 to create the anime-inspired shoe. He added a few cutouts of Denji and Pochita on the side and chunky yarn laces. The engineer colored the "Chainsaw Force 1s" with a nice orange hue and a few red splatters.
The best part of the Chainsaw Man sneaker is the mini chainsaw attached to the side. In addition to the danger label on the actual chainsaw, the engineer even placed a warning label on the tool's battery.
Don't believe that it's real? VØID wore the Chainsaw Man sneaker and tested it with a roll of toilet paper.
This isn't the first time that the fashion designer has created clothing based on Denji and his devil-infested world. He's made Chainsaw Man jeans, a Pochita baseball cap, and a Power-inspired AF1 that squirts out blood. Pretty metal.
For more anime-inspired fashion pieces, you can check out VØID's official Instagram.
---
---
Follow ONE Esports on Facebook and Twitter for more anime news and stories.