The Wild Rift Horizon Cup is the first international event for Riot's newest competitive title, with ten teams from around the world flying to Singapore to compete on the global stage.
The Southeast Asian and Chinese regions are expected to be strong contenders for the championship and on day one we'll get to see each region's best as Filipino squad, Team Secret, take on Chinese team, ThunderTalk Gaming.
Can Hamez lead Team Secret to victory at the Horizon Cup?
Hamez's League of Legends experience dates back as early as 2014, when Mineski brought him on as a substitute. Originally a mid laner for Mineski's League of Legends team, he has extensive experience in all roles. This gives him plenty of insight when calling the shots for his current team in Wild Rift.
Hamez told ONE Esports in an interview that he owns the role of shotcaller and the responsibility of drafting strategies for the team. "I want to be the one to do all the shot-calling since it's hard for a carry because they have to focus on their mechanics."
Earning himself the nickname "General Hamez", his evident leadership and unconventional drafts are what make Team Secret stand out. Hamez won overall MVP at the Wild Rift SEA Championship.
---
---
Feibai is ThunderTalk Gaming's OG pro
While Hamez is the central point of Team Secret's roster, his counterpart on ThunderTalk Gaming is mid laner Wenchao "feibai" Peng. ThunderTalk's roster went through a major change after unfavorable results at the LPL Warm-Up Cup, leaving only feibai from the original team.
The new ThunderTalk team included former League of Legends pros Zhang "Mor" Hong-Wei and Pan "once" Han, and had far more favorable results at the LPL Qualifier, earning them a slot at the Horizon Cup. However, due to some travel issues, ThunderTalk needed some last-minute changes yet again, switching out three of their players and leaving only feibai and Baron laner Tianhua "Z" Zhou.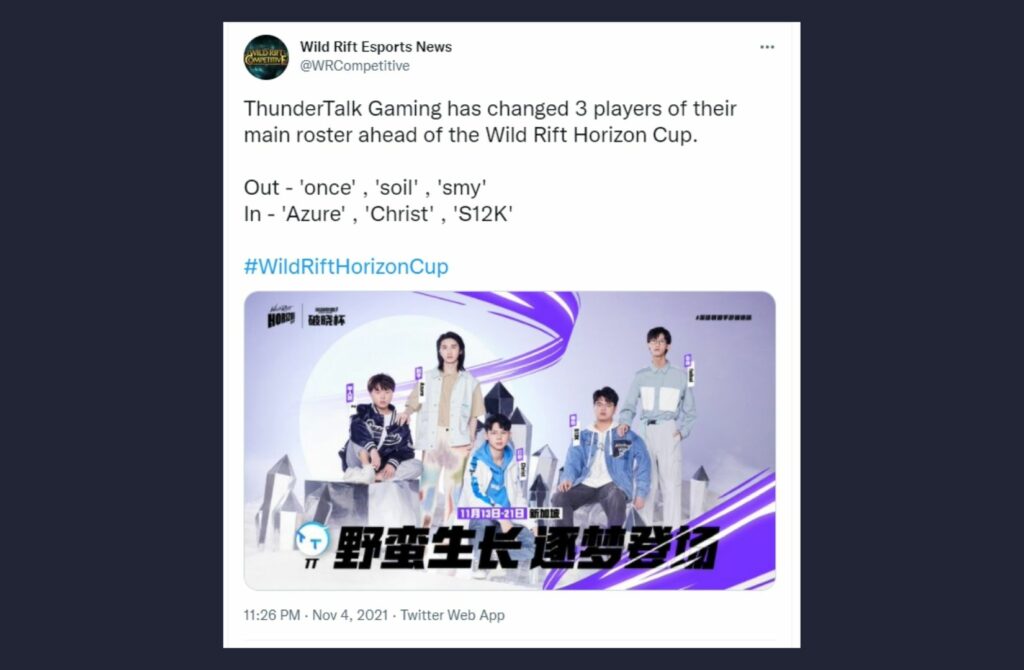 Can feibai rally the new ThunderTalk Gaming roster in time and surprise everyone at the Horizon Cup? Or will Team Secret's solidarity under General Hamez bring a clear path to victory?
Who do you think will win this matchup? If you can predict the winner, you could win a Wild Rift Champion straight out of the brand new League of Legends Arcane series on Netflix.
Look out for posts on Riot's official Wild Rift Facebook page, as well as the official ONE Esports Facebook, Twitter, and Instagram pages and leave a comment predicting the winner, as well as why you think they will win. Winners will be chosen from the best correct answers.
Catch Team Secret vs. ThunderTalk Gaming at the Wild Rift Horizon Cup on Wild Rift Esports' Twitch channel.
READ MORE: Wild Rift Horizon Cup 2021: Schedule, format, teams, where to watch