After a dominating 4-1 victory over Team Secret in the best-of-seven grand final series, SBTC Esports was officially crowned kings of the Wild Rift SEA Championship 2021.
This title extends the team's growing list of achievements. They finished first in the SEA Icon Series 2021 Summer Vietnam Qualifier 2, which landed them in the big league, and went on to win the SEA Icon Series 2021 Summer Vietnam itself.
After a fourth place finish at the Summer Super Cup, SBTC Esports bounced back to once again claim the SEA Icon Series 2021 Fall Vietnam title.
In an interview with ONE Esports, SBTC Esports support Hồ "Akeno" Trung Hậu shares his thoughts on the recent SEA Championship final, and the upcoming Wild Rift Horizon Cup 2021 in November.
---
Akeno on SBTC Esports' mindset going into the 2021 SEA Championship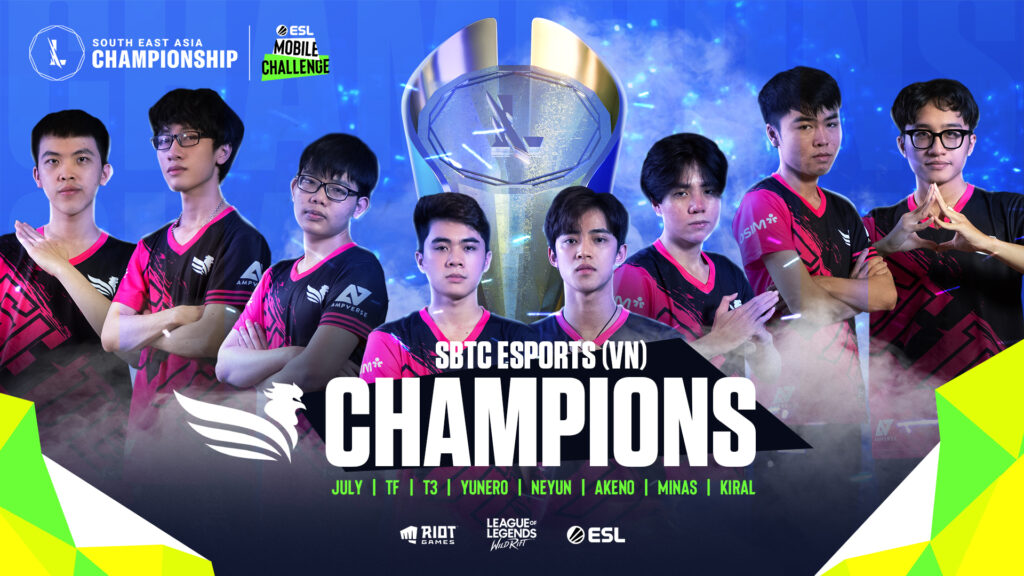 During the SEA Championship 2021, some members of SBTC Esports contracted COVID-19. According to Akeno, despite these challenges, each member of the team tried their very best to bring back the best results for STBC Esports and the Wild Rift Vietnam scene.
"If we let that influence us and we get a bad result, then use it as an excuse when we lose, I won't accept it," said Akeno. "We tried our best to upkeep our condition."
He also believes that in Wild Rift esports, Vietnam is the strongest region. "Winning is definitely fun. We always believe that outcome is ours, even before we play," he added.
---
---
Learning from his own mistakes at the SEA Championship 2021 grand final
In the 4-1 grand final against Team Secret, SBTC Esports dropped game one despite getting an early lead. Akeno reflected on the series and shared about what went on behind the scenes.
In the first game, SBTC Esports made a fatal mistake after they challenged Team Secret 4v5 at Baron at the 23-minute mark.
While Akeno still running the death timer, SBTC Esports over-chased, and paid a hefty price. Dragon Laner Tống "KIRAL" Thái Dân's Lucian decided to jump across the wall to hunt three enemies, while mid laner Nguyễn "July" Duy Toàn's Ziggs on the other hand, went to push the wave in mid.
As a result, the team lost three members, and eventually the game. Looking back on this, Akeno described that it was his own error.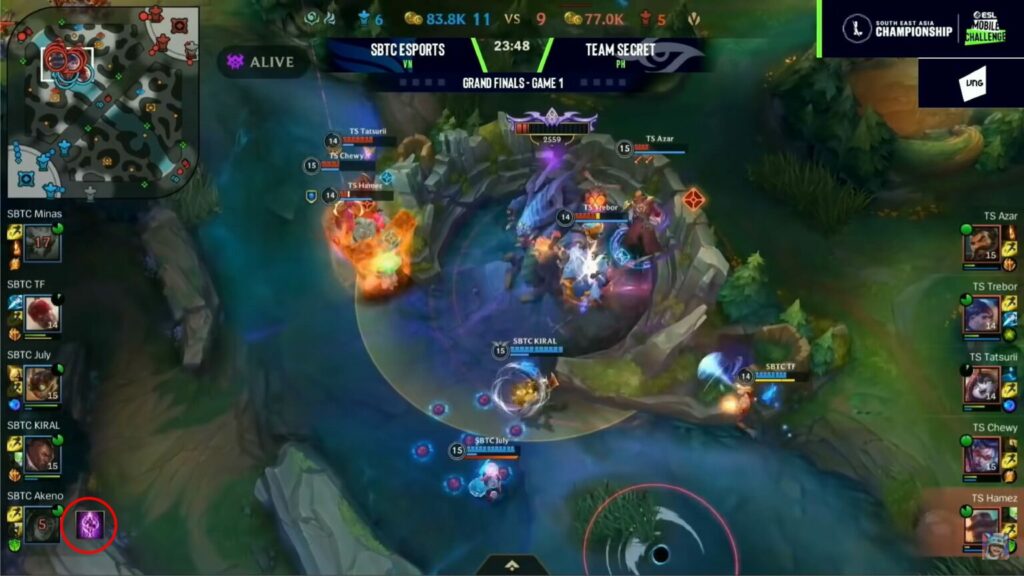 "We needed to eliminate as many Baron buffs as possible, so I told the team to keep fighting, but I pressed Teleport twice and cancelled it, which messed the team up," revealed Akeno.
Since Akeno is also the main shotcaller for the team, he admitted that his mental took a toll right after.
"After that mistake, I was… silent. I didn't say anything for a few seconds," related Akeno. "So my teammates rushed in without understanding each other and everyone lost their way."
Akeno redeems himself in game three on his signature champion, Thresh
Nine minutes into game three of the SEA Championship, Akeno made a big play at the Dragon Pit that showcased his top-notch mechanics.
As Team Secret's health bars dropped, he found an opening with Death Sentence, which led him to Flay three, preventing their escape.
When asked about his excellent Thresh performance, Akeno responded humbly. He pointed out that he missed a lot of hooks, that weren't shown on broadcast.
Overall, he enjoys playing Thresh because he "understands this champion", and puts in hours of practice to master him.
---
SBTC Esports is looking forward to the Wild Rift Horizon Cup 2021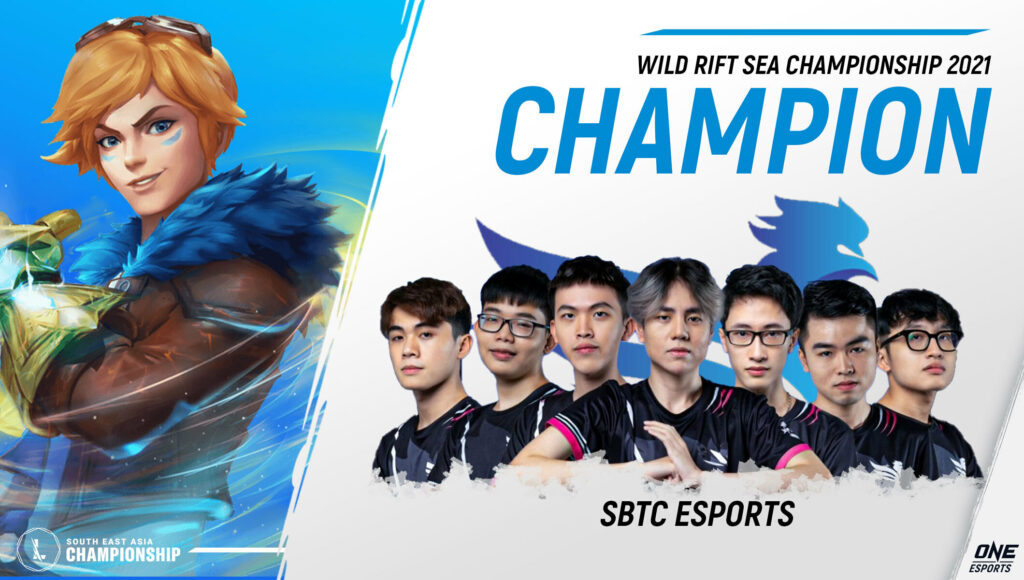 Akeno and the rest of the team have been dilligently preparing for the upcoming Horizon Cup 2021.
"We've come together for training. We need to work harder leading up to the tournament," he said.
The support player is also very thankful to all the viewers who watched and supported SBTC Esports. For him, it's a valuable source of motivation as they strive harder, carrying the hopes of Vietnam on their shoulders.
The SBTC Esports support is also grateful to their sponsors and the management team for all their support.
Taking place from November 13 to 21, the Wild Rift Horizon Cup will be an offline event held at the Suntec Convention and Exhibition Center in Singapore.
READ MORE: Wild Rift Horizon Cup 2021: Schedule, format, teams, where to watch