League of Legends: Wild Rift is spicing things up in the Southeast Asian region with Pentaboom Showdown, a celebrity showmatch featuring 40 stars and personalities from eight different countries.
Eight SEA countries, the Philippines, Indonesia, Singapore, Malaysia, Thailand, Vietnam, Myanmar, and Cambodia will form teams of five to play for charity and a total prize pool of US$66,500.
In addition to this, Riot Games Southeast Asia has pledged to donate a further US$60,000 to charities like Room to Read (Cambodia, Indonesia, Myanmar, Vietnam), Openminds Project (Thailand), Beyond Social Services (Singapore), Passerelles Numeriques (the Philippines, Cambodia, Vietnam) and Wing Melaka (Malaysia).
Riot's donation will greatly aid in promoting literacy and education, helping financially-challenged communities, and bringing smiles to those with disabilities.
The League of Legends: Wild Rift SEA Pentaboom Showdown will take place on December 12 – 13 at 12:00 p.m. GMT+8.
The tournament's title, Pentaboom, "is a call for gamers to seize the moment and forge their own legends with crazy outplays" according to Riot Games. It draws inspiration from "pentakill", where a player defeats all five of their enemy team's opponents in a short timespan.
---
---
Some of the big names in the gaming industry will be a part of the event including Filipina cosplayer Alodia Gosiengfiao, Indonesian content creator Vincent "VY Gaming" Yang, Thai darling Frozenkiss, Singaporean content creators Danial Ron and Ryan Tan, and Vietnamese streamer Milona.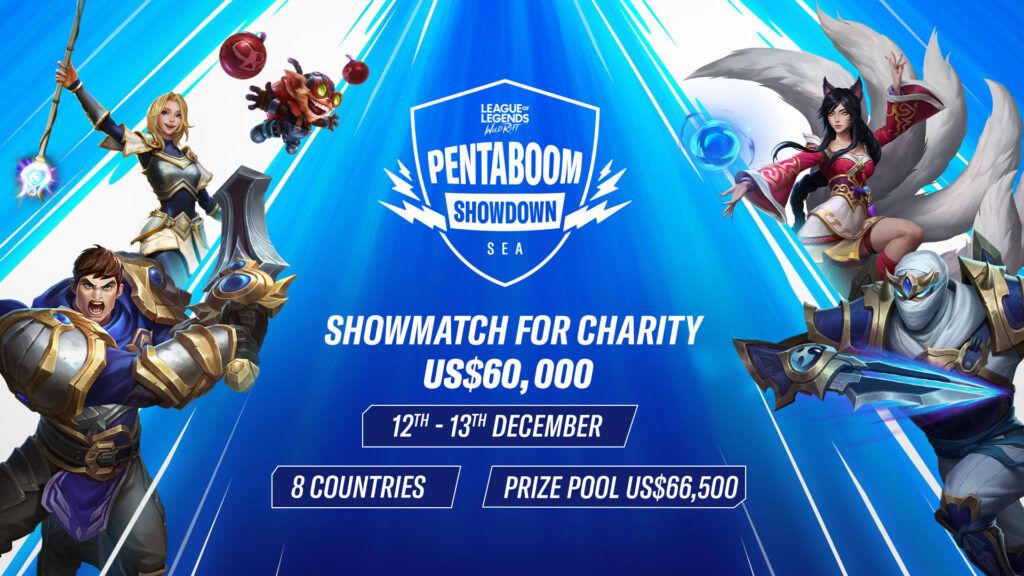 Here's the full list of of celebrities and personalities who would be participating at the Pentaboom Showdown this December.
Cambodia
Chea Gaming
Henaa Gaming
Prom Official ML
T26.haha
Indonesia
Cindy Gullla
Dylan PROS
GOGOGOY
Jess No Limit
VY Gaming
Malaysia
Fredo Sameon
Harris Annuar
Ismail Izzani
Soloz
XK Penjahat
Myanmar
Ace Gaming
GuGu
I C E I C E
Original Matt Channel
NX Live
Philippines
Alodia Gosiengfiao
Ashley Gosiengfiao
Dexie Diaz
James Reid
Megan Young
Singapore
Danial Ron (TITAN GAMERS)
Nathan Hartono
Ryan Tan (Night Owl Cinematics)
Sezairi
Vincent Sin (TITAN GAMERS)
Thailand
Dx Channel
Frozenkiss
JAI RAW
May Pitchanart
Vietnam
ADN Đấng YM
Bé Chanh Gaming
Milon
Misthy
Msuong
The Wild Rift SEA Pentaboom Showdown will be streamed on Wild Rift's YouTube channel, as well as on their Facebook page. Fans can check out their event website here for more details.
READ MORE: Wild Rift Open Beta coming to nine more regions this December