Team Liquid made history by clinching the inaugural VCT EMEA League championship with a remarkable 3-1 upset win over Fnatic in the grand final.
The European squad took home the US$100,000 grand prize and the top seed in VCT EMEA for Masters Tokyo, which will take place from June 11 to 25.
Fnatic was touted as favorites to win the tournament after their impressive run, where they won all nine of their regional league matches. Their remarkable performance continued in the upper bracket, where they defeated FUT Esports 2-1, followed by a dominant 2-0 victory against Liquid.
After a resounding 3-0 victory over FUT Esports in the lower bracket final, Liquid regained their momentum and secured a well-deserved rematch against Fnatic. Here is how Liquid defied the odds and won the first VCT EMEA trophy.
---
---
Team Liquid breaks Fnatic's 11-match win streak to claim the VCT EMEA championship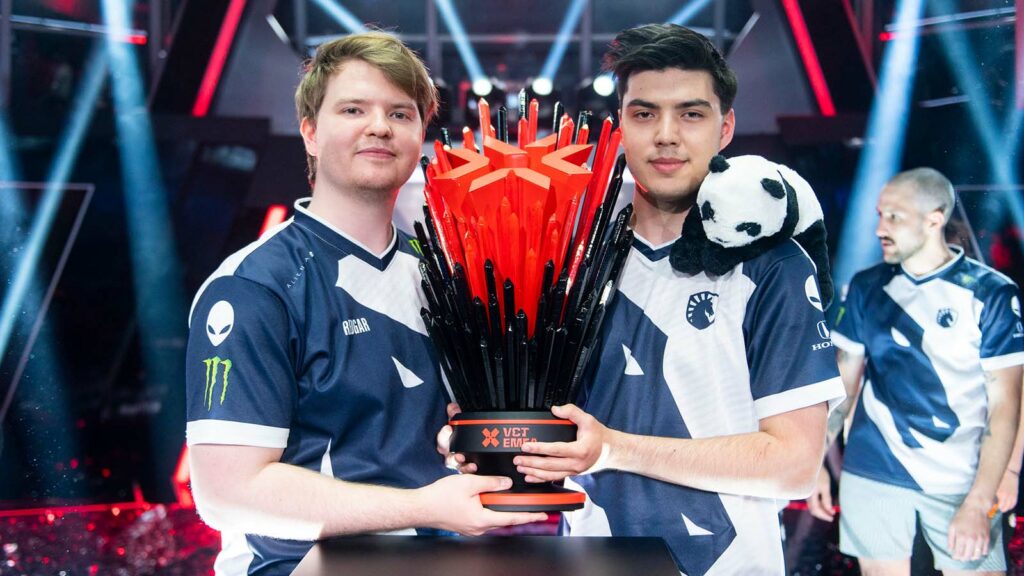 Fnatic had a strong start on their chosen map, Lotus, securing an 8-4 lead at halftime. On attack, Emir "Alfajer" Beder's Killjoy denied Liquid early round push attempts. When the teams switched sides, Alfajer placed Killjoy's utility on the B site while masterfully defending C.
Liquid made an impressive comeback, almost pushing the game into overtime. However, Fnatic played well on defense, preventing Liquid access to all three sites in the final round.
As time was running out, Liquid had no choice but to make their move onto a heavily guarded C site. Fnatic managed to stop Liquid from planting the spike, earning them a 13-11 win and a 1-0 lead in the series.
Despite the setback, Liquid displayed their resilience and determination by winning the next three maps of the series.
It all started when Liquid seized control of the game on their chosen map, Ascent. They dominated the first half by winning seven straight rounds, establishing a substantial lead of 8-4 at halftime. However, Fnatic answered back, stringing together seven consecutive round wins of their own, which forced the game into overtime.
---
---
Liquid outlasted their opponents in overtime with back-to-back round wins despite facing a 3v4 man disadvantage which resulted in a 14-12 win on Ascent, leveling the series at 1-1.
In the third game, Liquid continued to impress by ending Fnatic's impressive nine-match VCT winning streak on Haven. The team's agent comp changed when Dom "soulcas" Sulcas switched from Sova to Skye — a bold move that paid off. Soulcas led his team to a 13-6 win and secured himself MVP honors with a 19/12/6 KDA.
---
---
The intense contest on the fourth and final map, Fracture, showcased a series of exchanges between the two teams.
Liquid managed to secure an early lead of 8-4 as they reached the game's halfway mark. However, Fnatic swiftly retaliated, winning three consecutive rounds that narrowed down Liquid's lead to just one round.
---
---
In a crucial moment, Elias "Jamppi" Olkkonen pulled off a masterful 1v2 clutch, keeping Liquid in the game and preserving their advantage.
---
---
With that, Liquid surged ahead of their opponents, securing victory in the final three rounds and winning the final game 13-11, solidifying their position as the new champions of EMEA Valorant.
Team Liquid's remarkable performance in the VCT EMEA demonstrated their ability to defeat formidable teams like Fnatic. They will be heading into Masters Tokyo with newly added confidence, which they will need when they face the other top teams from the other international leagues.
READ MORE: Paper Rex seizes inaugural VCT Pacific League championship with a reverse sweep