Thailand reigned supreme.
Made in Thailand (MiTH) took home the AfreecaTV Valorant SEA Invitational crown, sweeping Indonesian squad Bigetron Arctic 3-0 in the grand final.
It was an impressive showing from the Thai team as they avenged their 1-0 group stage loss against Bigetron Arctic – the only loss they had in the tournament.
MiTH were unstoppable in their playoff run, going on an undefeated 7-0 win streak and defeating FW Esports in the quarterfinals and BOOM Esports in the semifinals. 
Nantapol "Kongared" Boonying finished as the grand final MVP, securing 54 kills across three maps with a 242 Average Combat Score (ACS) in the series.
---
---
Made in Thailand are the AfreecaTV Valorant SEA Invitational champions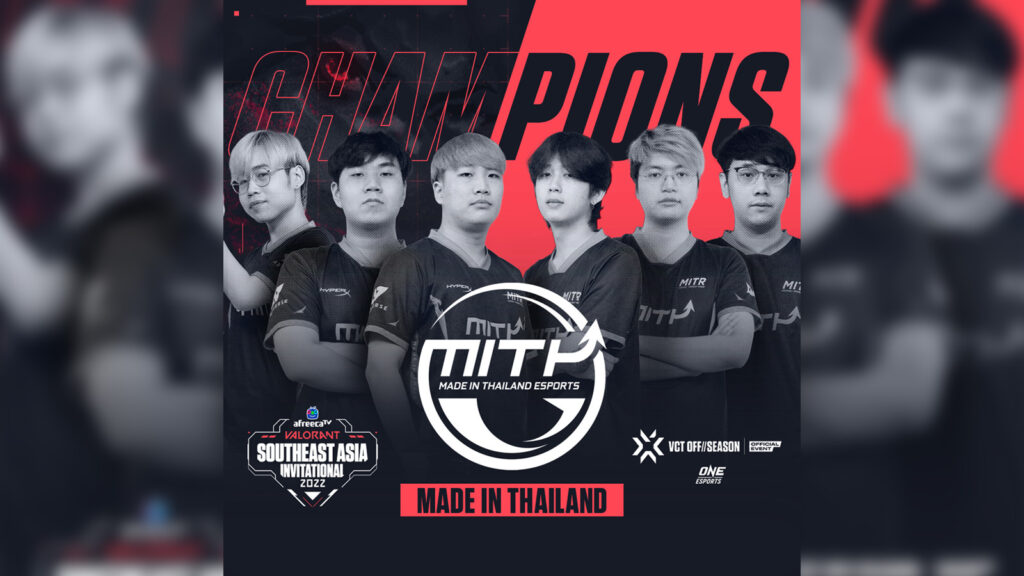 MiTH picked Breeze as the first map and selected Jett and Chamber as their duelist-sentinel combo. They then opted for two initiators, Skye and Sova, while Viper rounded out the squad as the team's standalone controller.
The battle to claim the first map went back and forth in the early rounds. However, the Thai squad's agent composition shined after the fifth round. Kongared popped off, racking up kills in quick succession, which allowed him to cast Skye's Seekers ultimate in multiple rounds. 
The added information gave MiTH the edge in gun fights and helped them go on an 11-1 run to close out the first map with a 13-4 final score.
The second map, Ascent, was Bigetron Arctic's map choice. It turned into a back-and-forth battle between both teams. MiTH's Chamber main, Kititkawin "PTC" Rattanasukol, became the difference maker for his team, finishing with a 27/16/3 KDA.
PTC stepped up on defense, denying Bigetron Arctic's attacks. He also won a crucial 1v3 in the fifth round, taking down the enemy Omen, Jett, and Fade to secure the spike defuse. Despite Bigetron Arctic being within striking distance of winning the second map, MiTH managed to keep the score close and pushed the map into overtime.
Kongared came up big again in the 25th round, getting three crucial kills that got his team to map point. The next overtime round also went their way, with MiTH taking a commanding 2-0 lead in the series after a solid post-plant.
On the third map, Fracture, Bigetron Arctic looked poised to turn things around after winning the first six rounds.
However, MiTH soon found their footing on their map pick, winning 13 of the next 15 rounds to take the map and series.
Made in Thailand took home the grand prize of US$7,500 out of the AfreecaTV Valorant SEA Invitational's US$25,000 prize pool.
After triumphing in a field that included Bleed eSports and Pacific league team RRQ, the team has proven they're a roster to watch in the Challengers league next year.
READ MORE: Yay on patch 5.12 Chamber nerfs: 'They straight murdered him'