A new Valorant skin collection has just dropped, and it will fit right in with your sea-faring arsenal.
The Abyssal skin bundle takes inspiration from marine life, featuring a vibrant, colorful design bathed in soothing hues of aquamarine.
The new ocean-themed skin line will also pair well with the Neptune bundle, Valorant's earlier nautical collection.
---
---
Hunt down your opponents with the Abyssal skin bundle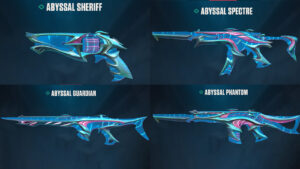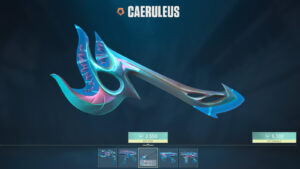 Riot Games has been on a roll with water-themed designs lately, including Valorant's most recent map, Pearl.
The Abyssal bundle evokes the ocean's darkest depths, where the deadliest aquatic creatures can be found. Riot hints at this with a cautionary caption on its official Twitter account: "You're swimming with sharks – so don't miss."
Pink sea anemones appear to be encased in each weapon in the bundle, and certain design elements are also clearly modeled after fins and gills. They are distinctly shark-like, a nod to the apex predators of the ocean.
The bundle comes with skins for the Sheriff, Spectre, Guardian, and Phantom, in addition to an axe melee skin, and it will cost players 5,100 VP.
The Abyssal skin collection's Sheriff, Spectre, Guardian, and Phantom are set as Deluxe Edition weapons. However, the Caeruleus melee is classified as an Exclusive Edition skin. Nevertheless, all the skins have no additional color variants or upgrades like finishers.
If the new bundle isn't to your liking, the Night Market will be making its return from December 7 to January 4. With some luck, there will be something you like available at a steep discount.
READ MORE: How to adjust the Valorant user interface: Understand and customize your HUD