The Fist Bump gun buddy, better known as the Riot gun buddy, is one of the most coveted Valorant collectibles.
It is so rare that most players want one simply because so few people have it.
The Riot gun buddy cannot be purchased through Valorant's in-game store, nor can it be unlocked through a Battle Pass or any limited-time events.
The only way to obtain the sought-after gun buddy is through a player's actions, which Riot Games employee DullMoment detailed on the developer's support page.
---
---
How to get a Riot gun buddy, according to Riot Games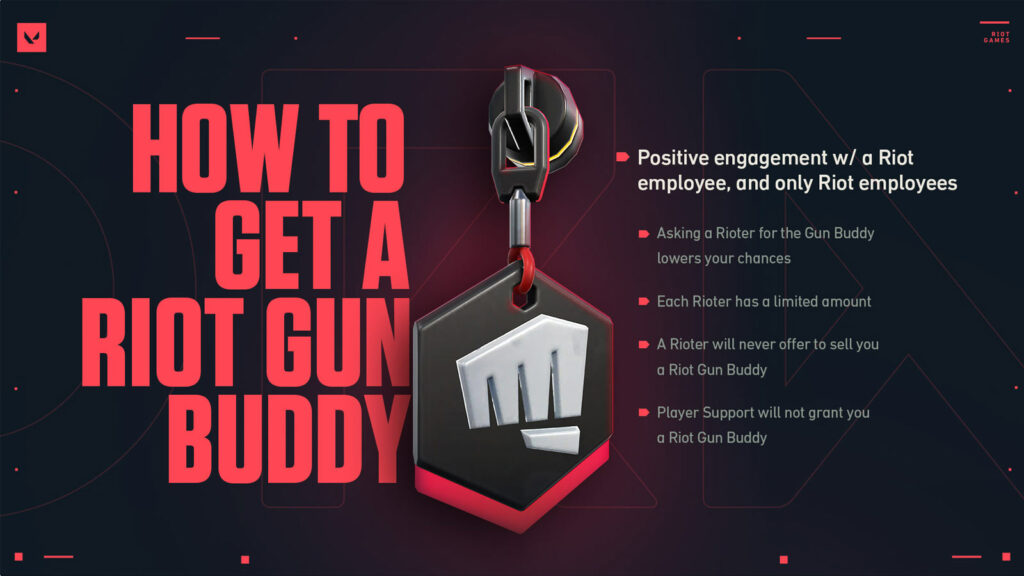 The best way to collect the Fist Bump gun buddy is to demonstrate exemplary sportsmanship while in a match with a Riot Games employee. Players must be on their best behavior, in addition to being a positive influence and a motivating part of their team to get a chance to earn the gun buddy.
However, you should not ask a Rioter for the buddy. Each Riot Games employee only has a limited number of Fist Bump gun buddies to give out, and no one likes being harassed.
Players are also advised against submitting a ticket through the Riot support page, or sending direct messages to Rioters on Twitter. Even if you think you've been a good sport, a Rioter still has to see you in action.
They warned that a Rioter will likewise never offer to sell their Fist Bump gun buddies, or ask players to join a contest to obtain it.
If someone doing that claims to be a Riot Games employee, DullMoment advises that players report the individual in-game.
READ MORE: KAY/O's buffed molly now destroys Killjoy's Lockdown ultimate through walls