The FaZe Clan Valorant Invitational concluded its group stage with no major upsets heading into the playoffs.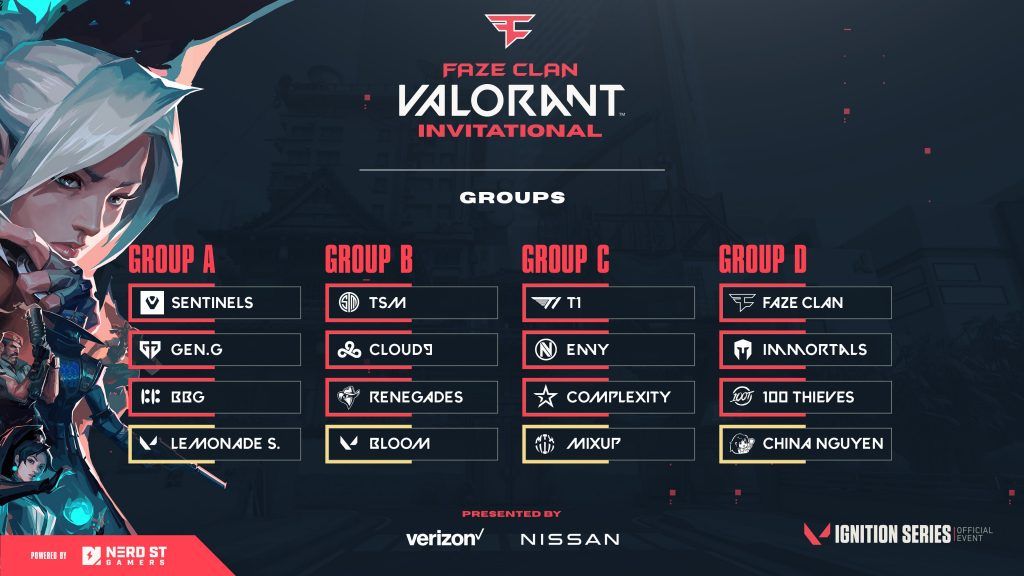 Group A
Sentinels continued to make their case as the best NA team, dominating their group. They booked their ticket to the playoffs by beating American Valorant stack Lemonade Stand and then sending Gen.G Esports to the lower bracket.
Meanwhile, Gen.G rallied back by defeating Lemonade Stand 2-1 and advanced to the playoffs as well.
Group B
TSM had a rough start but still managed to prevent an upset at the hands of ex-CSGO stack Bloom Collective. However, the once-considered top team in North America lost to Cloud9, as Tyson "TenZ" Ngo secured the third game and a spot in the playoffs with an 28/10/7 KDA score.
TSM eventually advanced to the playoffs as well after earning two easy victories over Renegades.
Group C
T1 looked to be in top form as they went undefeated in the group stage, taking 2-0 victories over Mixup and Team Envy. Victor "food" Wong finished with a staggering 49/24/8 KDA record in both maps against Team Envy.
Team Envy clutched a spot in the playoffs after winning a highly contested best-of-three match against Complexity.
---
---
Group D
The biggest shock of the day came from FaZe Clan as they were defeated by a relatively unknown stack in China Nguyen, dropping to the lower bracket as a result. Meanwhile, the first playoff seed in the group went to Immortals who went undefeated.
This set up an elimination match between 100 Thieves and FaZe Clan, two of the most talked about teams in NA Valorant. After a hard-fought series, FaZe Clan managed to advance.
The host team then got their revenge on China Nguyen and made it to the playoffs with a monster performance from Corey "corey" Nigra who had a 26/6/2 KDA score in the first map.
In the playoffs, Sentinels will go head-to-head with FaZe Clan, followed by Cloud9 taking on Team Envy. The next match of the day will be a marquee matchup between T1 and TSM. In the final upper bracket match, Immortals will go up against GenG. Esports.
Keep up with all the playoff action on the official Valorant Twitch channel, FaZe Clan Twitch channel, or Nerd Street Gamer Twitch channel.
READ MORE: Killjoy will not be playable at the FaZe Clan Valorant Invitational due to 'competitive integrity'