Evo Japan 2023 has finally announced the complete list of main stage games, with the addition of three new titles that weren't included in the initial teaser trailer.
Similar to previous Evo Japan events, the games lineup features popular titles in the region, which is one of the reasons why fighting games like Super Smash Bros. Melee and Mortal Kombat 11 are absent from the main stage list.
---
---
Complete list of main stage games at Evo Japan 2023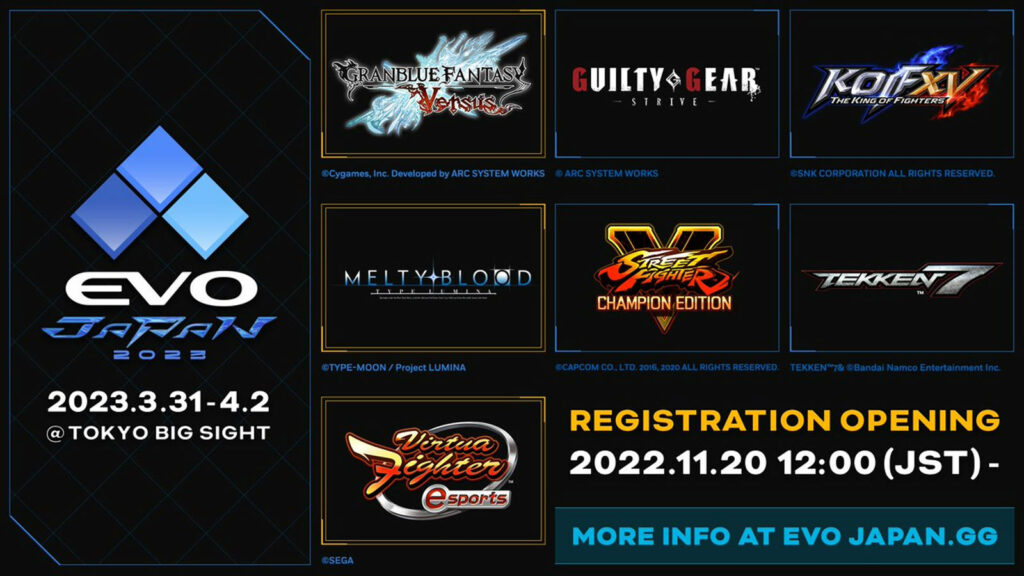 Tekken 7
Guilty Gear Strive
King of Fighters XV
Street Fighter V: Champion Edition
Virtua Fighter 5 Ultimate Showdown
Granblue Fantasy: Versus
Melty Blood: Type Lumina
Evo Japan 2023 is the third iteration of the prestigious fighting game tournament, with the first event held in 2018, followed by the second event in the succeeding year. The tournament series went on hiatus for the next three years due to the COVID-19 global pandemic.
---
---
How to sign up for Evo Japan 2023
The tournament organizers announced that even registration opens on November 20 at 12:00 p.m. JST | 11:00 a.m. GMT+8 | November 19, 7:00 p.m. PST | 3:00 a.m. GMT.
The tournament will be held from March 31 to April 2 next year, and it will take place at the Tokyo Big Sight Exhibition Center near Tokyo Bay. For more information, visit evojapan.gg.
(To be updated)
READ MORE: You can replicate Evo Moment 37 in Street Fighter 6 — if you're good enough